Maydevale Hydra Pickup Set
The Hydra is a new release from London's own Maydevale Pickups. First off, you may remember Maydevale by their prior name, Maida Vale. For now, you can still get search results on the web for the prior. Just be sure to make note of the new Maydevale moniker.
A while back, I get a message about checking out this new design. New design?!? Now, I am not looking to tell tales out of school or to steal anyone's thunder on this one. So I'll describe what's going on as best as I can. LOL!
While this looks like a humbucker, the Hydra is just a single coil. What?! Allow me to explain a little. At the core, it is truly a single coil powering this pickup. However, there are two rows of screw poles. But wait, how is that possible? HaHa! Sorry, this is where I'm not the one in a position to spill the beans.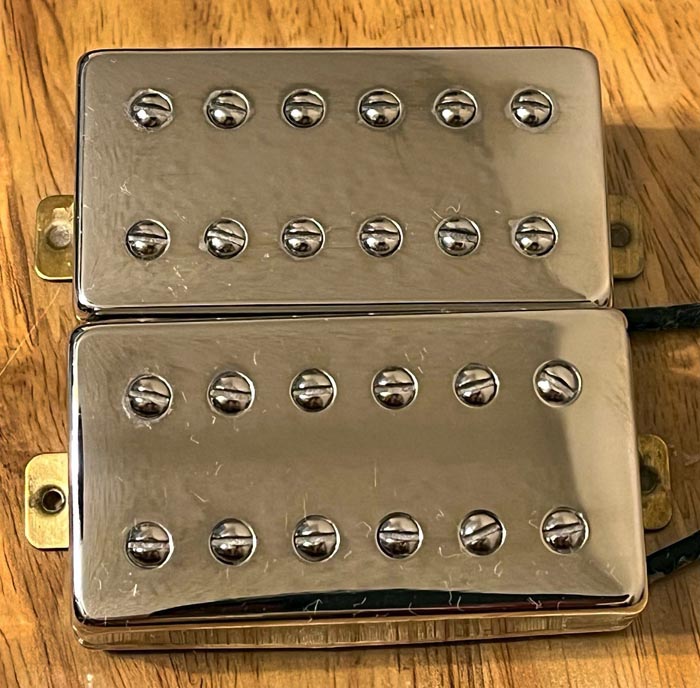 Installation
For this application, I'm going with a double cut 2-humbucker mahogany body with maple neck and maple 25-1/2″ fingerboard. The harness contains Bourns 500k pots, a Swtchcraft 12120x 3-way toggle, and a Pure Tone 1/4″ output jack. The guitar has 10-46 strings and is in E standard tuning. 
Since this is a single coil, it's an easy installation. LOL! That also obviously means there are no wiring tricks at play. No split or parallel or anything like that. In a throwback to the more classic vintage ways, both pickups are the same. Which is to say that there is no so-called "calibration" going on. That's simply the set that I have. If you want something special, I'm sure you can have that conversation with Maydevale to suit your goals.
Evaluation
The two rows of poles has a lot to do with what's going on here. While a single coil, it does not have that stereotypical snappy response or glassy feel. Traditionally, you have a single row of poles that is focusing the magnetic field in a very specific spot on the strings. These two rows spreads that out, picking up what's happening across more of the respective string. The result is a little smoother character with some added beef. Think of something toward the neighborhood of a P-90, for example.
Now pair that with an Alnico 2 magnet. The result is a velvety smooth voice that's warm and open, full of dynamics. There's a little bit of grind to the mids, but the juicy low end makes the Hydra feel right at home for jazz and blues. The nature of the single coil engine delivers some percussive attitude when playing with a deliberate picking technique.
A character in a pickup like the Hydra is going to be a great fit for players that prefer and edgy amp tone over over-the-top distortion. The fuller tone rounds out the body for single note playing that's up in your face. However, if you are in to the sludgy doom metal style, the Hydra will take a cranked distortion mode and melt your brains as desired. HaHa!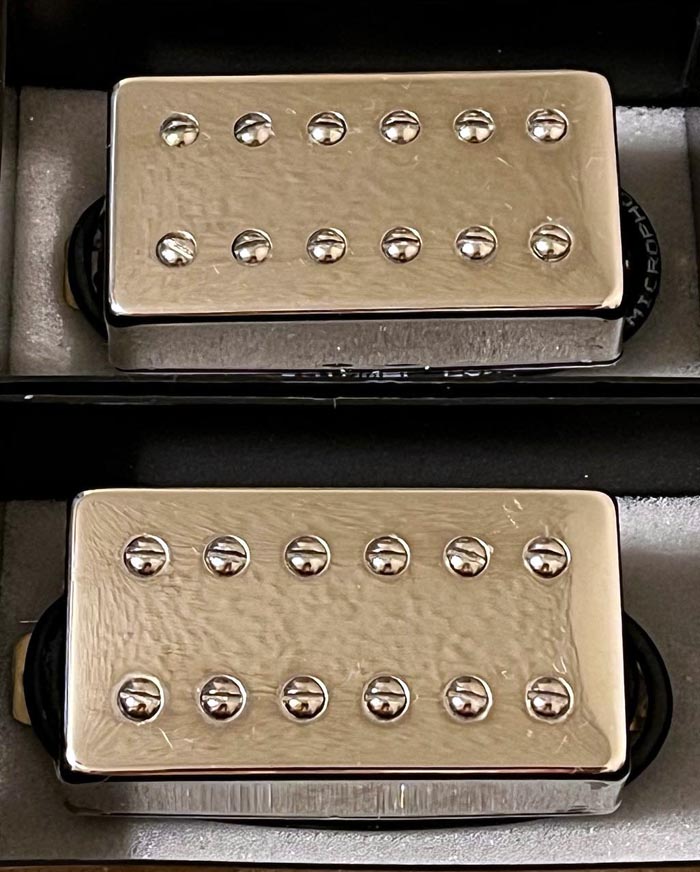 Demo
The Hydra is brand spanking new. There are no official demos at this time. When something is available, this section will get the update.
Specs
Hydra Pickup #1
DCR – 9.291 K
Inductance – 2.577 H
Magnet – Alnico 2
Hydra Pickup #2
DCR – 9.193 K
Inductance – 2.571 H
Magnet – Alnico 2
They Hydra is going to be good for blues, country, funky, alternative, rock, jazz, surf, and pop musical styles. Please reach out to Maydevale directly for inquiries with regard to cover selection and any tweaks or customizations. You can reach them via the links below.
For reference, this Maydevale Hydra pickup set evaluation was conducted with a Fractal Axe-Fx II XL+ featuring Celestion Impluse Responses and Fractal MFC-101 MIDI Foot Controller. Real cabs in use are Marshall 1960B, Mojotone British, and Peavey 6505 cabs loaded with Celestion Classic Series Vintage 30s and Classic Series G12M Greenbacks.
Maida Vale (Maydevale) Pickups YouTube | eBay store | Reverb Store | Email
7 string 8Ω 59 Alnico 2 Alnico 3 Alnico 4 Alnico 5 Alnico 8 Bare Knuckle BKP Brown Sound Celestion Ceramic Custom Shop Dean DiMarzio DMT Dual Resonance EVH Fishman Floyd Rose Fluence Gibson Humbucker Ibanez JB Jimmy Page John Petrucci MJ Mojotone P90 PAF Pariah Pickup Professor Guitarism Satch Satriani Schaller Seymour Duncan Singlecoil Single Width Speaker Steve Vai Tech Tip Tremolo