Mojotone Hellbender Humbucker Set
The Hellbender is the signature humbucker pickup set for Mastodon guitarist Bill Kelliher. Mastodon is a Grammy Award-winning band from the south-eastern US. Other award wins include from Kerrang! and Metal Hammer Golden Gods. Kelliher won a Golden Gods Award for Best Shredder. It can be said that Kelliher comes to the table with a depth of knowledge about tone and the gear to get that tone.
Kelliher's guitar history is generally a singlecut style. He also has an ESP Sparrowhawk model to one could describe as a variation of an inverted Firebird. Bill sent a Sparrowhawk to Mojotone to use for the development of the Hellbender set. In the band setting, he tunes to D standard, drop C, and even D standard with a drop A. Whoa! If that doesn't make the ground rumble… LOL!
He can have most any brand of product that he wants. Let's take a look at what Mojotone is bringing to the table!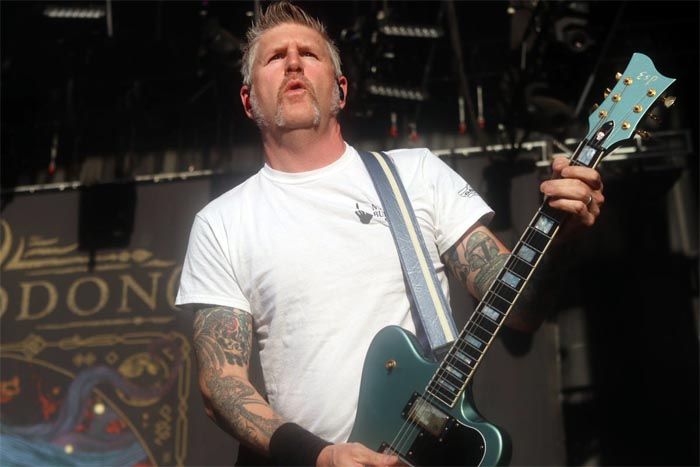 Background R&D
Some cool things is there to consider as a takeaway. I am digging the he's talking about already using the Black Magic and the Tomahawk sets in the lead up to better developing his own pickup voicing.
Installation
For this evaluation, I am putting the Hellbender set in to a neutral-sounding double-cut double-hum 25-1/2″ scale guitar. It has a German Floyd Rose 1984 tremolo system, Bourns 500k pots, Switchcraft 12120x 3-way, and a Switchcraft 151 1/4″ jack. It has 10-46 strings and standard E tuning. Each pickup goes to the push-pull pot for splitting.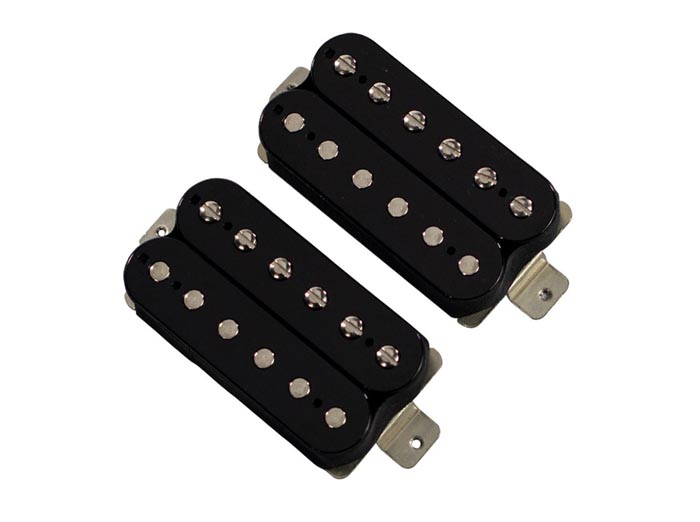 Binary Synchronization
If you're thinking that I made that up, you might be right! LOL! Uh-oh! Someone left the cap off the Romulan Ale and Phineas is three sheets to the wind. HaHa! Not quite. It's about finding a way to describe the tech approach Mojotone is taking here. There are two different wire gauges at work here.
When you get to the specs, you will see one coil on each pickup has a higher resistance. One way is to just put way more of keep way less wire off each bobbin. The other way is to use different gauges of wire. As an unrelated example, a 10k humbucker of 42 AWG is a super overwound beefy pickup that can't take an other turn of wire. Yet 10k of 43 AWG on the same bobbins is on the weaker and thin-sounding side.
Additionally, Mojotone is using two types of magnets. On each pickup! The neck is Alnico 2 with Ceramic spacers. And the bridge is Alnico 5 with Ceramic spacers. We've seen magnet blending on this site before. The results are well-accepted by players!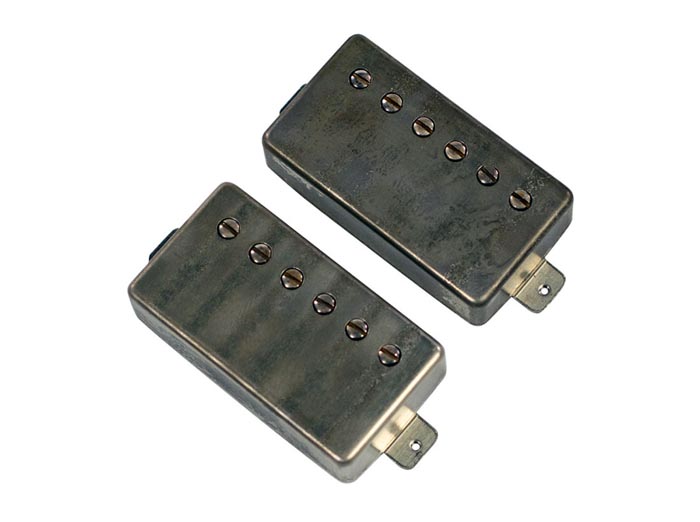 Evaluation
The Hellbender bridge is made to clear the bench and get all of your skills into the game. It's exceptionally clear, with an open character. It can be really easy for something this hot to sound compressed and fizzy around the margins. Not so much here. This is where the different wire gauges on each coil is working the mojo. (ha! a pun!). Strong, punishing low end that has edge but with an organic flavor. It is overflowing with rich harmonic content in both open rock arena chords and smoking hot solos.
In the neck position, the Hellbender is sweet and sassy. It calls down the thunder that will rattle your molars without being muddy or sloppy. Plenty of push in the high end with a presence that dominates the mix and a controlled bold low end that will awaken you ancestors. If you are in to heavy blues vibes, the neck will sustain until your fingers go numb. The natural decay in those sustained notes reveal a crossover into a touch-sensitive mechanical vibrato that will be the envy of your traditional blues pals.
Here's a tip from your old pal Darth: tinker with the wiring options. Wire the splits to the other coil. Connect the neck to be OOP with the bridge. If you have a 5-way slider/lever, grab a good Super Switch and go nuts with the options. The variance in the wire gauges on each coil opens it up for so many sonic colors for your palette. Don't take my word. Give it a go in your guitar and hear how it works best for you.
Demo
Specs
Hellbender Neck
Series – 10.921 K
Inductance – 6.551 H
Split – 4.325 K
Split – 6.607 K
Parallel – 2.612 K
Magnet – Alnico 2 & Ceramic
Hellbender Bridge
Series – 18.874 K
Inductance – 12.165 H
Split – 8.233 K
Split – 10.652 K
Parallel – 4.644 K
Magnet – Alnico 5 & Ceramic

Conclusion
Do you find ceramic humbucker to be too much? Or alnico humbuckers to not be enough? Looking for a high-octane barn-burner that cleans up to be rich and prolific? The Hellbender set is for you!
The Hellbender set is going to be good for heavy metal, prog metal, sludge, metal, alternative metal, hard rock, shred, metalcore, doom, thrash, punk, hardcore, and other extreme metal styles. It is currently available in standard spacing and F-spacing (bridge only). Options include open black bobbins, or relic nickel covers.
For reference, this Mojotone Hellbender humbucker set evaluation was conducted with a Fractal Axe-Fx II XL+ featuring Celestion Impluse Responses and Fractal MFC-101 MIDI Foot Controller. Real cabs used were Marshall 1960B cabs loaded with Celestion G12-65s, Vintage 30s and G12M Greenbacks.
Mojotone Website | Facebook | Twitter | YouTube | Instagram
7 string 8Ω 59 Alnico 2 Alnico 3 Alnico 4 Alnico 5 Alnico 8 Bare Knuckle BKP Brown Sound Celestion Ceramic Custom Shop Dean DiMarzio DMT Dual Resonance EVH Fishman Floyd Rose Fluence Gibson Humbucker Ibanez JB Jimmy Page John Petrucci MJ Mojotone P90 PAF Pariah Pickup Professor Guitarism Satch Satriani Schaller Seymour Duncan Singlecoil Single Width Speaker Steve Vai Tech Tip Tremolo