Any comprehensive evaluation of the selection of available 7-string humbucker has to go to the source. The Seven String Sorcerer, Steve Vai. Admittedly, Vai has a much stronger alignment with the regular 6-string Evolution model. And I am hard-pressed to point out any significant 7-string usage by Vai beyond 1989-90. The 7-string Ibanez Universe is all over Whitesnake's "Slip Of The Tongue" and Vai's solo "Passion And Warfare"
Of course, at that time it's only the original DiMarzio Blaze 7-string set that's available. It's 1998 before the far superior Blaze Custom 7-string makes a debut. And then the Evolution 7 comes out in 2000. If one were to just look at what's on paper, it does appear to be a gradual progression. How about we dig a little deeper?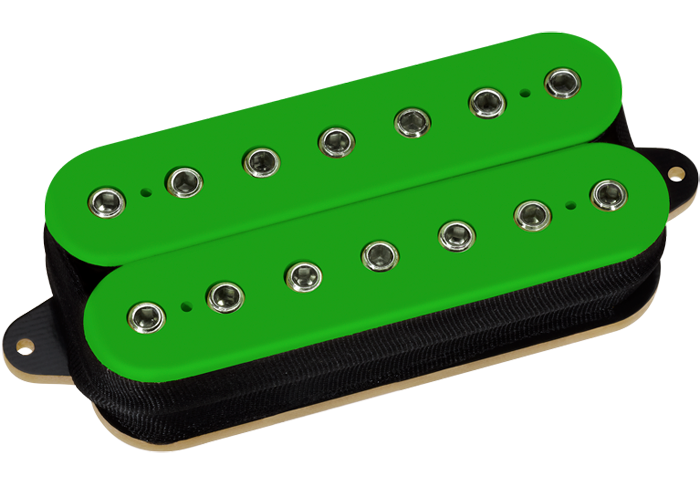 Virtual Vintage
What's that? For the most part, they put "dummy poles" between the normal pole pieces. The installation is in the underside of the bobbin, so they are not visible when looking at your typical operating humbucker. The purpose is to alter the inductance to "tune" the coil(s) in a way not traditionally possible.
As we look at this example, there are 4 (four!) dummy slugs on each coil. They fall between the E-A-D-G-B poles. That means there are none between the low B and the low E and none between the high B and the high E. I suspect the ones lacking are more to do with the need for the frame-mounting screws in those positions. LOL! The four mounting screws go where the four rubber cylinders are in place, so as not to confuse with "air tech".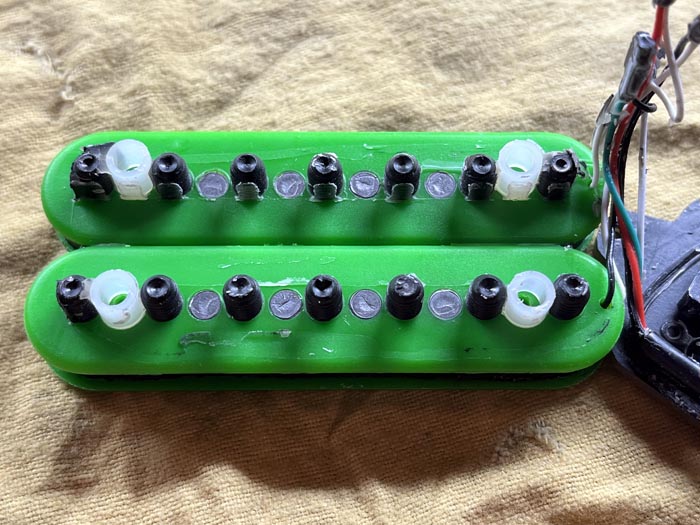 Installation
This Evolution 7 humbucker set is going into an Ibanez Universe 7-string. That's a basswood body, 24-fret maple neck, 25-1/2″ scale rosewood board, and Edge 7 locking tremolo system. The harness is original, as is the middle Blaze single coil and neck Blaze 7 humbucker. The guitar has a standard tuning of low B on the 7th, using 09-54 strings.
The Ibby Universe switching that I'll be covering is as follows: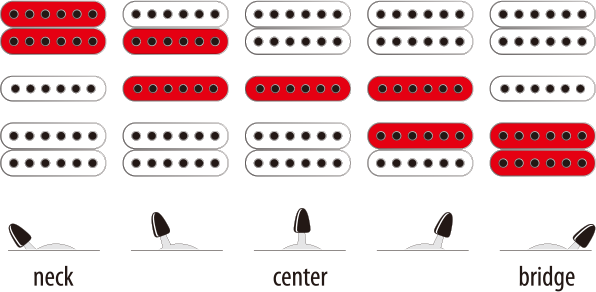 Evaluation
This is an interesting 7-string bridge humbucker. It's not like it's thick and meaty sounding, but it has plenty of presence. I imagine this is where that Virtual Vintage tech is paying off in the high strings. You don't hear it and think "Ah! That's the VV tech!" HaHa! But you will notice things are a little more bold.
And thankfully, there are oodles of character and harmonic content across the range of the pickup. You know, what you expect from something having an association with Vai! HaHa! This means it's a great pickup for playing leads and for your typical shred genre. But it doesn't stop there…
Down low is where we need to go for what you want to know. That 7th string is usually always about the vibe, and that's what is going on here. You don't hear it and say to yourself "THAT is the low 7th string!" LOL!. You just feel it. In this instance, that low string is big, but with refinement and definition. There is enough punch at work to keep it from getting sloppy and loose. But I would say it leans slightly more toward a soloist playing style than the pummeling brutality of metalcore. Will it do both? Oh, you bet. It's just my opinion that DiMarzio has options a little more skewed toward extreme metal nuances.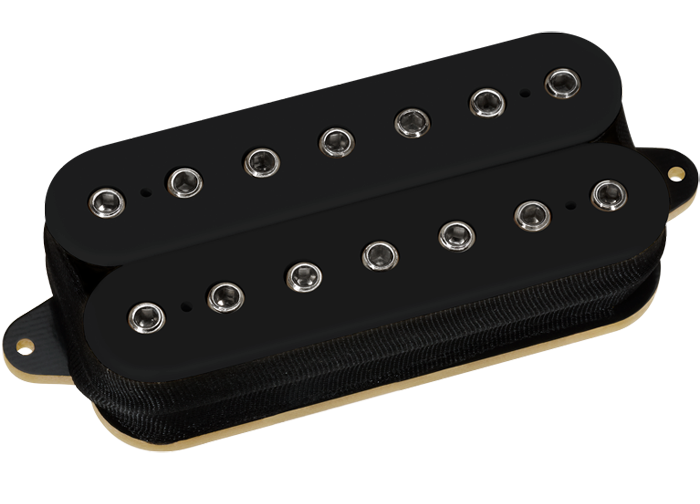 Demo
In another of many unfortunate oversights, DiMarzio has no official video that details this product. There are some unofficial demos online. I cannot attest to if the company sanctions these as the best representation of this model. However, I am purposefully choosing examples that are comparisons so that you can measure it up against another model that you might be familiar with. If you like any of these, please give the respective YT channel a "like".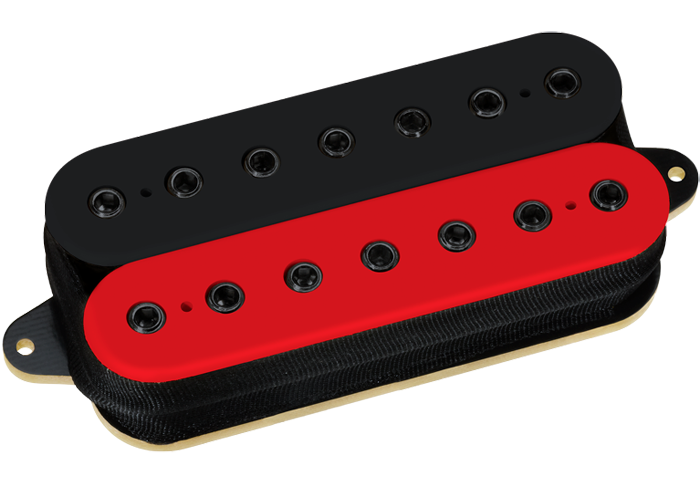 Specs
Although I get we are talking about two different platforms, let's also throw the Evolution 6-string spec up here for comparison
Evolution 7 DP704
Series – 14.402 K
Inductance – 7.823 H
Split – 8.228 K
Split – 6.197 K
Parallel – 3.53 K
Magnet – Ceramic
Output – 420 mV
Evolution 6 Bridge DP159
Series – 13.668 K
Inductance – 6.149 H
Split – 7.989 K
Split – 5.717 K
Parallel – 3.331 K
Magnet – Ceramic
Output – 404 mV
Sure, I get that it's not an exact duplicate. There's no denying there are two types of tech at work as well as two different formats. But I do have the impression that DiMarzio is working here to get the a very similar voice out of both. As in, if you imagine the voice of the Evolution model, you know that's what you can expect. HaHa!
Tone Chart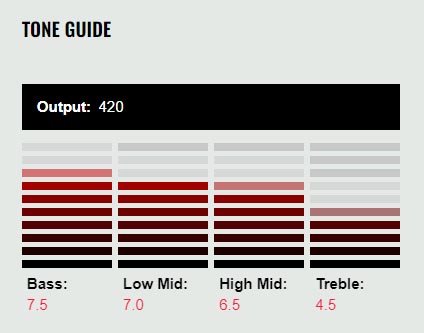 Dual Resonance?
Yes, the original 6-string Evolution uses Dual Resonance. That's pretty much using a different wire gauge on each coil. From the specs on the regular Evolution you are seeing above, that is why one coil is 8k and the other is 5.7k. Now, one would think that same applies to the Evolution 7. One coil is 8.3k and the other is 6.2k, right? It certainly looks that way. However, I cannot find any confirmation at this time that Dual Resonance tech is at work in the Evolution 7. Not saying it's not. LOL! Just cannot prove that it is.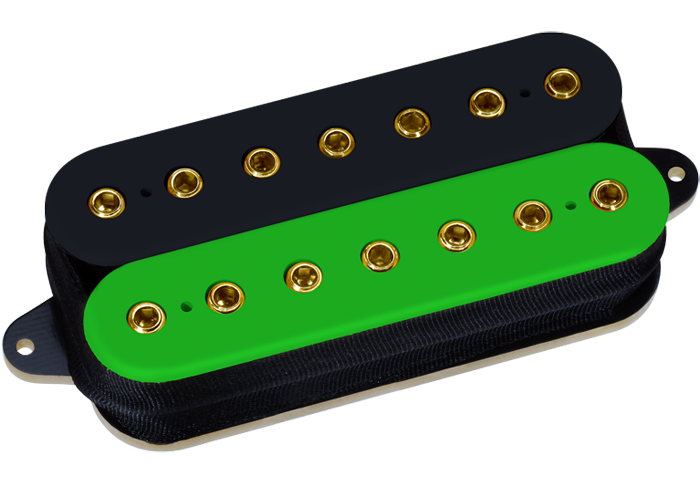 Conclusion
The Evolution 7 humbucker is going to be good for fusion, hard rock, progressive metal, djent, nu-metal, thrash, metalcore, hardcore, blues rock, garage, classic rock, alt rock, tech metal, shred, 80s rock, 80s metal, tech metal, and more. It's available in over 10 bobbin colors, a 1/2 dozen cover options, and 3 pole piece colors.
For reference, this DiMarzio Evolution 7 humbucker pickup set evaluation was conducted with a Fractal Axe-Fx II XL+ featuring Celestion Impluse Responses and Fractal MFC-101 MIDI Foot Controller. In addition, real cabs in use are Marshall 1960B, Mojotone British, and Peavey 6505 cabs loaded with Celestion Classic Series Vintage 30s and Classic Series G12M Greenbacks.
DiMarzio Website | Facebook | Twitter | YouTube | Instagram
7 string 8Ω 59 Alnico 2 Alnico 3 Alnico 4 Alnico 5 Alnico 8 Bare Knuckle BKP Brown Sound Celestion Ceramic Custom Shop Dean DiMarzio DMT Dual Resonance EVH Fishman Floyd Rose Fluence Gibson Humbucker Ibanez JB Jimmy Page John Petrucci MJ Mojotone P90 PAF Pariah Pickup Professor Guitarism Satch Satriani Schaller Seymour Duncan Singlecoil Single Width Speaker Steve Vai Tech Tip Tremolo