DiMarzio X2N w/ Sugar Chakra – Phil Collen
Phil Collen (Def Leppard) is unquestionably know for a career-defining tone that starts with DiMarzio's legendary Super Distortion DP100. Released in 1972, the Super D is the first aftermarket humbucker that you can hear all over the countless songs from the many bands that makes you want to pickup up the guitar. Phil is using the Super Distortion on his work for the legendary 1983 album Pyromania and all over the historic Hysteria from 1987.
Years later, Phil is opting to use the DiMarzio Super 3 DP152 in his signature Jackson PC1 guitar. The Super 3 is a great humbucker that I seem to discover is a little misunderstood by some players. Well, maybe it's more underestimated than anything. If you have yet to try out the Super 3, what are you waiting for?! LOL!
Of late, Phil is putting the DiMarzio X2N DP102 in some of his guitars. In some instances, adding the DiMarzio Sugar Chakra DP427 in the middle position. But you ask, how can you put a "bridge" pickup in a different slot? You can put a pickup anywhere you want, as long as it sounds good to your ear holes. HaHa! For the real aficionados that want to put in the work to confirm, I'm betting Phil also had a Super D in the middle position of his Ibanez DT555 40 years ago.
So that is what we are looking at today. The X2N in the bridge and the Sugar Chakra in the middle. What about the neck? I have a DiMarzio Pro Track DP188 sitting there, so that's going to complete this arrangement. No affiliation to Phil or any config he's using that I know of, so I'm calling an audible. LOL!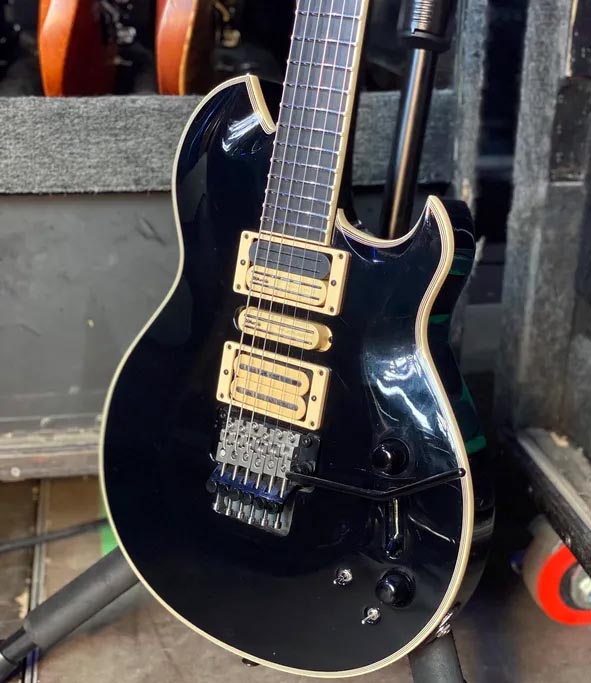 Installation
This is all going in to my chlorine Jackson USA Signature Phil Collen PC1. Mahogany body, maple top, maple neck, 24 frets, 25-1/2″ scale. What about the Sustainer? Gone. Outta there. Have one in the redrum color that it stock. The chlorine gets to have all the fun! HaHa! The harness is pretty much Bourns 500k pots, an Oak Grigsby 5-way lever switch, and a Pure Tone Multi-Contact 1/4: Output Jack.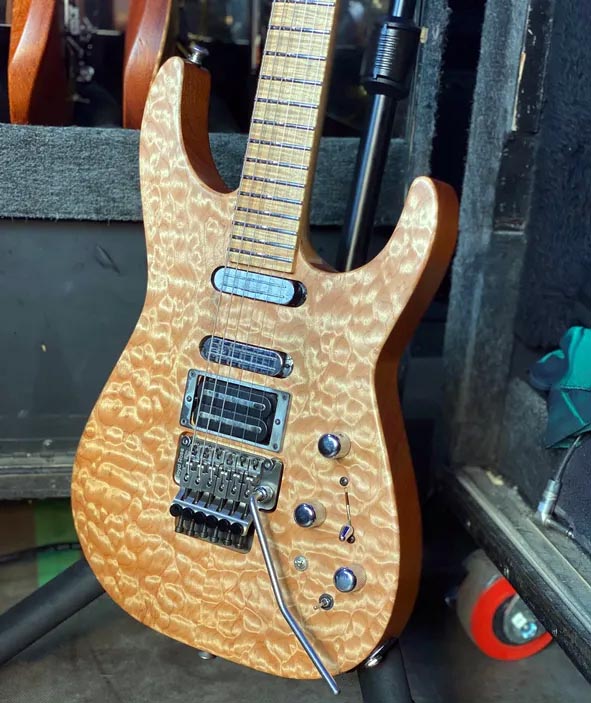 Evaluation
This is a great pairing. The X2N is renowned for showing up to work early, packing a sack lunch, and staying late until the job is done. It digs in and takes the entire rig to the next level. And the Sugar Chakra is like the X2N's little brother that packs a man-size punch.
X2N
In the setup that Phil is using, the configuration is for fuil-throttle series installation. That means that he is blowing and going. As you will see in the demo, he can roll back the volume to clean up X2N in ways that many might not expect. It's not the glassy, snappy chime of an authentic single coil. There is just enough commanding authority in the X2N to dominate a clean amp channel for an ever so gently beefy character. Sort of in between clean and gritty, but not quite totally dirty.
Standing on it's own, the X2N is undoubtedly a powerful pickup. I also think there are players that may only hear the gossip and not give it a try. That can be a shame, as there really is more tone going on that it gets credit for. OK, fine, it might be a little big and brutish. But it's very responsive to the playing style with an overtone of clarity and openness that offers versatility. There is enough of a sparkle within a big open chord that I know it's also going to be good for lower tunings. The rail (or "bar") design eliminates dead spots as well as increasing precision.
Sugar Chakra
Sliding the Sugar Chakra to the middle position is like having an ideal clutch player on the roster. You take the voice of the pickup and the choice of placement, and it's superb for lead and solo work with a deliberate punchy presence. It definitely cuts through, but with the power of machete rather than the sharp slices of a scalpel. Something to consider for the players that want an alternative to "ice pick" high end.
Going between the two pickups is a natural-sounding transition. As you can see from the tone chart below, there are subtle differences. From what I'm hearing, the subtleties are complimentary to the ear and to the variety of tonal options. If you choose this configuration for yourself, and if you have the flexibility in your harness, maybe consider options for splitting or for parallel to really open it up.
Demo
Specs
DiMarzio X2N
Series – 15.527 K
Inductance – 10.151 H
Split – 7.769 K
Split – 7.784 K
Parallel – 3.887
Output – 510 mV
Magnet – Ceramic
DiMarzio Sugar Chakra
Series – 22.56 K
Inductance – 8.632 H
Split – 11.309 K
Split – 11.256 K
Parallel – 5.651 K
Output – 337 mV
Magnet – Ceramic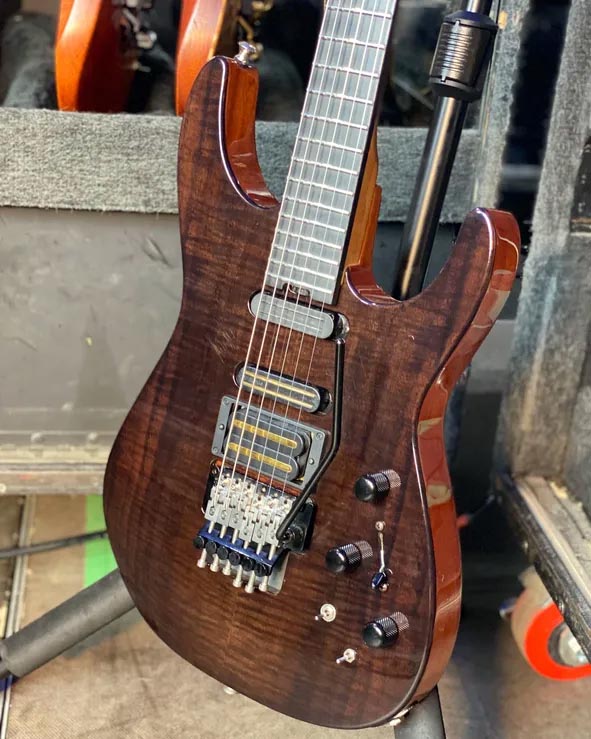 Tone Chart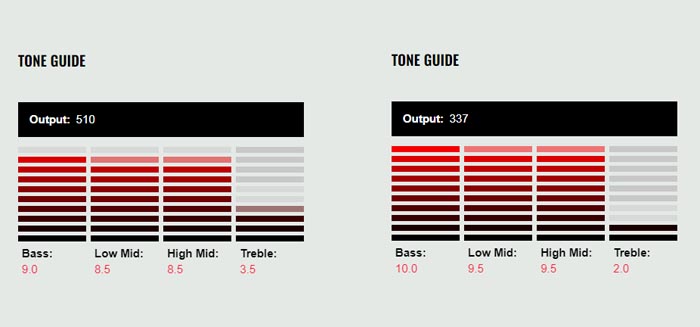 Conclusion
The X2N has a 40+ year history of establishing that too much is never enough. In today's realm of modeling, amp sims, and next-generation processing, I find it to remain just as relevant as when it was needed to push a tube amp over the edge. Pairing that with the Sugar Chakra as the new kid on the block is an inspired move. It might not make sense on paper to some players, but what matters is when the rubber hits the road. As an aside, although the Pro Track is a random selection for the neck position, it works there very well in this configuration and I'll be looking forward to running it through more scenarios.
The X2N and the Sugar Chakra are going to be good for hard rock, shred, metalcore, prog rock, doom, thrash, extreme metal, hardcore, classic rock, punk, djent, nu-metal, 80s metal, blues rock, garage, prog metal, fusion, grunge, heavy metal, and more. The X2N is available in over a dozen bobbin color combinations and the Sugar Chakra has over 10 cover options. Both has nickel, gold, and black rails to choose from.
For reference, this DiMarzio X2N and Sugar Chakra evaluation was conducted with a Fractal Axe-Fx II XL+ featuring Celestion Impluse Responses and Fractal MFC-101 MIDI Foot Controller.  In addition, real cabs in use are Marshall 1960B, Mojotone British, and Peavey 6505 cabs loaded with Celestion Classic Series Vintage 30s and Classic Series G12M Greenbacks.
DiMarzio Website | Facebook | Twitter | YouTube | Instagram
7 string 8Ω 59 Alnico 2 Alnico 3 Alnico 4 Alnico 5 Alnico 8 Bare Knuckle BKP Brown Sound Celestion Ceramic Custom Shop Dean DiMarzio DMT Dual Resonance EVH Fishman Floyd Rose Fluence Gibson Humbucker Ibanez JB Jimmy Page John Petrucci MJ Mojotone P90 PAF Pariah Pickup Professor Guitarism Satch Satriani Schaller Seymour Duncan Singlecoil Single Width Speaker Steve Vai Tech Tip Tremolo