Bare Knuckle Brute Force 7 Humbucker Set
The Brute Force 7 is another option from Bare Knuckle's Boot Camp selection. The Brute Force 6 string humbuckers are so much fun, I just cannot stop and I have to jump in to the extended ranges. LOL!
As a reminder, the Boot Camp series is a ready-to-go easily-approachable range of top-notch pickups. Choose your voice or your output. Then choose from Strat, Tele, Humbucker, or P90 styles. As simple as that. These are also deftly-applied gateways in to the much more comprehensive line of offerings from Bare Knuckle.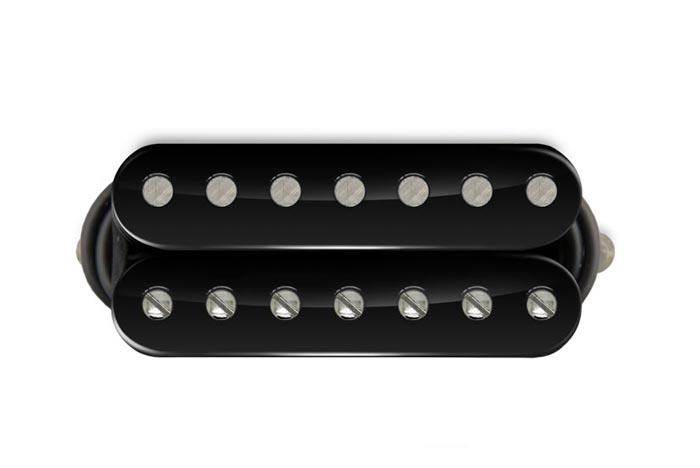 Installation
This Brute Force 7 set is going into an Ibanez Universe 7-string. That's a basswood body, 24-fret maple neck, 25-1/2″ scale rosewood board, and Edge 7 locking tremolo system. The harness is original, as is the middle Blaze single coil. The guitar has a standard tuning of low B on the 7th, using 09-54 strings.
The Ibby Universe switching that I'll be covering is as follows: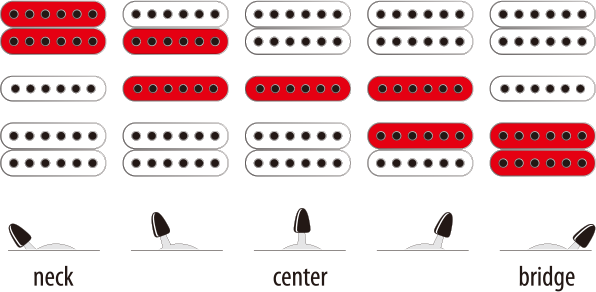 More than anything, that means that we are going to be able to get a bit of an idea as to how they split. Even if it is in conjunction with the stock middle position single coil.
Evaluation
There is a healthy does of natural compression baked in to the voice of this set. That helps to make the low end deep, yet under control. Another aspect is that the highs are bigger. Not as in brighter or sharper, but imagine a larger footprint. Just more solid with a greater presence. The mids are a little more dominant overall, with a a slant toward to low-mids. In other words, this set moves some air.
On a dirty amp setting, the neck excels at lead and solo work that will break through the wall and pop you one in the jaw. LOL! There's really no messing around with the Brute Force 7. Pack yourself a lunch and be ready to spend all day being knocked around the school yard with the most brutal of rock voicings. The bridge position is locked and loaded to rock the day away with intense riffage. While not a one-trick-pony, this is still the selection to make if you want to most intense searing tones from your 7-string guitar.
Going back to the switching system in play, the 2 and the 4 positions really highlight the versatility of a clean amp channel. Let's also consider that all pickups use ceramic magnets. Yet, when the respective Brute Force 7 splits to pair up with the middle single coil, it's quite pleasant and ideal for the cleanest passages of today's prog and extreme metal. Your mileage may vary, depending on your amp. But a versatile rig will have no issue getting downright pristine cleans from split wiring configurations.
Demo
We are at a deficit of sanctioned demos for the 7-string version. There is an official release of the 6-string Brute Force humbucker as a reminder of the general character:
And an un-official demo that it think should satisfy the curiosity of most 7-string players:
Brute Force 7 Bridge
Series – 15.543 K
Inductance – 6.103 H
Split – 7.811 K
Split – 7.772 K
Parallel – 3.893 K
Magnet – Ceramic
Brute Force 7 Neck
Series – 13.421 K
Inductance – 4.542 H
Split – 6.729 K
Split – 6.715 K
Parallel – 3.361 K
Magnet – Ceramic
For those with an interest in how that matches up to the 6-string variant, check it out:
Brute Force 6-string Bridge
Series – 15.305 K
Inductance – 6.497 H
Split – 7.711 K
Split – 7.622 K
Parallel – 3.83 K
Magnet – Ceramic
Brute Force 6-string Neck
Series – 13.656 K
Inductance – 5.524 H
Split – 6.846 K
Split – 6.83 K
Parallel – 3.415 K
Magnet – Ceramic
What Do Those #s Mean?
Glad you asked! LOL! In short, it means that Bare Knuckle is shooting for the end result.
How so? Again, glad you asked! HaHa! There is a conventional approach out there. It is pretty much that you put the same number of turns from the 6-string version on to the 7-string version. As a reminder, putting 1,000 turns (a totally random number) on a longer 7-string bobbin will be more wire. More wire not only increases resistance, but it tinkers with the inductance and the capacitance. It's just not going to sound the same to put the more of the same recipe on to a different platform. Conversely, the same idea works if you start with a 7-string pickup and people want a 6-string version.
There are different ways that Bare Knuckle can do this. Could be the wire selection, the wire insulation, or maybe even the coil geometry. And that's really not our business as the end user. Our business is knowing that the process is thought out, in so much as knowing that the end result is the goal.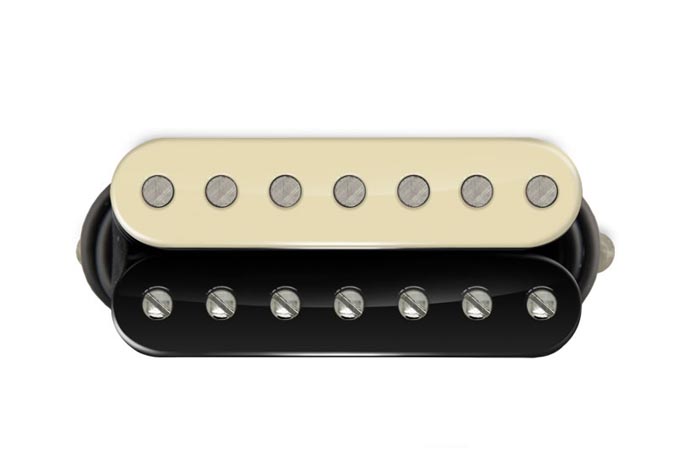 Conclusion
This 7-string set is good for high gain rock, progressive metal, thrash, hardcore and extreme metal styles.
The Boot Camp series humbuckers are available in 6 and 7-string variations with standard or wide pole spacing. They come with 4-conuctor wiring and triangle tab mounting feet. Nickel and gold covers are an option, as well as black or zebra bobbins.
For reference, this Bare Knuckle Pickups Boot Camp Brute Force 7 string humbucker set evaluation was conducted with a Fractal Axe-Fx II XL+ featuring Celestion Impluse Responses and Fractal MFC-101 MIDI Foot Controller. Real cabs in use are Marshall 1960B, Mojotone British, and Peavey 6505 cabs loaded with Celestion Classic Series Vintage 30s and Classic Series G12M Greenbacks.
Bare Knuckle Pickups Website | Facebook | Twitter | YouTube | Instagram
7 string 8Ω 59 Alnico 2 Alnico 3 Alnico 4 Alnico 5 Alnico 8 Bare Knuckle BKP Brown Sound Celestion Ceramic Custom Shop Dean DiMarzio DMT Dual Resonance EVH Fishman Floyd Rose Fluence Gibson Humbucker Ibanez JB Jimmy Page John Petrucci MJ Mojotone P90 PAF Pariah Pickup Professor Guitarism Satch Satriani Schaller Seymour Duncan Singlecoil Single Width Speaker Steve Vai Tech Tip Tremolo