DiMarzio Fortitude Bridge
The Fortitude is a humbucker pickup for Joe Duplantier. You know him from the French metal band Gojira. It's also the name of the band's 2021 album. Not to be outdone, it's also the name of a track on the same album. LOL!
You say that you are not familiar with Gojira? Here, check this out:
When one thinks of the tech prog groove metal of Gojira, it might be easy to assume what's going on with this humbucker. And that is what makes this selection so interesting.
Installation
For this evaluation, I plant the Fortitude in a double-hum axe. Connections are Bourns 500k pots, a Switchcraft 12120X 3-way toggle, and a Switchcraft 1/4″ output jack. This was right after the article on the Air Classic set, so that neck pickups remains in the guitar. The guitar has an E standard tuning with 09-42 strings.
Inductance
The claim is that the Fortitude is a modified PAF 36th Anniversary Bridge. Put your brakes on there for a second, pardner. HaHa! There is a little bit more at work here.
You can have a humbucker in the 9k range all day long, but that does not mean they are all the same. It could be anything from the type of wire to the turns per layer to the tension put on the wire to the type of insulation and on and on. In this instance, it's a lot to do with the inductance. Inductance? What's that? It's actually a much more definite measurement than resistance, and maybe I'll make some time in the future to discuss it in depth. But for now, just think of more inductance as more output and a bigger vibe.
The Fortitude does this, in part, by bigger filister screws. Not longer, but thicker. As in more diameter. Look at some of the other pickups out there with bigger poles. Like the Duncan Quarter Pound. It's got a bigger, bolder tone. Similar can be said for longer pole pieces, but that's more about moving, or expanding, the magnetic field further down away from the actual coil and strings.
Evaluation
With that in mind, consider the 36th Anniversary Bridge with more backbone. More balls. More… well, Fortitude. LOL!
Everything is heavier in this pickup, by comparison to the 36th Anniversary Bridge. The high end has a broader presence and a heavier footprint. The midrange is shifted more to the lower mids for a throatier vibe and more of a growl. And put on your big boy pants before traversing the low end on the Fortitude. It's not messing around. The lows will punch you in the chest, pick you up, and knock you back down again. HaHa!
On a clean amp channel, things are still… you guessed it, big and full. LOL! If you're looking for glassy, get to tweaking the amp settings and/or consider a split wiring option. Even so, I'm finding arpeggio notes to complement the voice more so than big chords.
Duplantier has a history with 5150 amps and cabs. I can see how that would pair well with this pickup. Unless your goal is doom or stoner genres, I'd encourage a rig with control and definition. You know, like the 5150. HaHa! Having a precise playing technique will go a long way with the Fortitude, as you can see in the demo video.
Demo
Specs
Since they are saying the Fortitude hails from the PAF 36th Bridge, let have a look at some numbers.
DP290 Fortitude Bridge
Series – 9.271 K
Inductance – 5.901 H
Split – 4.605 K
Split – 4.662 K
Parallel – 2.315 K
Magnet – Alnico 5
Output – 290 mV
DP223 PAF 36th Anniversary Bridge
Series – 9.376 K
Inductance – 5.467 H
Split – 4.745 K
Split – 4.62 K
Parallel – 2.34 K
Magnet – Alnico 5
Output – 285 mV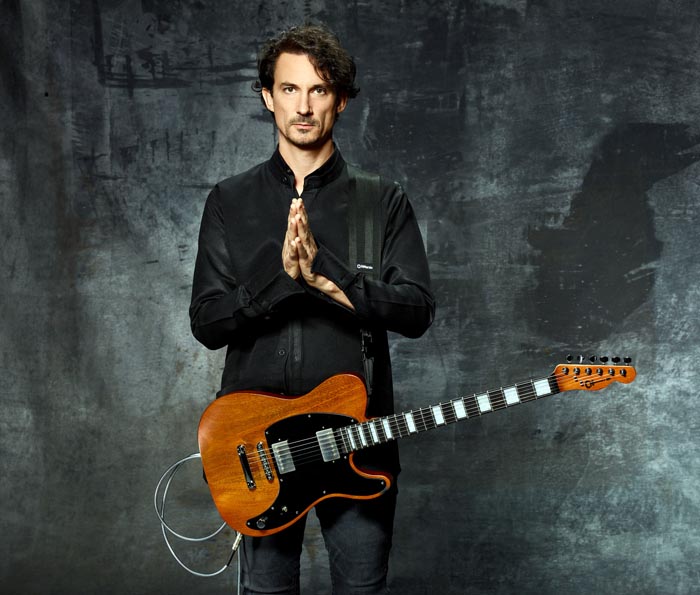 Conclusion
The Fortitude is going to be good for hard rock, metal core, progressive rock, doom, thrash, death metal, stoner, extreme metal, hardcore, punk, grunge, djent, mu-metal, and more! It's available in over a dozen bobbin colors, over 10 cover options, and 3 pole piece colors in both standard and wide pole spacing.
For reference, this DiMarzio Fortitude humbucker pickup evaluation was conducted with a Fractal Axe-Fx II XL+ featuring Celestion Impluse Responses and Fractal MFC-101 MIDI Foot Controller.  In addition, real cabs in use are Marshall 1960B, Mojotone British, and Peavey 6505 cabs loaded with Celestion Classic Series Vintage 30s and Classic Series G12M Greenbacks.
DiMarzio Website | Facebook | Twitter | YouTube | Instagram
7 string 8Ω 59 Alnico 2 Alnico 3 Alnico 4 Alnico 5 Alnico 8 Bare Knuckle BKP Brown Sound Celestion Ceramic Custom Shop Dean DiMarzio DMT Dual Resonance EVH Fishman Floyd Rose Fluence Gibson Humbucker Ibanez JB Jimmy Page John Petrucci MJ Mojotone P90 PAF Pariah Pickup Professor Guitarism Satch Satriani Schaller Seymour Duncan Singlecoil Single Width Speaker Steve Vai Tech Tip Tremolo