Mojotone René Martinez Texas Strat Pickup Set
Rene Martinez is a Dallas-based stringed-instrument repairman. He is also a guitar tech that has worked with a who's who of talented musicians. Stevie Ray Vaughan. Carlos Santana. Edie Brickell. Clint Black. Jimmie Vaughan. Mick Jones (Foreigner). Moody Blues. Rene even turned down an offer to go full time with Prince. He's been with John Mayer for over 15 years.
If you have never heard of Rene, here is a 5-minute video that I consider a primer very much worth your valuable time:
Let some of those comments sink in for a minute. I'll wait. LOL! There are some nuggets of insight and wisdom in there worth more than their weight in gold. Watch it again, if you must. I promise, I'll still be here when you're done. HaHa!
Please take some time to do a deep dive on Rene. You will see he is a bit of a guitar gear inventor. Check out his Signal Splitter. Your guitar signal goes in and out comes six (6!) output signals. This is key to the SRV tone, as Stevie was using multiple amps at the same time. That's going to factor in to things here in a minute.
Installation
For this test run, I put the Texas Strat set in my trusty 1990 Fender American Standard. I'm using the Mojotone Solderless Strat Blender Guitar Wiring Harness, making the install a snap! So we're talking about CTS pots, a Switchcraft jack, a handmade Vitamin T oil-filled .047uF cap, a treble bleed, and a CRL 5-way switch.
I like the Blender harness, as you can dial in a mix of the neck pickup into positions 1 and 2. And then you can also bring in some of the bridge pickup in to positions 4 and 5. All to your own taste, via the Blender control knob in the T2 bottom knob spot. That is sonic nirvana with a set like the Texas Strat single coils.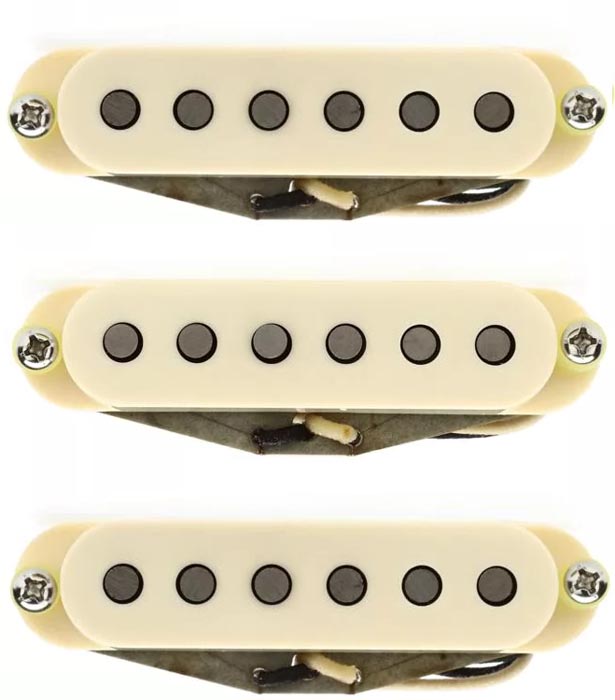 Evaluation
When many people see "Texas Strat" they think higher output and a smoky expression with smoldering tone. Dare I suggest that the Texas Hot Blues Strat tone that many people hear in their head is SRV? Nobody can speak more to that than Rene. And as we've discussed before, Stevie was prone to a 1959 Fender Strat pickguard with the stock Fender pickups mounted on to a 1960s parts guitar. Clearly not screaming loud pickups. LOL! Remember that splitter box from before? Aside from his hands, SRV was going in to as many as five (5!) different loud amps.
Add to that, this Texas Strat set isn't even an attempt to channel SRV. This is from the ears of a guitar player, guitar tech, guitar repairman, guitar gear inventor with a lifetime of expertise in tone and in Texas. YeeHaw!
As is the case with Mojotone, these American-made pickups are clear and articulate. This is all about you and your hands. Give the Texas Strat set some strong hands and it will thump you in the solar plexus. Take the gentle approach and you will hear the most nuanced subtleties. In other words, it's about being a conduit between your playing and the flavoring of your amp selection.
The Alnico 5 bridge has a bit more of a traditional single coil taste. Some control in the low end and some snap in the upper mids and highs. The middle and neck positions have an Alnico 3 magnet selection that sets them apart. If you're not familiar with Alnico 3, imagine the vintage character of Alnico 2 but with pronounced mids. In this format, it maintains a smooth and classic voice without the dramatic mid-scoop.
Demo
Mojotone has a few demo videos for you guys to check out!
This next one is dripping with heavy Jimi vibes:
Specs
Texas Strat Bridge
DCR – 7.313 K
Inductance – 3.203 H
Magnet – Alnico 5
Texas Strat Middle
DCR – 6.167 K
Inductance – 2.637 H
Magnet – Alnico 3
RWRP
Texas Strat Neck
DCR – 5.719 K
Inductance – 2.271 H
Magnet – Alnico 3

The Rene Martinez Texas Strat set is going to be good for country, surf, jazz, blues, funk, pop, classic rock, reggae, garage, punk, and more. You can get them by the individual position or as an entire set. They are available with white, black, mint green, parchment, cream, and aged white covers.
For reference, this Mojotone Rene Martinez Texas Strat pickup set evaluation was conducted with a Fractal Axe-Fx II XL+ featuring Celestion Impluse Responses and Fractal MFC-101 MIDI Foot Controller. In addition, real cabs in use are Marshall 1960B, Mojotone British, and Peavey 6505 cabs loaded with Celestion Classic Series Vintage 30s and Classic Series G12M Greenbacks.
Mojotone Website | Facebook | Twitter | YouTube | Instagram
René Martinez Website
7 string 8Ω 59 Alnico 2 Alnico 3 Alnico 4 Alnico 5 Alnico 8 Bare Knuckle BKP Brown Sound Celestion Ceramic Custom Shop Dean DiMarzio DMT Dual Resonance EVH Fishman Floyd Rose Fluence Gibson Humbucker Ibanez JB Jimmy Page John Petrucci MJ Mojotone P90 PAF Pariah Pickup Professor Guitarism Satch Satriani Schaller Seymour Duncan Singlecoil Single Width Speaker Steve Vai Tech Tip Tremolo