DiMarzio D Activator Humbucker Pickup Set
The D Activator can be hard to get a bead on when first looking at it. The name sounds a little aggressive and the description starts off with a references to popular active pickup qualities. But on paper, the specs look good. So I give it a shot. And I'm liking it.
For this application, the D Activator set is installed in a neutral-sounding super strat with a maple neck and an Official Floyd Rose trem. The harness is able to switch between series and parallel for both positions.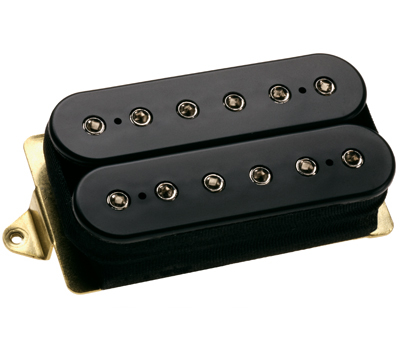 D Activator Neck DP219
It seems as if there are a lot of players out there that just really don't use the neck position all that much, due to the tones they want and they tones they are getting. This can leave players in a position of just sticking with the bridge pickup. And believe me, I've done that and I have nothing against a guitar with a single bridge humbucker. Oh yes, I do like me a single bridge humbucker guitar. LOL!
But there are so many cool playing options available with the right neck pickup. Consider the Slash's into to GnR's "Sweet Child O' Mine", as easily achieved on a neck pickup with the tone all the way down. Or consider how your lead and solo work can take on a new depth and girth.
When it comes to the hunt for rock-themed neck pickups, DiMarzio has really been delivering. I've tried the Humbucker From Hell, the LiquiFire, the Super 2, and I have the 7-string Blaze as a stock pickup. And many more. They all bring something different to the table that's good enough to make you want to partake.
The D Activator neck has a presence that I find to have a nice balance for a neck voicing. Not too loud and not too quiet. Not too thick and not too thin. Think of an all-around clutch player that can handle offense and defense.
Better yet, in term of other DiMarzio neck pickups, let's start with the HFH and the Super 2. They have similar numbers on the DiMarzio tone chart. The HFH can be a little rigid and stiff, and the Super 2 can be a little powerful and boomy. The D Activator slips right in there, with an output a little closer to the Super 2, but a little more articulate like the HFH.
This bad boy also fills in the space between the LiquiFire and the Super 2. It delivers the more focused voice of the LF and has the added brightness and cut in the high end of the Super 2.
The D Activator neck really holds together well. The low end delivers some thump, but doesn't flub out or get muddy. The mids and highs are very nice for lead work in the neck position. All the harmonics tricks I tried cut through with as much clarity and vitality to make you forget you were playing a neck pickup.
It has a DCR that would make you think it's a vintage or a PAF pickup, but it delivers a level of output that can stand you up and knock you over. HaHa! I suspect a bit of that is due to the offset coil windings and how that allows more frequencies to come through, leaving you with a character that transcends the limitations of the numbers on the paper.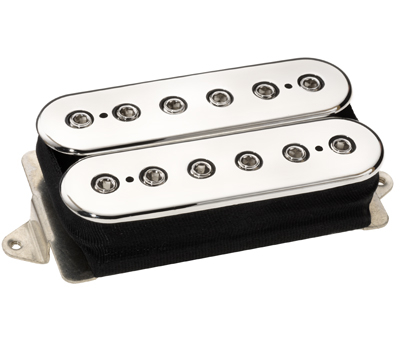 D Activator Bridge DP220
This pickup is quite dynamic. I find it very touch sensitive and responsive to pick attack. The results are impressive. Most impressive. Harmonics pop out with ease and have plenty of drive to sustain. It has a midrange roar/growl that I always look for in a bridge pickup. A smidge throaty, but far from overbearing.
The high end has definition and lots of cut. But not too sharp and it does not suffer from the "ice pick" syndrome that some players avoid in a bridge pickup. The low end is really lures you in further. It's made for those that just do not care for boom or flab or mud in the low end of any pickup in any position. And this pickup does not have any of that. But it is not crisp or rigid or brittle in the lows either. Instead, it has a nice deep rich low end that retains more focus than you will expect from a pickup with that much presence in the lows. It's a design that I find pretty innovative in a pickup like this.
The description on the DiMarzio site talks a lot about trying to being the best qualities of an active to a passive and that's all good and I can dig where they are coming from. But when a player reads "active" it can color their perception. I've played several active models across a few brands and I don't hear anything in the D Activator that should be any concern for players that just don't like "active" characteristics. A bit of a shift in the marketing of this model could be relevant.
Something that really hits home with this pickup is how the DC Resistance would imply a "hot vintage" output, for those that subscribe to the fallacy of DCR = Output. The output of this pickup is up there past the DiMarzio "Super" series. But as I've found, it is not a muddled uncontrollable gain monster. The way a pickup is voiced is everything. The alchemy of the materials and the way it is wound trumps the DCR.
Demos
How about a demo of John 5 using a D Activator set in one of his Telecasters?
Wanna hear the 7-string version? You're in luck! Check out this demo from Whitechapel's Zach Householder:
Specs
How about some specs?
D Activator Bridge DP220
Series – 11.41 K
Inductance – 4.561 H
Split – 5.897 K
Split – 5.535 K
Parallel – 2.855 K
Magnet – Ceramic
Output – 470 mV
D Activator Neck DP219
Series – 7.303 K
Inductance – 2.589 H
Split – 4.128 K
Split – 3.169 K
Parallel – 1.7925 K
Magnet – Ceramic
Output – 385 mV
The D Activator will be good for progressive rock, metal, thrash, punk, hardcore, hard rock, metal core, extreme metal, djent, nu-metal, and fusion. It's available in 6, 7, and 8-string variations. The usual selection of bobbin colors, pole pieces, and covers will apply.
For reference, this DiMarzio D Activator pickup set evaluation was conducted with a Fractal Axe-Fx II XL+ featuring Celestion Impluse Responses and Fractal MFC-101 MIDI Foot Controller. Real cabs in use are Marshall 1960B, Mojotone British, and Peavey 6505 cabs loaded with Celestion Classic Series Vintage 30s and Classic Series G12M Greenbacks.
DiMarzio Website | Facebook | Twitter | YouTube | Instagram
7 string 8Ω 59 Alnico 2 Alnico 3 Alnico 4 Alnico 5 Alnico 8 Bare Knuckle BKP Brown Sound Celestion Ceramic Custom Shop Dean DiMarzio DMT Dual Resonance EVH Fishman Floyd Rose Fluence Gibson Humbucker Ibanez JB Jimmy Page John Petrucci MJ Mojotone P90 PAF Pariah Pickup Professor Guitarism Satch Satriani Schaller Seymour Duncan Singlecoil Single Width Speaker Steve Vai Tech Tip Tremolo