DiMarzio PAF 36th Anniversary Set DP103 / DP223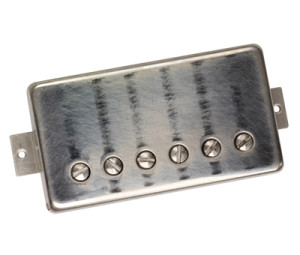 To round out the series on Jimmy Page​ themed pickups, I thought it fair to get with a big name in aftermarket pickups… DiMarzio. Speaking to one of their engineers, he suggested the 36th Anniversary set. When you look at the product description on the DiMarzio site, it is cool that they so clearly allow many options for an anniversary model…bobbin type, cover and the type of cover, leg length, type of mounting feet, and type of cable.
For this, I used the same guitar as the other Page-themed pickups…which also allows individual series/split/parallel controls for each pickup.
In the spirit of the original PAF pickups, the DP103 36th Anniversary can be used in neck and/or bridge position. For this application, I went with the neck. It is warm and smooth, but it retains clarity and bite. The low end holds together without getting muddy, which is a big deal for me. I found the drive (as I call it) to be right in line with the neck models from the boutique custom shops. I also liked that I found it capable of playing rhythm parts without being too nasally or too throaty. Lead and solo lines had a rich presence that cut through.
Series – 7.56k
Split – 3.80k
Split – 3.76k
Parallel – 1.89k
Output – 250 mV
T – 5.5
M – 6.0
B – 5.5
PAF 36th Anniversary Bridge DP223
The DP223 36th Anniversary Bridge was an excellent suggestion, as it has that added extra that would put it a little more on par with the T-Top vibe. The DP223 is one that I already had and was testing prior to this series. If you have read my review on the DiMarzio Virtual Hot PAF, I was interested in how the DP223 36th Anniversary Bridge is as loud as the VHPAF, with more defined low/mids and bigger/smoother highs. Having tested the DP223 in a single-hum shred stick and now in a 2-hum Page setup, I find it a great pickup. Very versatile for a very wide range of applications. Riffing, power chords, open chords, bluesy leads, screaming leads, popish funky vamping, etc.
Series – 9.37k
Split – 4.75k
Split – 4.62k
Parallel – 2.35k
Output – 285 mV
T – 5.0
M – 6.5
B – 6.0
Both pickups conducted themselves like seasoned pros on a dirty amp channel. On a clean amp setting, I found them to behave a little better in split and parallel mode than in series, when compared to the other Page style pickup sets I've tried. Not a bad thing, just a defining characteristic. In series mode, both pickups are a little more prone to want to push to breakup a little quicker… which can be an appealing quality to players.
DiMarzio Website, DiMarzio Facebook, DiMarzio YouTube, DiMarzio Instagram