Seymour Duncan Alnico II Pro Slash Humbucker Set
Slash. A single name that defines a paradigm shift in the very fabric of the music scene. And then partner that with a formative musical instrument. Like Elvis and the J200. Prince and the Telecaster. Sting and the P Bass. Jimi and the Stratocaster. You get the idea.
But let's hold up a second. You're thinking Slash and a Les Paul. Well, yeah. But not a Gibson. The guitars that rocked the fuzzy dice off the rear-view mirror of your new 1987 Ford Escort were clones. Duplicates. Replicas. Some even say counterfeit.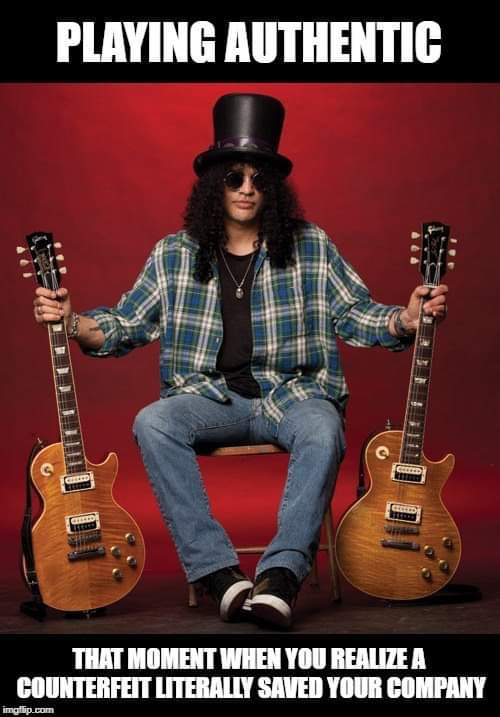 While a few different guitars were in use during the recording of the seminal "Appetite For Destruction", Slash became known for a few Les Paul copies. Depending on the guitar, the luthiers include Peter "Max" Baranet and the late Kris Derrig . Why am I not putting a pin in the Who, What, Why, Where, When? Because it gets debated ad nauseam and is only a footnote to what we are talking about here. Which is….
The Alnico II Pro humbucker set. That's what Slash liked. This was the mid-80s and the labels on the baseplates indicate the craftsman behind the work. Sure enough, the ones in Slash's main guitar were from current Custom Shop manager MJ. Side note: I was sure to source MJ-made APH-1s for my prior evaluation. Going forward, Slash would just ask for a regular APH-1 set. Meaning, they'd just go grab any random set out of the pile. The Duncan company claims they do the same for the APH-2 set when Slash needs more.
Now we fast-forward to when Gibson wants to make a Slash Les Paul. Er… so a signature of a signature? Anyway…. It seems that Gibson can't duplicate a duplicate as thoroughly as expected. The modern Gibson construction isn't producing that same vibe. Slash needs something beefier and more aggressive. So he goes to Seymour and MJ.
Here's a video of one of Slash's guitars going to see Seymour for some pickup maintenance:
It's no secret that the original Alnico II Pro APH-1 set is a Jazz humbucker set with magnets swapped out to Alnico 2. Hence the name, Alnico II Pro. As is all over the pages of this site you are visiting, the Duncan company has gotten many different models out of a simple swap of magnets or pole pieces. But getting to the Slash APH-2 set is not quite so simple, so a little tweakage of the coil wire comes in to play. More so than just adding more turns.
As part of the process, MJ makes about a half dozen sets that are in the ballpark for Slash to choose from. That gets pared down to a few sets which are taken to Slash to check out, and the winner is picked from those.
For our purposes here, the Slash get is going into a double hum guitar. Since this set comes stock with vintage lead wire, there are no split or parallel tricks going on. During the install process, I take advantage of the opportunity to hit the frets with the Lizard Spit Fret Polishing System and to apply Lizard Spit Slick Nutz to relevant friction points.
People are going to ask about a comparison between the APH-1 set and the Slash (APH-2) set. While I generally avoid a "shootout", we are talking about a basic variation of the same thing. So I'll do what I can. To start with, the Slash bridge has a bit more of an assertive character. While still sweet, the high end has some sass. Mids had more bark than the APH-1's bite. For my preference, the slightly more refined low end is what makes this one happen. You can riff away to your giddy content, and hit solo mode for plenty of sustain. The overall voicing rides the line between a focused natural compression and open transparency.
The Slash neck is a second try for me. I'd tried one once before and it didn't hit the spot. As part of a complete set, I'm finding that the characteristics make more sense and working better this time around. It can be a little bold and big, and it might should be considered more for certain tonal goals. But for lead work up higher on the neck, it has a little more complexity than the APH-1 counterpart. The neck is going to be good for bigger, stronger clean sounds and if you want overdriven tones to hit you square in the chest.
Given the wiring limitations, clean amp tones should be dialed in at the amp and with the guitar's volume controls. That, along with the long mounting legs, does hit me as possible detriments to the full potential of the Slash set. I've not checked, but I imagine those changes might be available as a production floor custom.
Wanna see Slash talking about his Seymour Duncan experience?
Let's look at some specs:
Alnico II Pro Slash Bridge
DC Resistance – 8.576 k
Inductance – 4.677 H
Resonant Peak – 6 KHZ (advertised)
Magnet – Alnico 2

Alnico II Pro Slash Neck
DC Resistance – 8.192 k
Inductance – 4.369 H
Resonant Peak – 6.4 KHZ (advertised)
Magnet – Alnico 2
It's really hard to go wrong with the Slash set, in the same way it's hard to go wrong with the Whole Lotta Humbucker set. The Slash set is a voice made with the intention of filling the needs of a particular player. A player that so well defined a new shift in rock stylings that his band's debut album remains a benchmark.
The Alnico II Pro Slash APH-2 set is good for Blues, Garage, Punk, Grunge, Classic Rock, Heavy Rock, Blues Rock, Country, Jazz, and Funk. It's available with the vintage braided lead wire and the long mounting legs. Unless you get the trem-space bridge, which has short legs. Bobbin colors are black or zebra. Cover options include gold, nickel, raw nickel, and black nickel.
For reference, this Seymour Duncan Alnico II Pro Slash APH-2 humbucker pickup set evaluation was conducted with a Fractal Axe-Fx II XL+ featuring Celestion Impluse Responses and Fractal MFC-101 MIDI Foot Controller. Real cabs in use are Marshall 1960B, Mojotone British, and Peavey 6505 cabs loaded with Celestion Classic Series Vintage 30s, Classic Series G12M Greenbacks, and Heritage Series G12-65s.
Seymour Duncan Website | Facebook | Twitter | YouTube | Instagram
Slash Website | Facebook | Twitter | YouTube | Instagram
7 string 8Ω 16Ω 59 Alnico 2 Alnico 3 Alnico 4 Alnico 5 Alnico 8 Bare Knuckle BKP Brown Sound Celestion Ceramic Custom Shop Dean DiMarzio DMT Dual Resonance EVH Fishman Floyd Rose Fluence Gibson Humbucker Ibanez JB Jimmy Page MJ Mojotone Nut PAF Pariah Pickup Professor Guitarism Satch Satriani Schaller Seymour Duncan Singlecoil Single Width Speaker Steve Vai Tech Tip Tremolo