Jim Wagner IronMan Humbucker
The IronMan is a bit of an unusual and unorthodox offering from Jim Wagner Pickups. You'll know Wagner from my previous article on the American Steele humbucker set. Jim was also on the "Pickup Artists Panel" at the 2016 San Francisco Amp Show.
By Jim's own description, his goal is to get some of the older tones by using different recipes. That's an interesting approach, when there are many that try to copy materials and techniques from 60 years ago. Why not pursue a means to an end, right? As Wagner goes after those old, classic vibes, the IronMan is so much more out of the norm.
Clocking it at about 22k, the IronMan is not going to be a classic PAF style voice. HaHa!
We've covered a fair share of super-high resistance pickups here before. The Mojotone 44 Magnum bridge is 22.95k. The Seymour Duncan Custom Shop El Diablo bridge is 22.26k. The Bare Knuckle Warpig bridge is 21.55k. The Pariah Supernaut bridge is 23.72k. And the Seymour Duncan Custom Shop SLUG is 48.85k! And lest I forget and unleash the fury (LOL!), the Seymour Duncan JYM set ranges from 25.51k to 26.58k. So yeah, it's not like it's all that rare.
Generally speaking, many guitar players can fall to the conditioning that 7-8k is open and vintage while 14-16k can be thick and modern. We can plunge in to the deep end and get eaten up with specs all day long. That doesn't always translate to how it will sound in your guitar.
The IronMan bride is going in a couple of guitars for this one. One is a mid-level neutral-sounding guitar. The other is a bit of a challenging bit of lumber that had just conveniently returned from a re-fret and needed a pickup. Since this guitar had just gotten back to the workbench, it also got hit with the Lizard Spit Fret Polishing System, some Lizard Spit Fretboard Conditioner, and Lizard Spit Slick Nutz at friction points.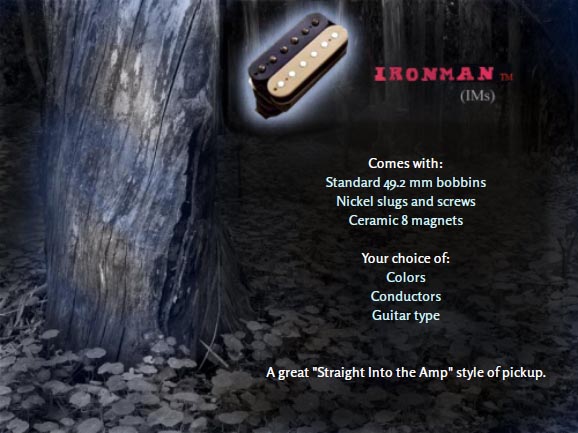 You know that I like high-output high-octane tones and the IronMan does deliver that. The low ends has a bit of air-moving thump, while the edgy high end will cut through the mix to make your lead work stand out. The mids are fun. They can be a little bit of a thicker roar, but then you also get some a more even-sounding sizzle from subtle tweaks in your playing style.
All that makes the IronMan fun for riffing while being able to get harmonics to effortlessly pop. It's a good option if you're in to playing hook-filled licks that you need to jump out and grab the listener by the ears.
The dirty amp channel is really what the IronMan is made for, in my opinion. But I did connect it to a push/pull for series/parallel operation. In full series, it can be a little much for your regular clean amp channel without some amp tweaks. But yet, not so much as you would think for a ceramic-based 22k fire-breather. Parallel mode is immediately more responsive to a clean setting. Easing off the volume pot just a little makes it even more usable.
There is no official Jim Wagner Pickups YouTube channel. But there are some YT demos on the Wagner pickup website, which I think we can take as an official offering:
Ready for some specs?
Series – 22.38 K
Inductance – 13.226 H
Split – 11.167 K
Split – 11.212 K
Parallel – 5.605 K
Magnet – Ceramic
That's quite a bit of juice! Something I've discovered when working with pickups that are wound this hot is that you can get a totally usable heavy tone in a parallel wiring mode. Imagine riffing along with the benefits of a healthy humbucker, then flip over in to full series mode for your leads and solos. Kind of like having a built in boost, as it were.
The IronMan is going to be good for hard rock, shred, metalcore, progressive rock, doom, thrash, death metal, stoner, punk, hardcore, djent, progressive metal, and extreme metal styles. You can order the IronMan with black, zebra, reverse zebra, white, white zebra, and white reverse zebra bobbins. Lead wire options include vintage, 2-con, and 4-con. Wagner pickups are pretty much build-to-order, so contact them directly for questions about estimated shipping times and so on.
For reference, this Jim Wagner IronMan bridge humbucker pickup evaluation was conducted with a Fractal Axe-Fx II XL+ featuring Celestion Impluse Responses and Fractal MFC-101 MIDI Foot Controller. Real cabs in use are Marshall 1960B, Mojotone British, and Peavey 6505 cabs loaded with Celestion Classic Series Vintage 30s and Classic Series G12M Greenbacks.
Jim Wagner Pickups Website | Facebook
Brian Hunsaker YouTube
7 string 8Ω 16Ω 59 Alnico 2 Alnico 3 Alnico 4 Alnico 5 Alnico 8 Bare Knuckle BKP Brown Sound Celestion Ceramic Custom Shop Dean DiMarzio DMT Dual Resonance EVH Fishman Floyd Rose Fluence Gibson Humbucker Ibanez JB Jimmy Page MJ Mojotone Nut PAF Pariah Pickup Professor Guitarism Satch Satriani Schaller Seymour Duncan Singlecoil Single Width Speaker Steve Vai Tech Tip Tremolo