Lizard Spit Fret Board Condititoner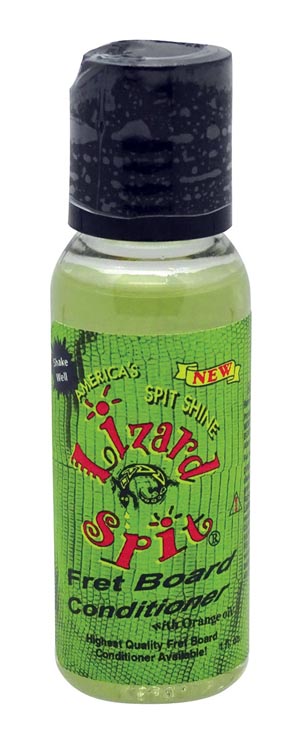 When you think of Fret Board Conditioner, are you certain you are taking the best care of your fret board? The fret board gets the most work of any part of your guitar, the actual frets not withstanding. And it has as much to do with the tone as the body and neck wood selections. Do you give it the treatment it deserves?
Let me tell you, there are as many ideas on fret board conditioner as there are ways to get the infamous brown sound. LOL! How many of us have applied linseed oil or furniture polish or even put a razor blade to task on our fret boards? Or how about all of those? Or even worse? HaHa!
Some of the oils and polishes out there are not so much a fret board conditioner as they may be products that seal up the wood. And if you let the finger grime build up to where it has to be scraped off with a razor blade, you should be hauled in for axe abuse. LOL!
As you follow my articles over the past few months, you are seeing that Lizard Spit products are consistently in use. Any necks with rosewood or ebony are hit with the Fret Board Conditioner.
To start with, this Board Conditioner is essential orange oil and a mineral matrix. Pretty simple. Orange oil is a cleaner and mineral oil is a conditioner.
Using the Lizard Spit Fret Board Conditioner is so simple that even a guitar player can do it! HaHa! Put a few drops on a clean cloth. Rub it in to the fret board wood. Take off excess with another clean cloth. Go grab a sammich before coming back to rub dry.
Repeat, if needed. The cool thing about Lizard Spit Fret Board Conditioner is that it's non-toxic and eco/bio-friendly. I'm not saying you should drink it or pour it in your eyes. LOL! But hitting the fret board a few times ain't no thing.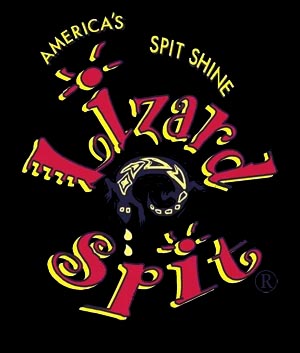 When done, your fret board is cleaner and the room has a revitalizing and refreshing vibe from the orange oil. That makes you want to use it more, and that's groovy. At a few drops per application, the 4 oz bottle lasts a good long while. And a properly conditioned fret board helps reduce the chances of warping. And trust me, nothing takes the fun out of a guitar faster than a funky fret board.
As with most of the Lizard Spit catalog, the Fret Board Conditioner has multiple functions. Some of the more accessible purposes for the Conditioner is that it loosens adhesive sticker residue and helps with road tar on vehicles. So now when the bass player is done unloading the drummer's van, he can get the gunk off the rocker panels until it's time to send him after some burritos. What? You have a better use for the bassist? HaHa!
I am really able to tell a difference by using the Fret Board Conditioner along with the Fret Polishing System and the Slick Nutz on each guitar that hits the workbench. Give the Lizard Spit menu a look. The products come from right here in USofA by a bona fide chemist using human-friendly components that will cut down on your need for a HAZMAT suit.
You can order Lizard Spit Fret Board Conditioner directly from Lizard Spit as well as outlets that include Amazon (links below!). Be keeping an eye out for more content about Lizard Spit products coming soon!
Lizard Spit Website | Facebook | Twitter | YouTube | Instagram
7 string 8Ω 59 Alnico 2 Alnico 3 Alnico 4 Alnico 5 Alnico 8 Bare Knuckle BKP Brown Sound Celestion Ceramic Custom Shop Dean DiMarzio DMT Dual Resonance EVH Fishman Floyd Rose Fluence Gibson Humbucker Ibanez JB Jimmy Page John Petrucci MJ Mojotone P90 PAF Pariah Pickup Professor Guitarism Satch Satriani Schaller Seymour Duncan Singlecoil Single Width Speaker Steve Vai Tech Tip Tremolo