Seymour Duncan YJM Fury Pickup Set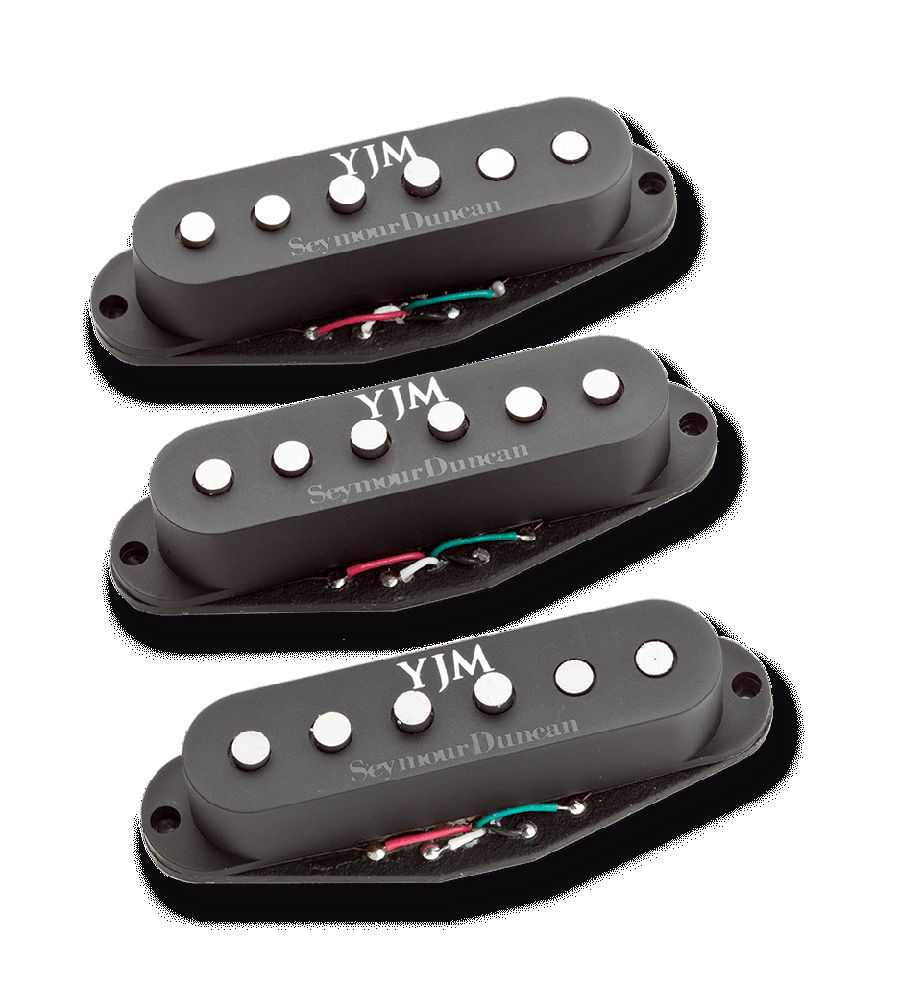 The YJM pickups are the level of fury that guitar virtuoso Yngwie Malmsteen is known to unleash on the stage. Not to be confused with the fury revealed when offering him doughnuts. LOL!
Yngwie's tone is deceptively simple. A good Stratocaster, a DOD OD/PreAmp 250 pedal, vintage Marshall Mk II amps, and 4x12s loaded with Celestion G12T-75 speakers.
When Yngwie got off the plane from Sweden back in the day, he was already using aftermarket replacement pickups in his early-70s Stratocaster. In the simplest of terms, his pickup goals are almost the opposite of a traditional single coil. Your garden variety classic single coil pickup is more scooped in the mids and almost a little hollow-sounding. Yngwie is going for more tonally full and beefier voice.
To be clear, that does not mean super high output. In fact, the YJM set is a moderate output at best. The pickup is for the tone. The amp is for the… wait for it… amplification. HaHa!
It's been about a decade now since Yngwie started working with the Duncan Company for something different than what he'd been using. Knowing that Yngwie wanted a single-coil size and a noiseless option, some of the stacked STK series were presented. Rebuffed as being too much like Fender and a traditional single coil tone, Yngwie essentially sent them to the drawing board for a fresh approach for the YJM.
Most everyone is aware of how Eric Johnson can hear the difference in the brand of batteries used in his pedals. Or even if a different cable is in play on a single cab in his backline. Would you believe that Yngwie can hear the difference in about 50 winds of coil wire? Apparently the Duncan Company engineering department was given a display in how attuned (ha! a pun!) Yngwie's ears really are.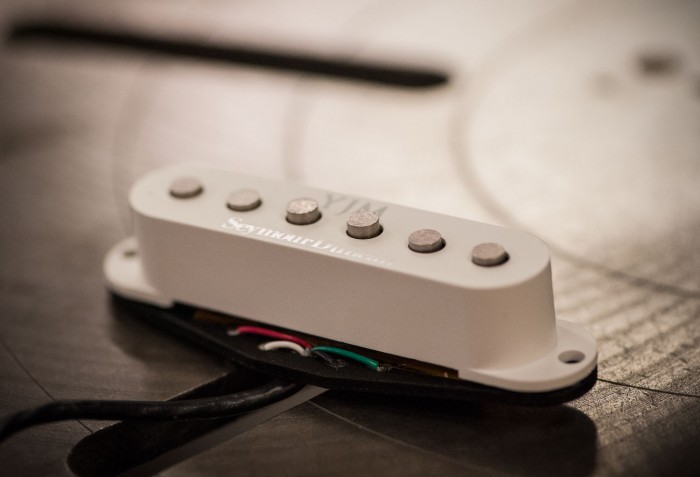 For this review the YJM Fury pickups are in a 1990 American Standard Stratocaster with a maple neck and maple board. It's the same Strat used to evaluate the Psychedelic Strat Set and the 59 Clone Strat Set. The Mojotone Solderless Strat Harness make the pickup swap quick, easy, and free of solder. LOL!
Right away, it is very surprising how much like a single coil the YJM pickups actually are. For DCR topping out at over 25 K, there is much more clarity and glassy quality than one might expect. The resonant peak is a little high for a noiseless stack pickup of this design, but it's also a fairly wide peak. I'm thinking that helps out a bit in this department.
You can put the YJM set on a clean amp setting and easily get a nice full-sounding Stratocaster tone. Excellent for big chords and still able to deliver the articulate goods on arpeggiated lines. The 2 and 4 positions have a bit of the in-between 'quack' character, but not what the vintage-style single coil purists are looking for.
Even on a dirty amp setting, the YJM set retains a lot of single coil character. Of course, that is a lot of Yngwie's tonal voice. I will say that a little bump in the drive will get the amp spitting out the molten rage as effectively as most any humbucker. You can cover shred, metal, crunch, hard rock, heavy blues, classic rock, and more.
Overall, the YJM pickups are a little bolder in the lows and a lot bigger in the mids than a typical single coil. The highs are just bright enough, while retaining a little bit of a smooth quality.
The YJM set does come with 4-con lead wire and can be split. I did not try that configuration, as I'm expecting most anyone looking at this set are more curious about the Yngwie vibe.
Let's check out a video of the YJM set:
And Yngwie himself, on "Sun's Up Top's Down" from 2019's Blue Lightning album:
How about some specs?
YJM Fury Bridge
Series – 25.51 K
Inductance – 5.809 H
Res Peak – 6.48 KHz (advertised)
Bottom Coil – 13.446 K
Top Coil – 12.077 K
Parallel – 6.37 K
Magnet – Alnico 5 Rods
YJM Fury Neck/Middle
Series – 26.58 K
Inductance – 5.509 H
Res Peak – 6.22 KHz (advertised)
Bottom Coil – 13.761 K
Top Coil – 12.827 K
Parallel – 6.653 K
Magnet – Alnico 5 Rods
Yes, Alnico 5 magnets. That should almost be a no-brainer for the higher level of articulation in Yngwie's style of playing. There is a stagger to the magnets that is similar to, but not exactly like, a vintage single coil.
Another fun factoid about the Alnico 5 rod magnets is that the ones in the neck and middle positions do not traverse the entire height of the coil in the way the bridge does. A shorter rod keeps the magnetic field tighter and more precise for a little more definition.
The Yngwie Malmsteen YJM Fury pickups are clearly good for a certain genre. But as with any solid design, they can easily transcend to many styles of music and playing. You can find the YJM pickups with Black, White, or Off-White cover as well as pre-installed in a Black or White Loaded Pickguard.
I will interject this concept: if you want these, then get these. LOL! Many shred players seek that YJM vibe from traditional humbuckers. Just cut to the chase and get the YJM. HaHa! Take it from me, your basic single coil mounting hole spacing are essentially the same as a standard humbucker. LOL! Get inventive or get to steppin'! HaHa!
For reference, this Seymour Duncan STK-10 YJM Fury Strat pickup set evaluation was conducted with a Fractal Axe-Fx II XL+ featuring Celestion Impluse Responses and Fractal MFC-101 MIDI Foot Controller. Real cabs used were Marshall 1960B cabs loaded with Celestion Vintage 30s and G12M Greenbacks.
Seymour Duncan Website | Facebook | Twitter | YouTube | Instagram
Yngwie J. Malmsteen Website | Facebook | Twitter | YouTube | Instagram
7 string 8Ω 16Ω 59 Alnico 2 Alnico 3 Alnico 4 Alnico 5 Alnico 8 Bare Knuckle BKP Brown Sound Celestion Ceramic Custom Shop Dean DiMarzio DMT Dual Resonance EVH Fishman Floyd Rose Fluence Gibson Humbucker Ibanez JB Jimmy Page MJ Mojotone Nut PAF Pariah Pickup Professor Guitarism Satch Satriani Schaller Seymour Duncan Singlecoil Single Width Speaker Steve Vai Tech Tip Tremolo