Carondelet Hades Humbucker
The Hades is a skull-pounding, ear-shattering bridge position humbucker from Carondelet Pickups. Being right up the road from Nawlins, you might expect such an offering to be soaking in the myths of the bayou's legendary roster of the hardest rockers in metal.

Installation
This pickup is going into a literal shred stick. Poplar body, maple neck, 24-fret rosewood board, 25-1/2 scale, with a Floyd Rose. Wiring harness is a Bourns 500k pot and Switchcraft 1/4″ output jack. Tuning is E-standard with 09-42 strings.
Evaluation
The Hades is not for the feint of heart. Make sure you're up to the task, lest you go back down that mountain to spend your life with lame tone from lesser pickups.
The lows are under control while providing a juicy and deep footprint. If you de-tune to the vibe of djent or nu-metal, you just might shake your house off the foundation. When it comes to the mids, they are slightly relaxed and on the even side for a pickup in this class. There is a really touch sensitive, profound, and lush character to the clarity in the top end.
Presence is what it's all about with the Hades. It's a take-no-prisoners approach to dominating the the song and the stage. Make sure your insurance in paid up and bring your crash helmet, as you are going to be knocking down some walls with this bad boy. The only thing missing is a dedicated Hades model for the neck position that arrives on the scene with the same intent to command the sonic landscape.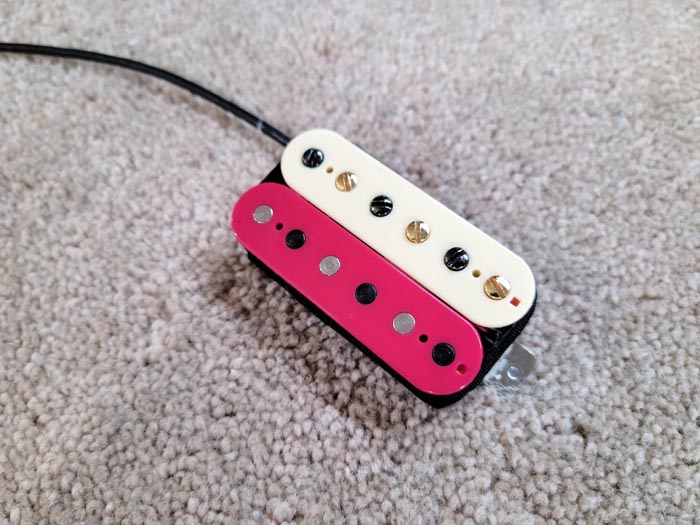 Specs
Series – 19.585 K
Inductance – 11.183 H
Split – 9.904 K
Split – 9.968 K
Parallel – 4.898 K
Magnet – Alnico 5
Demo
And here in a live show setting with NOLA-based band Green Gasoline covering "Highway Star" with the Hades being played stage right:
Conclusion
The Hades is going to be good for hard rock, shred, metalcore, prog rock, thrash, doom, sludge, nu-metal, djent, prog metal, hardcore, and other rock, hard rock, and metal styles. Reach out to Carondelet directly for options and to place an order.
For reference, this Carondelet Hades humbucker evaluation was conducted with a Fractal Axe-Fx II XL+ featuring Celestion Impluse Responses and Fractal MFC-101 MIDI Foot Controller. Real cabs in use are Marshall 1960B, Mojotone British, and Peavey 6505 cabs loaded with Celestion Classic Series Vintage 30s and Classic Series G12M Greenbacks.
Carondelet Pickups Website | Facebook | Instagram | YouTube
7 string 8Ω 59 Alnico 2 Alnico 3 Alnico 4 Alnico 5 Alnico 8 Bare Knuckle BKP Brown Sound Celestion Ceramic Custom Shop Dean DiMarzio DMT Dual Resonance EVH Fishman Floyd Rose Fluence Gibson Humbucker Ibanez JB Jimmy Page John Petrucci MJ Mojotone P90 PAF Pariah Pickup Professor Guitarism Satch Satriani Schaller Seymour Duncan Singlecoil Single Width Speaker Steve Vai Tech Tip Tremolo