Bare Knuckle Abraxas Humbucker Set
The Abraxas set is something I've had my eye on for a while. Why is that? Good question! HaHa! Well, the Abraxas set is commonly referred to by some players as variation of the BKP Mule set. More specifically, a very similar neck model and an amped-up bridge model.
For full disclosure, I do like The Mule set as one of the better classic, vintage PAF-ish tones out there. By comparison, the Abraxas lands in the vintage hot range. From within the Bare Knuckle vintage hot range, I'm also pleased with the VHII, Black Dog, and Emerald sets . That puts us starting out with plenty of promise.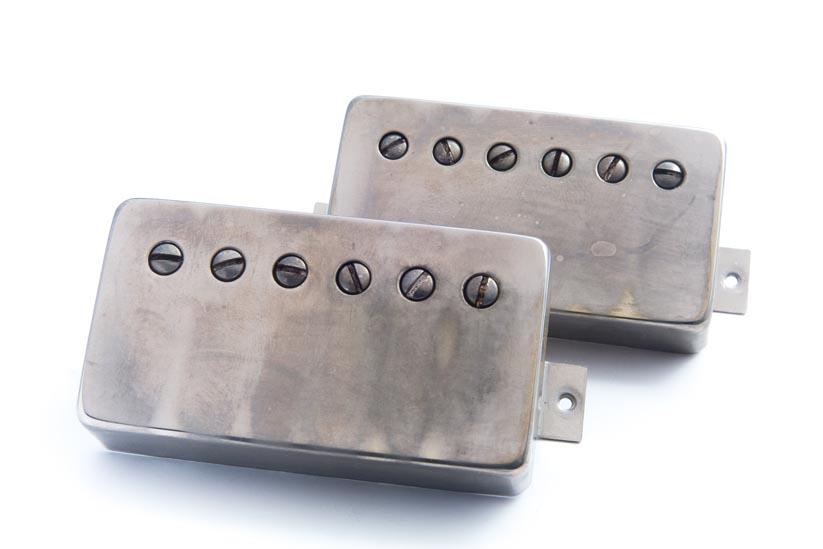 Installation
The Abraxas set I'm working with has 4-con lead wire, which is always a great option. And right away, I notice the screw poles are of the shorter 1/2″, rather than the more typical 3/4″ length. I'm not seeing any option for pole length on the BKP site, so it appears to be the standard configuration. And that's groovy on a few levels. First, because the shorter poles clearly make the Abraxas what it is. And also because too many deep-dive options can actually be a bad thing.
Installing the Abraxas set is a breeze, just like any typical humbucker set.
For this application, I'm going with a double cut 2-humbucker body with maple neck and rosewood fingerboard. The guitar has 09-42 strings and is in E standard tuning. Hardware includes a German Floyd Rose double-locking tremolo system.
During the install process, I take advantage of the opportunity to hit the frets with the Lizard Spit Fret Polishing System and to apply Lizard Spit Slick Nutz to relevant friction points.
One thing to be careful of when installing a BKP product is to keep up with which pickup is which. There are no labels or other means of identification on the pickup. Just a "Bridge" or "Neck" tag toward the end of the hookup wire and those are known to take a powder when passing through the skinny holes from one cavity to another. I've found a P-Touch type of label maker a good investment for times like that. LOL!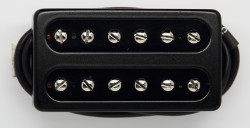 Evaluation
So we have the Abraxas set wired up and off we go in to a dirty amp channel. The bridge position is powerful and very expressive. There is a balanced voicing that works well to let your guitar and your hands be the colors of the tonal canvas. BKP suggests the high-end is "smooth", which can easily be confused as soft. That's thankfully not the case here, as the highs have more presence without being too edgy or sharp. The mids are very even and balanced, while the lows are punchy and slightly firm.
On the same dirty setting, the neck is a little more of a refined output than the hotter bridge. Aside from how it looks on paper, the Abraxas neck just isn't quite the same as The Mule neck. The Abraxas neck has a bit of a lucid character that separates it from a classic vintage PAF voice. It's almost as if there's a little midrange compression going on that keeps the headroom managed. The neck position does a good job of avoiding the common traps of being too boomy or too nasal. Lows have depth without being flabby and high-mids have clarity.
The neck position is good for cleans. The Abraxas bridge might be a little strong for some, so some tweaks or split/parallel switching might be an option to consider. Overall the set is transparent and harmonically rich on a clean amp setting. Not too strident and not too flat.
Demo
Let's check out a demo video:
Specs
Abraxas Bridge
Series – 14.474 K
Inductance – 8.184 H
North – 7.413 K
South – 7.079 K
Parallel – 3.617 K
Magnet – Alnico 4
Abraxas Neck
Series – 7.376 K
Inductance – 3.934 H
North – 3.75 K
South – 3.628 K
Parallel – 1.8442 K
Magnet – Alnico 4
Bare Knuckle suggests the Abraxas is good for Blues Rock, Funk, Garage, Grunge, Alternative, Classic Rock, and Heavy Rock. You know who you're dealing with here (HaHa!), so you know I threw plenty of 80s riff rock at these pickups and they passed the test. I think the Abraxas set settles into a mix very well, opening up the player's ability to be more versatile in a band setting. The Abraxas is a an excellent option among a lot of good Alnico 4 humbucker sets in the market. If you are already thinking about the Abraxas set, give it a go.
For reference, this Bare Knuckle Abraxas humbucker pickup set evaluation was conducted with a Fractal Axe-Fx II XL+ featuring Celestion Impluse Responses and Fractal MFC-101 MIDI Foot Controller. In addition, real cabs in use are Marshall 1960B, Mojotone British, and Peavey 6505 cabs loaded with Celestion Classic Series Vintage 30s and Classic Series G12M Greenbacks.
Bare Knuckle PickupsWebsite | Facebook | Twitter | YouTube | Instagram
7 string 8Ω 16Ω 59 Alnico 2 Alnico 3 Alnico 4 Alnico 5 Alnico 8 Bare Knuckle BKP Brown Sound Celestion Ceramic Custom Shop Dean DiMarzio DMT Dual Resonance EVH Fishman Floyd Rose Fluence Gibson Humbucker Ibanez JB Jimmy Page MJ Mojotone Nut PAF Pariah Pickup Professor Guitarism Satch Satriani Schaller Seymour Duncan Singlecoil Single Width Speaker Steve Vai Tech Tip Tremolo