Bare Knuckle Emerald Humbucker Set
The Emerald hearkens to the probability of a Thin Lizzy association. Given Bare Knuckle's propensity for naming pickups after songs, it's a solid assertion. Considering that "Emerald" is on the Jailbreak album, this would be the era of Scott Gorham, Brian Robertson, and most likely a pair of Les Paul Deluxe guitars.
These particular early-to-mid 70s Les Paul Deluxes are a point of interest. More than anything because they could be found for about the equivalent of $500. That is going to be around $2600 in 2020 dollars. Which is surprisingly about what a new one is going for. The other interesting observation is that Gorham and Robertson's Lesters had mini humbuckers.
Money issues were behind that one a few levels. One was that it's all the band can afford at the time. The other is that Gibson had a surplus of mini humbuckers and needed to put them to use. So in to the LP Deluxe models they go. LOL!
While about the same width as a traditional humbucker, the mini humbucker is not as long. Sort of between a humbucker and a single coil, closer to a traditional P-90 size. In the more technical aspect, this means that a mini humbucker has a more precise focus on the length of the string is covers with it's magnetic field. And yet, as the name suggests, it's still a humbucker by design.
For an idea of what we are talking about, check out "Emerald":
How about that?!? Punishing duel guitars belting out a hard-rock Gaelic-based motif. Other highlights of this 1976 album are "The Boys Are Back In Town" and, of course, "Jailbreak". And it's "Jailbreak" that brings us back around the Emerald humbucker set. How so? The interesting dichotomy of sonic tapestry from Gorham and Robertson's tones. We will get to that again in a minute.
But first things first. The Emerald set I have came to me with particularly spiffy-looking brushed nickel covers, short legs, and 4-con lead wire. Not being much of a cover sort of dude, I popped them off to reveal a double black bridge and a double cream neck. Solid matesmanship from the lads at BKP. They go in to a neutral-sounding double-hum guitar with the BKP/CTS 550K Short Shaft pots. The Bare Knuckle/Jensen 0.022μF PIO cap on the bridge tone and the 0.0015μF PIO cap on the neck.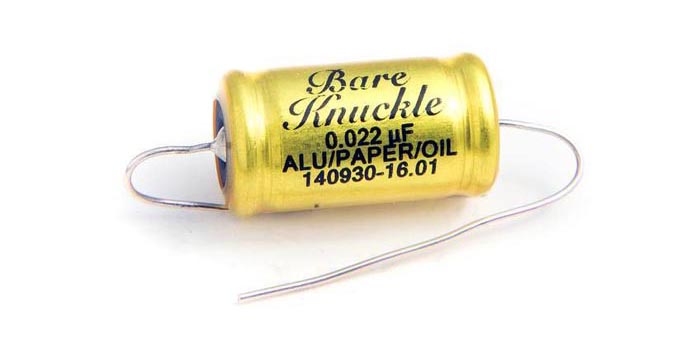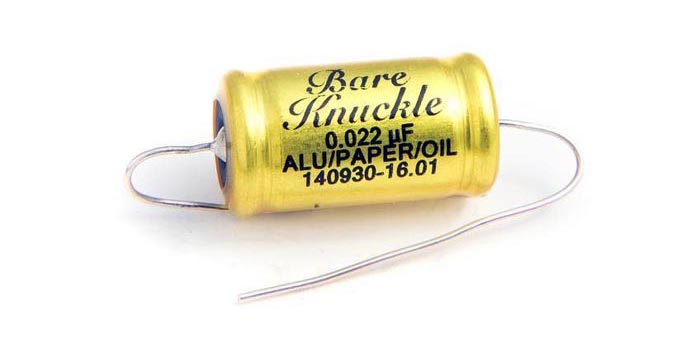 Once in the guitar and up-and-going, the Emerald is a fun take in a familiar territory. The Plain Enamel maintains a classical vintage flavor but with an accent of a vintage-hot wind.
The Emerald bridge is an excellent rock pickup. Getting a shot of Alnico 5 power, the lows are punchy and the highs are crisp. I hear some players suggest the Emerald bridge highs are really bright. I personally think it's more of the airy and open nature of the pickup, especially if being compared to some of the mass-production models in the marketplace. The midrange has a voice that put a nice even balance on the timbre, maximizing the versatility of the voice. If I say so myself, I think the Emerald bridge can be a solid option for players hunting an early-to-mid 80s brown tone.
Looking at the Alnico 4 Emerald neck humbucker, it is where the fun starts. It's no secret that I'm a huge jerk when it comes to a neck pickup and pretty hard to please in that realm. HaHa! So remember that when considering that I find this neck position to be a solid offering. The lows are not too strong, but quite firm without being stiff. Highs have a vocal quality retains clarity while being strong. Like the bridge, it's the midrange in the neck that puts a nice bow on the package. The mids deliver a very musical character that sings with harmonic overtones that never get nasally or honky. This position maintains an impressive sustain, which one might suspect is a combination of the slightly hotter wind and the slightly more balance magnet selection.
Remember that earlier "Jailbreak" reference? The sum of those two pickup's qualities is how I think it relates to "Jailbreak". Listening in stereo, it might be easier to pick out Gorham's bright guitar to Robertson's fuller tone. Remember, they both had pretty similar guitars. This was how they dialed in their tone and how they played the instruments. However, I imagine the Emerald set being a considerate blend of qualities that can yield the best flavors of both guitarists.
You can hear what I'm talking about here:
However, don't think for a minute that the Emerald set is only for classic rock styles. Take a listen to this Prog Metal style clip from Adam "Nolly" Getgood:
And an official demo video here:
Check out these specs:
Emerald Bridge Humbucker
Series – 14.042 K
Inductance – 7.198 H
Split – 7.219 K
Split – 6.848 K
Parallel – 3.51 K
Magnet – Alnico 5
Emerald Neck Humbucker
Series – 9.809 K
Inductance – 4.339 H
Split – 4.988 K
Split – 4.834 K
Parallel – 2.453 K
Magnet – Alnico 4
The Emerald humbuckers are going to be good for Blues Rock, Garage, Punk, Grunge, Alternative, Classic Rock, Heavy Rock, and Progressive Shred. It's available in 6, 7, and 8-string configurations with over a dozen bobbin colors and many cover options. If you order direct from the BKP site, definitely check out their Pots and Caps for your wiring harness.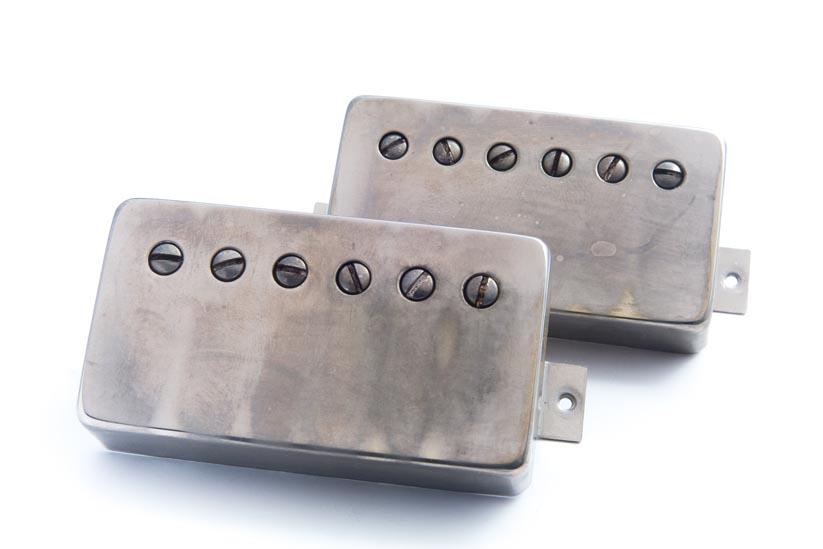 For reference, this Bare Knuckle Pickups Emerald humbucker set evaluation was conducted with a Fractal Axe-Fx II XL+ featuring Celestion Impluse Responses and Fractal MFC-101 MIDI Foot Controller. Real cabs in use are Marshall 1960B, Mojotone British, and Peavey 6505 cabs loaded with Celestion Classic Series Vintage 30s and Classic Series G12M Greenbacks.
Bare Knuckle Pickups Website | Facebook | Twitter | YouTube | Instagram
7 string 8Ω 59 Alnico 2 Alnico 3 Alnico 4 Alnico 5 Alnico 8 Bare Knuckle BKP Brown Sound Celestion Ceramic Custom Shop Dean DiMarzio DMT Dual Resonance EVH Fishman Floyd Rose Fluence Gibson Humbucker Ibanez JB Jimmy Page John Petrucci MJ Mojotone P90 PAF Pariah Pickup Professor Guitarism Satch Satriani Schaller Seymour Duncan Singlecoil Single Width Speaker Steve Vai Tech Tip Tremolo