Pariah Pickups Skeré Bridge Humbucker
What in the Wide World of Sports does Skeré mean? A few easily found meanings translate to "something cool or joyful or happy". And I have to admit that it took me a while to figure this out… but, you can look at it as the phonetic representation of "scary".
And as Pariah's Pasadena series has spread like wildfire in the "striped guitar" community, lightning strikes again as the Skeré humbucker cracks skulls in the community known for snakes and kamikazes. But this isn't your typical take on a rokken tone.
The Skeré is what players really want when they think they are following mob rules. There might be a 13K Alnico 8 based option out there for this specific goal, and yes I have one. And there's a reason why you've not seen me really discuss it. Hint: it's lame. HaHa!
You're wondering what the Skeré has that others do not? It's a hunter that fights tooth and nail to produce a more balanced EQ and a tone that will take you prisoner. The Skeré is breaking the chains of dysfunctional options for a heaven-sent sound that shouldn't be kept under lock and key.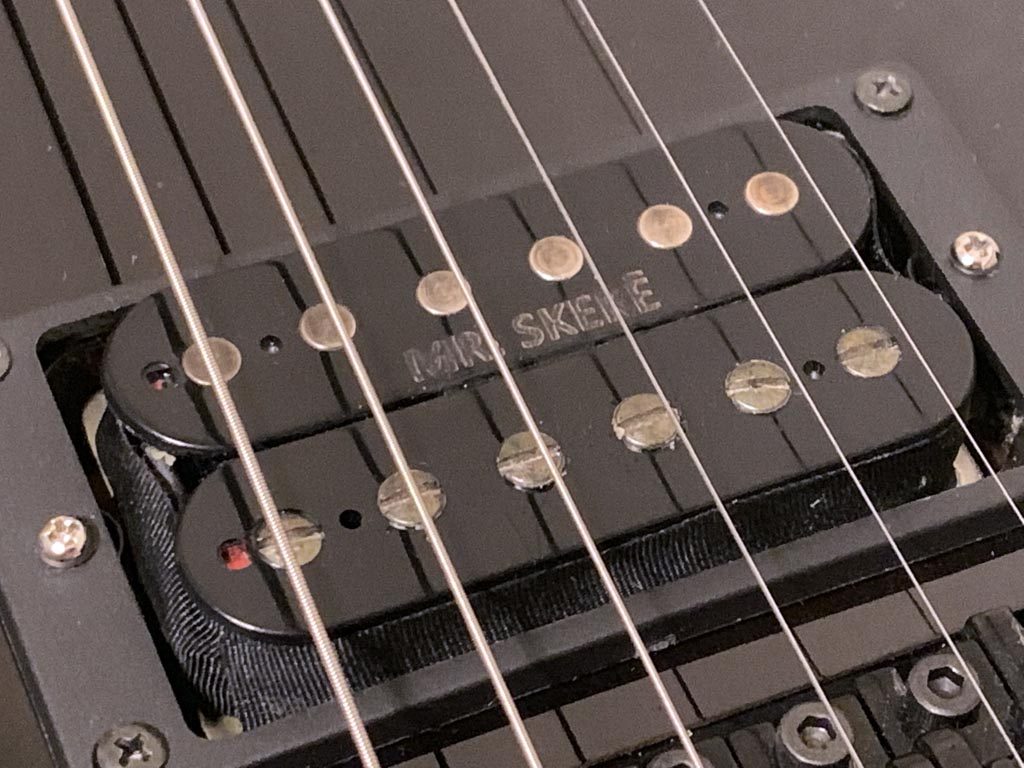 I wanted to turn on the action with the Skeré, so I put it in a single-hum shred stick with a double locking trem that stays in tune 'til the living end. The Skeré has 4-con lead wire that is connected to a Bourns 500k push-pull pot for series/parallel options so that no variations will be slippin' away.
Starting on a dirty amp setting, the Skeré's vibe hits you without warning. The punchy lows can pummel cracks in the ground, the mids have bullets to spare, and the high end is burning like a flame! Heaven is waiting for you with clean amp tones that demonstrate the versatility of the Skeré humbucker, with so much glass and air you'll have the sky beneath your feet.
From a slightly more technical approach, the Skeré is another good example what happens when an Alnico 8 design is planned for and thought out. And when any pickup maker has a grasp of the materials being used, for that matter. Added to that, the Skeré is set in that versatile sweet spot between vintage and scorching hot.
Sorry for this round, but Pariah as of yet does not have any videos or sound sample available for the Skeré. The milk babies living in their mom's basement in Queens, NY will have to get their whine on, I'm certain. LOL! But I most certainly have some specs for you guys:
Series – 13.833 K
Inductance – 7.242 H
North – 6.934 K
South – 6.922 K
Parallel – 3.461 K
Magnet – Alnico 8
If you've been thinking about a Skeré, or similarly-name or themed pickup, let me do you a solid. Go with this one. The more evenly-balanced voice will make your ears far happier. It's also more reasonably priced and has all the options you'll want and need from your pickup provider.
For reference, this Pariah Skeré model bridge humbucker pickup evaluation was conducted with a Fractal Axe-Fx II XL+ featuring Celestion Impluse Responses and Fractal MFC-101 MIDI Foot Controller. Real cabs used were Marshall 1960B cabs loaded with Celestion Vintage 30s and G12M Greenbacks.