EVH Wolfgang Humbucker Pickup Set
Yes, I am still working through the wide selection of EVH-themed pickups. LOL! There are many! This time it is the Wolfgang set, made by Fender under the EVH brand. Not to be confused with the Wolfgang pickups made by Peavey when EVH was with them from around 1996 to 2004. I suppose EVH learned a lesson from the experience with Music Man and DiMarzio, apparently trying to keep more rights to certain aspects of products he is putting his name on.
Speaking of the DiMarzio pickups in EVH Music Man guitars, they are considered to be excellent and hard to beat. Personally, I think that people consider that they are good because they have the air of exclusivity around them. Sort of how people think it's automatically awesome if they pay through the nose. Which is as lame as thinking you can go the cheap route and compare your $150 Greensheet special to a $2500 custom shop crafted instrument. HaHa!
Then you have the Peavey Wolfgang crowd, which actually do have a case for their version of the Wolfgang humbuckers. Peavey literally changed wire in the middle of each bobbin, according to people that would know. One might be prone to think of that in the way a "hybrid" humbucker works, but that is two different coils. This is happening on each coil. I only mention that because there are those "in the loop" that are on the record saying the Fender/EVH Wolfgang pickups are a spot-on clones of the Peavey ones. On paper, definitely. However, I cannot determine if Fender is putting the "wire change" trick to work on their version.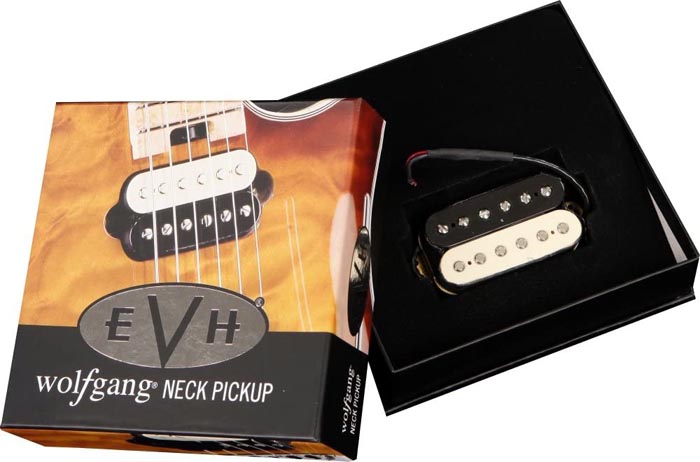 Yes, I've had a set of the Peavey Wolfgang humbucker for a while. Not going to discuss a comparison here, as in not my way. But I can say that these EVH Wolfgang pickups are not to be taken lightly. There is definitely some solid pickup design going on here.
What I'm about to say is already in print on the Interwebz, so I'm not spilling any tea. LOL! EVH did go to a few of the usual suspects for his new Wolfgang pickups for his new EVH brand. Every source I've spoken with about the decision has said that going in-house with a Fender-made product is a better financial choice. Also, from what I know of the big-name prototypes presented to EVH, they weren't really breaking any new ground. Instead, it was a little more of offering things within existing comfort zones. Or rather, they made things they knew how to make, instead of using EVH's existing 2-hum sets as a guide.
Since working with a full set, I had to set aside the single pickup test guitar I'd been using on all other previous EVH models. Instead, I decided to give the EVH Wolfgang pickups a real workout in a guitar that has a history of being a challenge. Mahogany body, maple neck, maple board, Floyd Rose double-locking trem, Switchcraft 3-way toggle, and 500k CTS pots. And a total re-wire of fresh, new, clean hookup wire. I'd have preferred to try these in a EBMM Axis. But the EVH round tabs would not allow mounting without surgery on something.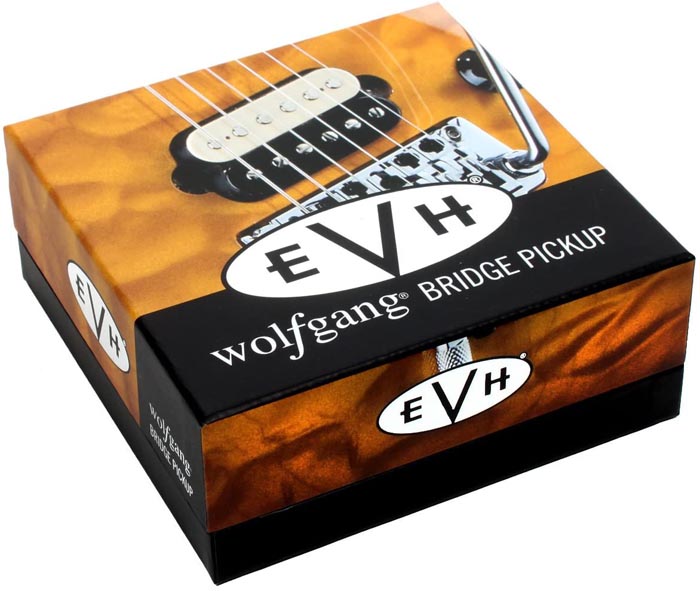 The EVH Wolfgang pickups are monsters. You couldn't get more monstrous and alive pickups if they were hoisted to the top of the castle and struck by lightning. They are clear, they are punchy, they are articulate, they are powerful, they are edgy, they are responsive to pick attack. And they are on the verge of wanting to be out of control.
These bad boys shine with a clean amp setting. They are not rude, but they are not quite polite. They are equally touch sensitive on a clean setting as dirty. From one pickup to the other, as well as blended, all the clean settings were very usable. Chimey and open to full and round. Rolling back the volume pots accommodates big strumming chords all the more so.
When switching to a dirty amp setting, you remember why you wanted to play guitar. This is the zone that these EVH Wolfgang pickups live in. All the notes are exactly as you want them to be. None too sharp and none too loose. Punchy power in the neck, while still offering an excellent lead voicing. Focused attack in the bridge, and still maintains a touch of sweet highs.
Here's an idea of how they sound:
That is well within the bounds of classic early Van Halen, if you ask me.
Here is a demo by EVH product manager Chris Cannella showcasing them in a 5-A flame top EVH Wolfgang USA guitar:
EVH Wolfgang Bridge
Series – 14.449 K
Inductance – 8.281 H
Split – 7.265 K
Split – 7.206 K
Parallel – 3.616 K
Magnet – Alnico 2
EVH Wolfgang Neck
Series – 17.812 K
Inductance – 7.993 H
Split – 9.208 K
Split – 8.651 K
Parallel – 4.46 K
Magnet – Alnico 2
Nope, I didn't mix those up. The neck clocks in at well into the 17k DCR range. And the coils are on the more symmetrical side than some in this sort of pickup. And get this… Alnico 2 magnets! For something this articulate and sharp and well-defined, you'd never expect A2 magnets or such a high resistance. Another example of how sometimes you have to trust your ears more than the specs.
As with the lion's share of EVH-themed pickups I've tried, the EVH Wolfgang pickups are well-voiced all-around good rock pickups. They can handle Van Halen era, Van Hagar era, and most any heavy blues and rock and hard rock applications. If your local music shop has an EVH guitar with these in it, definitely check them out.
For reference, this EVH Gear Wolfgang humbucker pickup set evaluation was conducted with a Fractal Axe-Fx II XL+ featuring Celestion Impluse Responses and Fractal MFC-101 MIDI Foot Controller. Real cabs in use are Marshall 1960B, Mojotone British, and Peavey 6505 cabs loaded with Celestion Classic Series Vintage 30s and Classic Series G12M Greenbacks.
EVH Gear Website | Facebook | Twitter | YouTube | Instagram
7 string 8Ω 16Ω 59 Alnico 2 Alnico 3 Alnico 4 Alnico 5 Alnico 8 Bare Knuckle BKP Brown Sound Celestion Ceramic Custom Shop Dean DiMarzio DMT Dual Resonance EVH Fishman Floyd Rose Fluence Gibson Humbucker Ibanez JB Jimmy Page MJ Mojotone Nut PAF Pariah Pickup Professor Guitarism Satch Satriani Schaller Seymour Duncan Singlecoil Single Width Speaker Steve Vai Tech Tip Tremolo