Heritage H-535 Semi-Hollow Body Guitar
Heritage H-535 Review by Professor Guitarism.
It is, nowadays, too hard to cut through the mix of guitar builders with vintage-vibe designs. People generally tend to stay safe side of well known brands like Fender and Gibson. As a result of that inclination, many companies produce reminiscents of classic designs that people feel themselves secured. On the one hand, it is great to have many alternatives in the roots of classics from low end products to very high end expensive models while, on the other hand, its getting harder to find the right and best sounding axes. The object of my review is a beautiful guitar made by a company that must be belong to the ones to be trusted, HERITAGE. I'm pretty sure that many of you have heard something about the Heritage Company. But for the unfamiliar, I'll get a quotation from the Encore Magazine (Jan 2008):
"When shoe clerk and whittler Orville Gibson began to handcraft wooden musical instruments in Kalamazoo in the 1890s, he did so with passion and pride for his craft and his community. But over the years, people emerged and factors arose that could have driven guitar manufacturing from the area. And each time, a handful of men stepped forward to make sure Gibson's heritage stayed right here. Orville, himself, was not a shareholder of the Gibson Mandolin-Guitar Manufacturing Company Ltd. that bore his name.
When the company was sold to the Chicago Musical Instrument Company in 1944, it's likely that only the booming post-World War II economy kept the enterprise from moving to the windy city. But, in 1984, with sales of musical instruments drastically down, Norlin Corporation, which took over operations in 1968, closed the Kalamazoo plant and left behind a core of craftsmen with 500 collective years of guitar-making experience.
A few of those luthiers formed a new company, Heritage Guitar Inc. The appellation is apt. "Heritage is more than our name; it's who we are," says Jim Deurloo, a cofounder along with Marv Lamb, J.P. Moats and Bill Paige. "We've been building guitars all our lives," adds Jim, who started at Gibson in 1958 at age 19. Marv was 16 when hired on May 31, 1956, a date he recalls with pride. "We were farmers in Alabama. I came north in October 1955 and worked with my brother and brother-in-law at a bakery. Dad came to the Gibson guard shack where they took applications every day until they hired him, and he got me a job here, too.""
The experience, the legacy and the history of the management & production team impress you before holding the guitar in your hands or even before open the case. Oh, Love at the first sight, fellas! There are employees at the Heritage Company when the first PAF humbuckers had installed on a Les Paul, you know? Anyway, the main object of my review is called H-535 and this semi-hollow guitar is the Heritage version of very well-known Gibson model ES-335. So if you are familiar with a ES-335s, the balance, comfort, neck, feeling and basic sounds are pretty same because of the basic design and construction aspects. But this doesn't mean H-535 is just another clone of ES-335, Heritage version has balls to impress you.
First, the basic specs of H-535:
Body: Flamed Maple top and back, curly maple sides with cream binding
Neck: One piece Honduran mahogany
Fingerboard: Rosewood (dark colored, well grained)
Scale: 24.75"
Inlays: Mother of pearl dots (not cheapo pearloids)
Tuners: Grover Rotomatics (without locking mechanism)
Bridge: ABR-1 Tune-o-matic
Pickups: Seymour Duncan Seth Lover (neck and bridge)
Finish: Nitrocellulose lacquer
Color: Almond Sunburst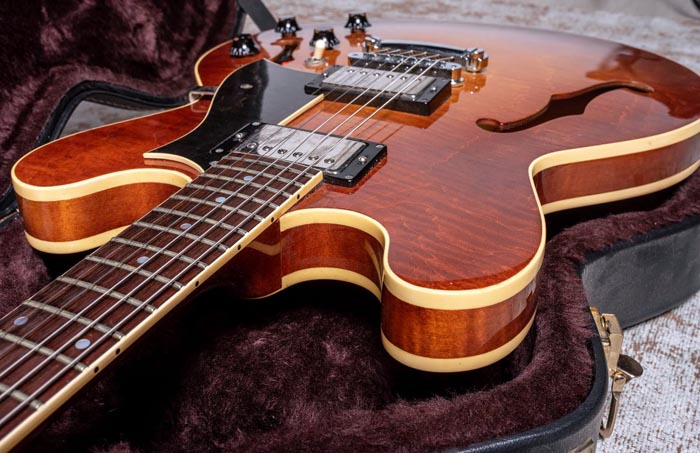 The first moment when you open the case, the guitar impresses you with its vast elegance. Very very beautiful instrument that is. And yes, smells great, too. The finish job is perfectly done by experienced hands. No visible defects, well applied burst, well finished, well polished.
I focus on the nut work, then. The first strategic point to be checked out when evaluating a guitar is the nut job for me, because I believe that if a builder pays good attention to the nut job, he must spread that care to details through every centimeter squire of guitar. Anyway, the expertise on nut is clearly very well. I assume it is made of TusQ (seems harder than cyclovac or graphtech ones) and the details on it are pretty good; smoothly carved slots with proper depth enrich the guitars intonation and tuning stability. Plus I like the string angle before the nut more than the ES-335 because, as far as I remember, ES-335 has slightly steeper string angle, so that strings can be hold by the walls of nut slots which may decrease the tuning stability especially after tremolo use or big bends.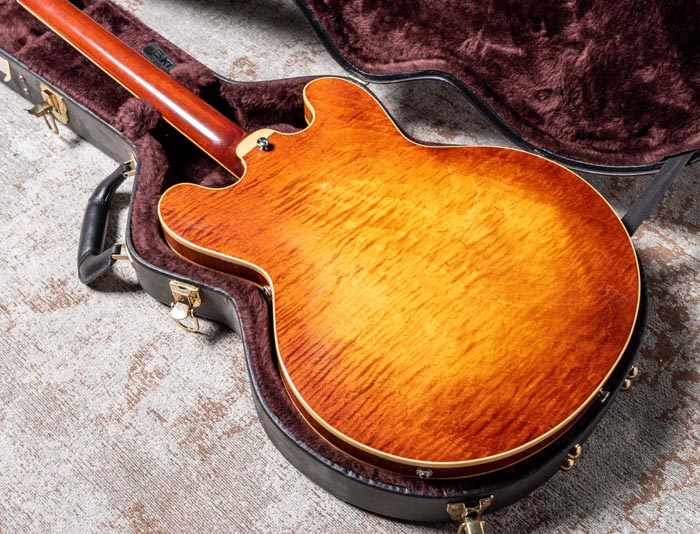 I did not measure the thickness of the neck with a caliper but it is obvious meaty, chunky neck and so is it a problem? No, actually. I'm pretty sure some guys with small hands or shredder class players who are closely familiar to the extremely skinny necks may find that chunky necks uncomfortable. But, believe me, plug it through a good amp, play a while and you will see it plays natural. For me, those thick necks are much better and feels like home.
I didn't measure the frets, either but I assume they were medium jumbo gauge or something. Not too wide like jumbos nor small like vintage Fenders. They may be over-leveled #6105s which normally taller in length and narrower in width, I'm not sure. But they work well. Anyway, the another significant parameter about evaluating a guitar is taking care of the fret job and the fret job on H-535 is virtually perfect. No buzz, no rattling, only well played bends, well intonation, comfortable playing string action. The binding in the style of Gibson looks very classy. Inlays are all made of mother of pearl dots, not cheesy cheapo pearloids.
Tailpiece and the bridge units are chosen from high quality parts that gives virtue to the guitar. It's very personal choice but in the manner of need, you don't have to modify hardware in order to upgrade the tonality of a H-535.
Another distinguishing aspect of the H-535 is the entire electronic system, from the jack to the pickups. Generally, I am not the greatest fan of today's Gibson brand pickups. Anyway, the pickups of H-535 are one of my personal favourite PAF clones on regular mass produced (not included custom shop products) humbuckers, Seymour Duncans Seth Lover set. A historically correct Alnico II PAF clone with incredible clarity, perfect balance, emphasized three dimensional overtones and harmonics. Plus, as construction it is truly made from the original PAF components like maple wood spacer, butyrate bobbins, plain enameled #42 AWG wires and no wax potting. With H-535, those pickups are the ultimate choice for hi quality vintage tones.
The unpotted condition of humbucker may cause microphonic squeal under hi-gain but this is not big deal. You know, if you are about the play under hi-gain, why are you looking for a semi hollow body guitar designed in the 50s 😉 Anyway, I tried this guitar with a Laney, a Fender and a Marshall amp and haven't heard any squeal. Plus, guitars pots and caps are pretty good and you don't need to swap them. It is very important on those semi-hollows because there is no back control cavity plate so changing pots is tricky and not as easy as you may think.
Considering the playing comfort, well, H-535 is not the ultimate champion of the ease of playing. But, when standing there is not a balance problem especially happens with an SG.
And the amplified tones… The first thing I tried to hear when plugged it into my set up is the "woman tone" which is the reason of my sympathy to this kind of semi hollow guitars. If "CREAM" is something more of a food product or coffee additive and "Crossroads" is a tone reference for you too, you'll love this guitar. Especially when you choose both humbuckers and lower your tone knob of bridge pickup to 6 or 7, then you will find very nice, warm tones. Hearing "Woman Tone" is not a big deal with this guitar depending on your amp and settings. Lower your tone pot and what you will hear is very classy warm jazz tones.
Moreover, the main playground of H-535 can be considered blues, jazz, rock, rockabilly, RnB and pop. With its fine sustain ability, H-535 can turn many shredders from their Floyd Rose equipped guitars to itself 😉 Who needs H-535 are the professional guitar players, studio musicians, addicted to the perfect vintage tones, lovers of Cream and John Mayall's Bluesbreakers era Clapton tones, solo blues players and the ones who wants to sure about the perfection of their guitars. They will find more when they grab a H-535 and play a while.
PS: I thank Olay Andac from Angel City Guitars for sending me that wonderful axe.
Heritage Guitars Website | Facebook | Twitter | YouTube | Instagram
About Professor Guitarism:
Fan of: Electric guitar. Metal, rock, progressive rock, blues, fusion jazz and classical music. Star Wars & Lord of the Rings (books). The Alien. Marillion. Iron Maiden. Dream Theater. Frank Zappa, etc.
Columnist since 2005. Published many interviews with: Seymour W. Duncan. Steve Blucher of DiMarzio. Lindy Fralin. Yuriy Shiskov. Steve Morse. Guthrie Govan. Bill Nash of Nash Guitars. Joe Satriani. Dave Weiner. Tony MacAlpine. Alex Skolnick. Dream Theater. Ian Anderson. Tim Mills of Bare Knuckle Pickups, etc.
Fields of interest: Once had a humble custom shop. Now only medium to advanced level electric guitar modifications at home. Electric guitar pickup modifications and sometimes even winding them. Trying to play guitars never done before and, naturally, achieving more and more guitars.
Professor Guitarism Website | Facebook | Instagram
7 string 8Ω 16Ω 59 Alnico 2 Alnico 3 Alnico 4 Alnico 5 Alnico 8 Bare Knuckle BKP Brown Sound Celestion Ceramic Custom Shop Dean DiMarzio DMT Dual Resonance EVH Fishman Floyd Rose Fluence Gibson Humbucker Ibanez JB Jimmy Page MJ Mojotone Nut PAF Pariah Pickup Professor Guitarism Satch Satriani Schaller Seymour Duncan Singlecoil Single Width Speaker Steve Vai Tech Tip Tremolo