The Sugar Chakra is a 2019 release with a design to meet the specs of Def Leppard's Phil Collen.
Now, we pretty much accept that Phil has a long history with the Super Distortion. He's also been very big on the Super 3, so much that it's a standard his signature Jackson PC-1. So then, how does the Sugar Chakra measure up? Let's take a peek!
This pickup is featured in the bridge position of a Limited Edition PC1. It has a walnut top and a DiMarzio Fast Track in the middle position. Otherwise, the specs are fairly identical to his other touring guitars. And walnut is sonically similar enough to maple top on his other guitars. Which is to say we should be able to get a fair enough comparison.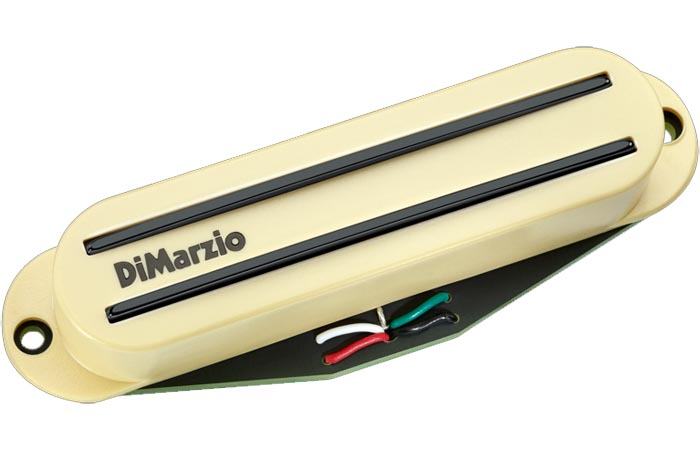 Installation
Yes, I do have 2 different garden variety Jackson PC1 guitars. But the Sugar Chakra comes with the v-shape mounting flange, unless otherwise special ordered. And Jackson is rather notorious for having the slimmest of slim straight-edge single-width cavities. That means this pickup isn't going in my PC1 guitars without modifications. In other words, this pickup is getting tested in another guitar instead. LOL!
The test subject is a mahogany body with a maple neck and a maple board and Floyd Rose tremolo system. Close enough, this testing purpose. C'mon guys, the options were that or to cut up a $4800 Jackson PC1. HaHa! You will make the same choice! LOL! And as to be clear, this pickup is in the bridge position of the test guitar.
Going Big To Small
Oh yeah, the Sugar Chakra is definitely much more like the Super 3 than it is to the Super D. HaHa! And that makes sense. DiMarzio already offers a single-width Super Distortion S option.
This is a good spot to point out that I am genuinely impressed with how DiMarzio sets the tone as the goal when approaching different formats. Be it making a single-width option for a full-size humbucker. Or designing a 7-string version of a 6-string model or vice versa. That Titan 7 sounds like the Titan 6. And the Tone Zone S sounds like the Tone Zone. And so on. Some companies cannot pull that off. A tip-o-the-hat to DiMarzio for managing the task.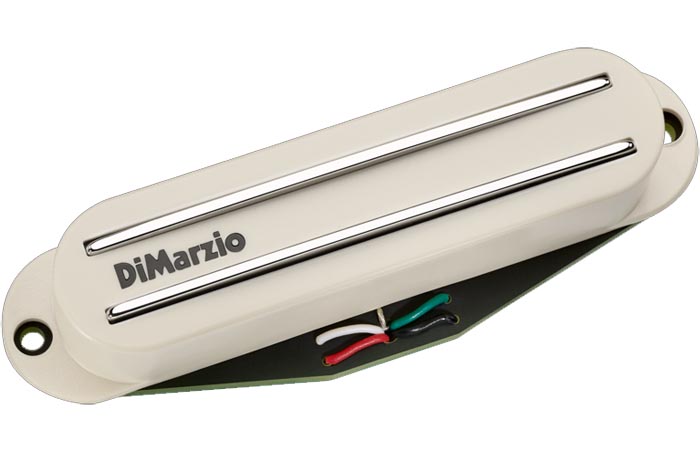 Evaluation
The Sugar Chakra is a full-tilt hardcore grinding machine. It knocks down other single-width pickups, kicks sand in their face, and takes their lunch money. LOL! And it makes no apologies about it.
Considering the tone on this bad boy, is really big and pretty compressed. You know, like the Super 3. You might have to take it around the lap a time or maybe two. Once you get the feel for what's under the hood, it's easy to be in full command of the direction you want to take it.
Lows a big, yet boldly firm. The mids are what it's all about with this pickup. Seems like there's a fairly wide resonant peak at work here that opens up the harmonic content just enough. There is some bite in the high end, but more of a refined treble that gives weight to the notes. At about 21k on those bobbins, I'm guessing those coils are maxing out. When a bobbin reaches max capacity, it will start to sound huge and highs can drop down a steep slope. The trick is to manage the high end on that slope's sweet spot.
I get that a lot of players are not terribly interested in how this one cleans up. But it handles it pretty well, when considering the output and the voicing when cranked. Admittedly, it can be like most barn-burners when on a clean channel. Playing technique and amp setting is going to go a long way. A split or parallel wiring configuration will also help for clean tones. Just don't expect the same crystalline spanky cleans of a '63 Strat. HaHa!
Demo
Here is a demo featuring the 2019 Limited Edition PC1 Claro Walnut with the Sugar Chakra in the bridge position:
Here it is in a live performance at the Rock & Roll Hall of Fame Induction Ceremony
Specs
While different platforms, we can still have some fun and look at the specs up next to the Super 3.
Sugar Chakra DP427
Series – 21.21 K
Inductance – 9.098 H
Split – 10.607 K
Split – 10.604 K
Parallel – 5.317 K
Magnet – Ceramic
Output – 337 mV
Super 3 DP152
Series – 26.78 K
Inductance – 7.53 H
Split – 13.40 K
Split – 13.38 K
Parallel – 6.7 K
Magnet – Ceramic
Output – 435 mV

The Sugar Chakra is going to be good for hard rock, shred, metalcore, progressive rock, thrash, doom, death metal, hardcore, nu-metal, and heavy metal styles. It is available in a dozen cover colors and with 3 rail colors to choose from.
For reference, this DiMarzio Sugar Chakra single-width humbucker set evaluation was conducted with a Fractal Axe-Fx II XL+ featuring Celestion Impluse Responses and Fractal MFC-101 MIDI Foot Controller. In addition, real cabs in use are Marshall 1960B, Mojotone British, and Peavey 6505 cabs loaded with Celestion Classic Series Vintage 30s and Classic Series G12M Greenbacks.
DiMarzio Website | Facebook | Twitter | YouTube | Instagram
7 string 8Ω 59 Alnico 2 Alnico 3 Alnico 4 Alnico 5 Alnico 8 Bare Knuckle BKP Brown Sound Celestion Ceramic Custom Shop Dean DiMarzio DMT Dual Resonance EVH Fishman Floyd Rose Fluence Gibson Humbucker Ibanez JB Jimmy Page John Petrucci MJ Mojotone P90 PAF Pariah Pickup Professor Guitarism Satch Satriani Schaller Seymour Duncan Singlecoil Single Width Speaker Steve Vai Tech Tip Tremolo