DiMarzio Ionizer 7 Humbucker Set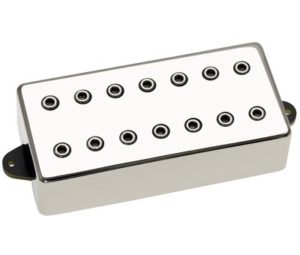 DiMarzio released the Ionizer 7 humbuckers in 2014, as a follow up to the Ionizer 8 set from the previous year.  Designed as a signature set for guitarist Tosin Abasi.
Tosin is influenced by progressive rock and progressive metal players like John Petrucci, Allan Holdsworth, Steve Vai, and Yngwie Malmsteen.  Generally speaking, you're looking for something with drive and something with clarity.
Installation
For this evaluation, I have this set in an Ibanez Universe, which is Hum-Single-Hum.  DiMarzio makes an Ionizer 8 single coil for the middle, but nothing like that for the Ionizer 7 set.  A wag-of-the-finger to Larry.  LOL!  The Blaze middle stays in place for this one.  Not to get on a soap box, but the lack of options for 7-string single coil size pickups is lame.  That applies to many pickup builders.
Anyhoo, the pickups get the wiring for the stock Ibanez Universe configuration: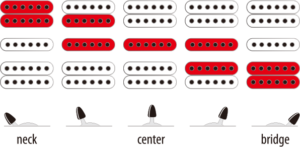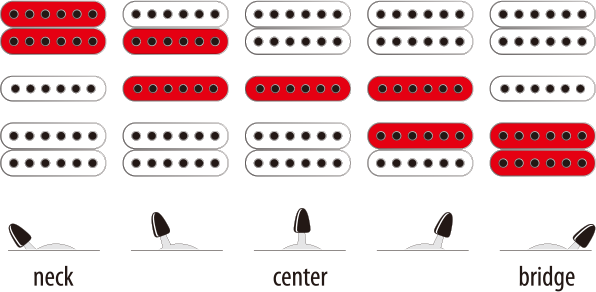 Otherwise, the Universe is similar to enough the Ibanez TAM models.  And away we go!
Evaluation
Out of the gate, I have to say that a lot about the Ionizer 7 bridge reminds me of the DiMarzio Blaze Custom.  Let's face it, the DiMarzio Blaze is one of the most common 7-string humbuckers out there.  The Blaze Custom is a massive improvement in all the right ways.  So yeah, the Ionizer 7 bridge is a solid offering.  Is it just a re-packaged Blaze Custom?  Nope.  The Ionizer 7 bridge is not wound as hot as the Blaze Custom, but has a little bit more output.  It's fairly established that Resistance does NOT equal output, so we won't rehash all that here again today.  LOL!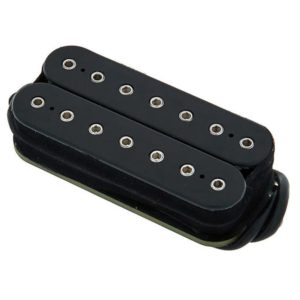 What you get with that slightly lower wind is a little more clarity and open character to the tone.  That makes the Ionizer 7 bridge more responsive as well and easier to get clean tones out of.  The mids have some snarl and the lows are refined.  On the in-between position with the middle single coil, the vibe is snappy with plenty of heat.
Comparison?
There's really nothing else that I can see in the DiMarzio lineup that's like the Ionizer 7 neck humbucker.  So it's got that going for it.  What really impresses me the most about the Ionizer 7 neck is how it responds to clean tones.  You don't have to dig deep into Tosin's discography to hear that cleans are a big part of his sonic vocabulary.  You can get a totally workable clean tone from the Ionizer 7 neck while in full series mode.  Flip over to the in between position with the middle single coil and there are some really fun options to work with.  Funky and super chimey with a bit of quack.  The neck position does hold together much better on a dirty amp setting than the Blaze neck, by comparison.  Not quite as precise as the superb Titan 7 neck, but still a good option.
Demo
Wanna watch an official DiMarzio video of Tosin playing an Ibanez TAM with the Ionizers?
Specs
Alright, I know.  That's the Ionizer 8-string set.  Dude, that's the only official DiMarzio content I could find.  How about peeking at some specs:
Ionizer 7 Bridge DP711
Series – 11.737 K
Inductance – 6.731 H
North – 5.872 K
South – 5.883 K
Parallel – 2.939 K
Magnet – Ceramic
Output – 425 mV
Ionizer 7 Neck DP709
Series – 9.168 K
Inductance – 4.89 H
North – 4.576 K
South – 4.591 K
Parallel – 2.291 K
Magnet – Ceramic
Output – 295 mV
Conclusion
The Ionizer 7 is gonna take care of you if you are looking for something better than some basic stock pickups that come with your guitar.  If you're in to Tosin Abasi's thing, I'd suggest getting a 5-way switch or a Super Switch and getting creative with the switching options.
For reference, this DiMarzio Ionizer 7 pickup set evaluation was conducted with a Fractal Axe-Fx II XL+ featuring Celestion Impluse Responses and Fractal MFC-101 MIDI Foot Controller.  Real cabs used were Marshall 1960B cabs loaded with Celestion G12-65s, Vintage 30s and G12M Greenbacks.