DiMarzio Releases DARK MATTER 2™ Pickups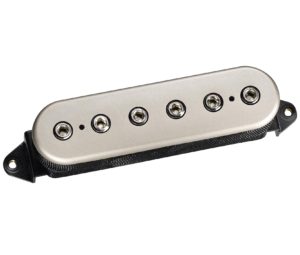 DiMarzio, Inc. announces the release of Dark Matter 2™ Neck (DP266F), Middle (DP267F), and Bridge (DP268F) Model pickups.
We love working with Steve Vai. As an artist, he's constantly evolving and expanding the limits with his playing, composing, and instruments. So when he approached us about pickups for a new incarnation of his signature JEM, we developed Dark Matter 2™ Neck, Bridge, and Middle models. These pickups are specifically EQed to match the earthy, organic aura of the new guitar.
High output pickups can sometimes have anomalies in the high register, meaning they have some sharp edges. While they're definitely high output like Steve's other pickups, the new Dark Matter 2™ pickups are engineered with a slight softness on the top end.
Dark Matter 2™ Neck and Bridge models feature a custom laser-cut pickup grill with interlocking gear patterns. The Dark Matter 2™ Middle pickup is a single-coil in satin nickel.
Dark Matter 2™ pickups come standard in the new Ibanez JEM Woody guitar, and are available to purchase individually from DiMarzio.
Bridge
DCR – 9.19K
4-conductor
Ceramic
Output 330mV
T – 5.0
M – 6.0
B – 6.5
Middle
DCR – 7.33K
2-conductor
Ceramic
Output 200mV
T – 5.5
M – 4.5
B – 5.5
Neck
DCR – 8.29K
4-conductor
Ceramic
Output 275mV
T – 5.5
M – 6.0
B – 5.5
DiMarzio's Dark Matter 2™ Neck, Middle and Bridge pickups are made in the U.S.A., and may now be ordered for immediate delivery. Suggested List Price is $199.99 each for the Neck and Bridge, and $79.99 for the Middle. For more information about the new Dark Matter 2™ pickups, please visit our website at www.dimarzio.com.
DiMarzio Website | Facebook | Twitter | YouTube | Instagram