Who uses a spring-loaded tremolo? That might cover a lot of ground these days, but today we are talking about a traditional Floyd Rose or Fender Strat-style tremolo. Nobody has to look very far to see that I like the Floyd Rose and have been using them for almost 40 years. That was back before the Internet, when we had to figure it out for ourselves. Most thoughts are about the claw is keeping it tweaked just right for balanced tension.
Schaller's Sure Claw is something that comes up more often that you'd think. There are people from national to regional level bands that ask me about it. So I figure it is way past time to learn more about this item.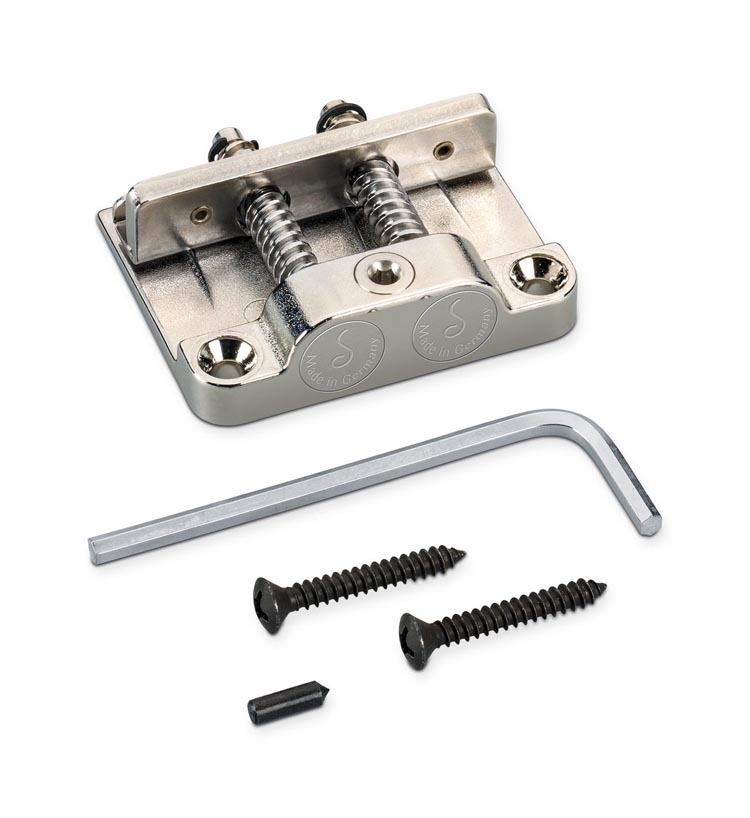 We can all admit that most guitar players can go way off the deep end with the level of OCD on many aspects. And tinkering with that old style claw quickly leads to keeping a ruler nearby to ensure it is evenly balanced. Taking that attention to detail to the next level means bringing the micrometer in to scenario. Alright, stop judging me! HaHa! So… why all this attention to the spring claw?
Climate Change
Whoa… well, not THAT kind. LOL! Even if you don't travel or gig and your guitar stays in a temperature controlled room all the time, the seasons still come and go. One way or another, you are looking at a tweak to your spring tension at least a few times a year. Or perhaps you do gig and you don't have time to do a deep dive in to your setup. Or maybe you just like to keep it simple.
That's where the Sure Claw comes in to play. Once installed, the Sure Claw is as easy as a turn of the wrench. And it's the same 3mm wrench used elsewhere on your Floyd Rose. So come on, how simple is that? There's a lot of brainpower wasted on alternatives, but the Sure Claw has been on the case for decades with great results on a simple design.
Installation
To really put it to the test, I put the Sure Claw on a bit of a tone-dog import shredder that I picked up on the cheap.
From there, the install is super easy. De-soldering the ground is about as complicated as it gets for the Sure Claw installation. Once the old claw is out, line up the Sure Claw, mark the mounting screw positions, pre-drill your screw holes (if you'd like), screw the Sure Claw in place, attach the springs and adjust as desired.
There is one trick with the Sure Claw installation: the mounting screws. Check the depth of your tremolo cavity and the thickness of the guitar body. The included screws need about 3/4″ of travel, so do the math. If needed, run down to the hardware store for shorter screws. In a worst-case scenario, the Sure Claw mounting screws may possibly line up beneath a middle pickup. You might need some backward engineering if that happens to you. Anyone that is remotely handy will have no issues making it work.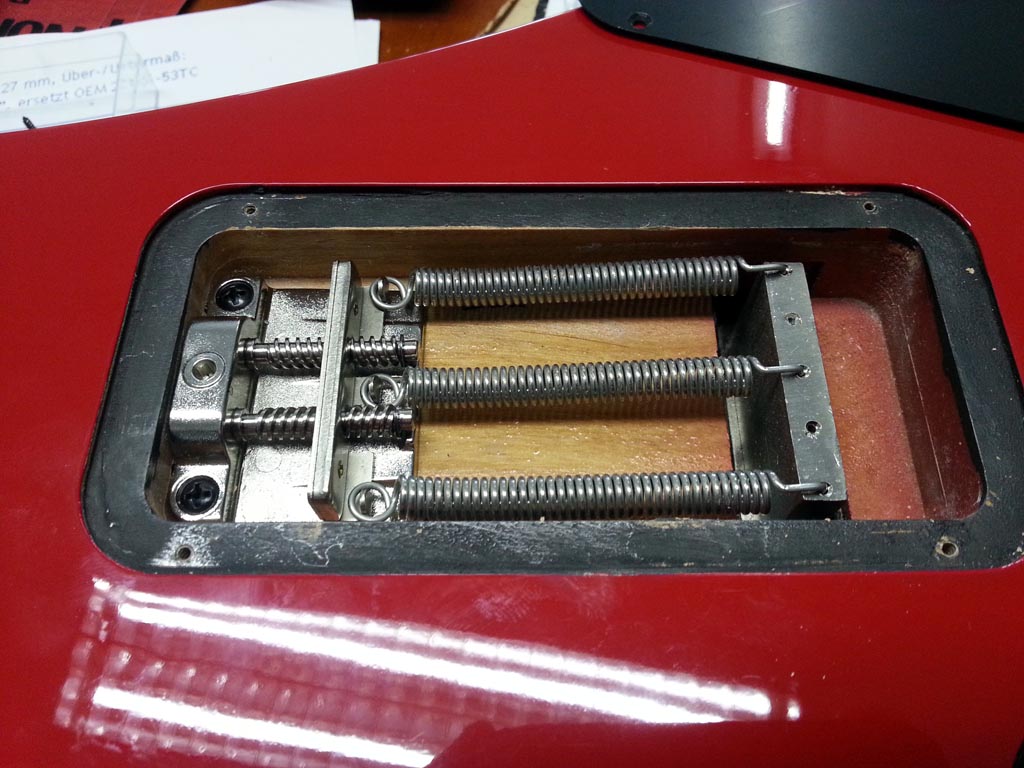 Ready For Action
Alrighty, then. You have your shiny new Sure Claw in place and everything is set up. What else? I'm here to tell you that the Sure Claw delivers the sustain. What was making contact with the body with just 2 screws is now totally flush up against the body. So all that energy has significantly more transference back into the wood. It turned that weak tone-dog cheapo import gitfiddle into much more of a player! Imagine what that's going to do to your much better-built higher-quality guitar.
To be thorough, I did contact Schaller to ask about the materials. It turns out that the Sure Claw is made of brass and steel, chosen for the practicality of the design parameters. Turns out those metals do well for your sustain and tone as well. Go figure.
Is It For You?
Should you get one? Let me put it this way… everyone I've spoken to that has tried it is someone that now swears by it. And it's made by Schaller. The same people that have been providing the German-made Floyd Rose for decades. As well as tuners and strap locks and… you get the idea.
Schaller Website
Floyd Rose Website | Facebook | Twitter | YouTube
7 string 8Ω 59 Alnico 2 Alnico 3 Alnico 4 Alnico 5 Alnico 8 Bare Knuckle BKP Brown Sound Celestion Ceramic Custom Shop Dean DiMarzio DMT Dual Resonance EVH Fishman Floyd Rose Fluence Gibson Humbucker Ibanez JB Jimmy Page John Petrucci MJ Mojotone P90 PAF Pariah Pickup Professor Guitarism Satch Satriani Schaller Seymour Duncan Singlecoil Single Width Speaker Steve Vai Tech Tip Tremolo