Pure Tone Full Contact 1/4″ Output Jack
Pure Tone output jacks are a reminder of how everything counts. Even in small amounts! And the Pure Tone Full Contact 1/4″ jacks count with a one-two punch! Let's check out how and why!
Your guitar's output jacks are sorely underappreciated in most instances. It's there, getting constant use every time you play. Just like all the components of your wiring harness. Except the jack is a little different in that respect. It's getting a mechanical engagement when you plug in. Sure, the tone and volume pots physically move during each session. But not in the same way as the jack, which gets a 1/4″ plug crammed in to it. And then the plug is yanked out of it later on. A bit violent, when compared to the gentle spin of the tone pot.
And so for decades of musical instrument construction, the same basic design has been in play. A single connection to the tip of the plug for the hot, and a collar holding the length of the jack as the ground. Remember that part about the collar for later.
Who's familiar with thrash metal? Go ahead, you know you are! You clearly know East Coast thrashers Overkill and guitarist Dave Linsk. It appears that Dave's not one for baloney and had his fill of the malarkey that goes with that old 1/4″ jack design. Dave threw down and came up with the Full Contact approach.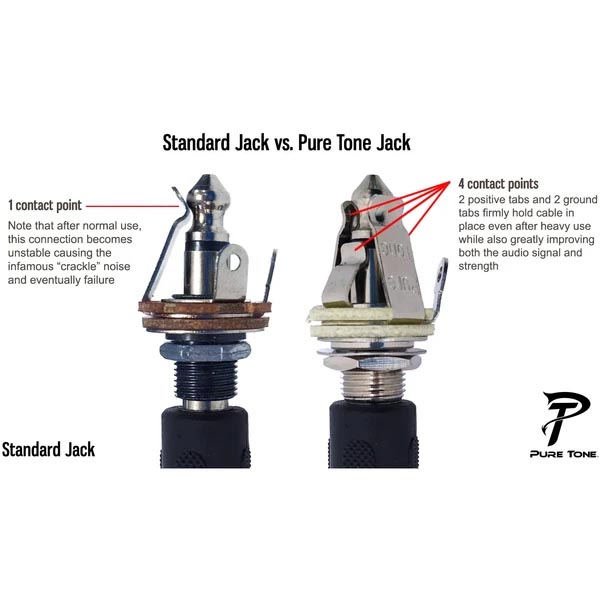 So go ahead, check your guitar. Put your 1/4″ plug in there and check that fit. How solid does it seat? Once in place, just how firm is the connection to the "ground" collar? I know, you may have a name brand… but that doesn't always means you don't have room to improve your signal path. Or you might have a no-name part that was the most cost-effective option for the builder of your guitar. No judging. We've all been there.
But come on. You can get a Pure Tone Mono Multi-Contact 1/4″ Output Jack direct from the Pure Tone site for about $4. About a $1 more for the stereo version (for you active pickup guys). A few bucks more on Amazon.
I know, I know. Guitar players are some of the biggest tightwads on the planet. So let's look at what you're getting for that $4 investment. LOL!
For starters, you get double the contact points on the hot tip of the plug. And then add 2 more contact points to the barrel after it passes the collar. That's 4 solid contact points. That's less mechanical motion of the plug wiggling around, so things stay in place a littler firmer.
But I'm talking about a one-two punch. That was one. Here's the two: A stronger and more stable connection equals tone! Just like when you want a guitar cable with solid connections, the same applies here. Can you put some play on the cable in the jack and hear some scratch? Exactly! That is a compromised connection that's common in way too many guitars.
Check out this graph from Pure Tone that compares a standard jack with a Pure Tone jack: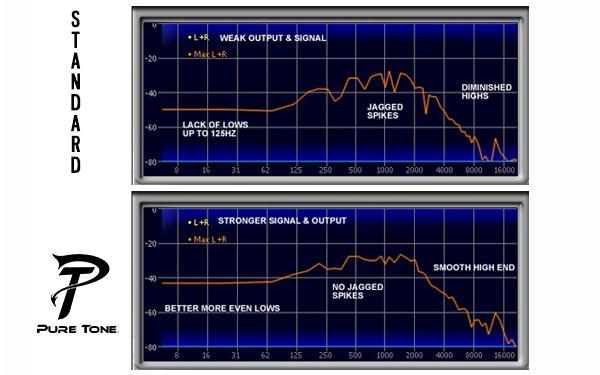 That pretty much says it all. Stronger lows and highs. More consistency across the mids. And a smoother signal past 2k. Isn't that worth about $4 to you?
Here's my own take. I have a few of the Pure Tone jacks. While I did install one jack at the same time I did several tweaks to the guitar (including a pickup swap), it was the secure fit that jumps out. I'm hearing too many things at once from changing up too many things. But I'm happy with the stable connection. Nothing is wiggling and the feel of the strong 'snap' of the plug seating into the jack is most satisfying.
And then I install another Multi Contact jack in to this other guitar, where everything else stays the same. The before and after is palpable. Immediately, there is more headroom, clarity, transparency, signal, presence. It is as if the fuel line of my signal is clogged up with deposits and the Pure Tone 1/4″ jack cleans up my tone injectors. LOL!
There are many lame no-name 1/4″ jacks out there on a lot of guitars. Or maybe your jack is wearing out. Perhaps you just need that extra something to get the most out of your new guitar and boutique pickups. I can't think of a better bang for the buck than the Pure Tone Full Contact 1/4″ output jacks.
You can find Pure Tone Multi-Contact 1/4″ Output Jacks in stereo and in mono connection with finishes that include nickel, black, and gold. The Pure Tone Mono/Stereo 1/4″ Barrel Jack (good for your Kramer and Ibanez, for example!) comes in nickel. I get mine from AP International… the same industry standard professionals that bring us Floyd Rose, Schaller, and more.
For reference, this Pure Tone 1/4″ Output Jack evaluation was conducted with a Fractal Axe-Fx II XL+ featuring Celestion Impluse Responses and Fractal MFC-101 MIDI Foot Controller.  Real cabs are Marshall 1960B cabs loaded with Celestion Vintage 30s and G12M Greenbacks. Guitars used include a Washburn Nuno Bettencourt model, a Kramer guitar, and a Warmoth custom build.
Pure Tone Technologies Website | Facebook
7 string 8Ω 59 Alnico 2 Alnico 3 Alnico 4 Alnico 5 Alnico 8 Bare Knuckle BKP Brown Sound Celestion Ceramic Custom Shop Dean DiMarzio DMT Dual Resonance EVH Fishman Floyd Rose Fluence Gibson Humbucker Ibanez JB Jimmy Page John Petrucci MJ Mojotone P90 PAF Pariah Pickup Professor Guitarism Satch Satriani Schaller Seymour Duncan Singlecoil Single Width Speaker Steve Vai Tech Tip Tremolo