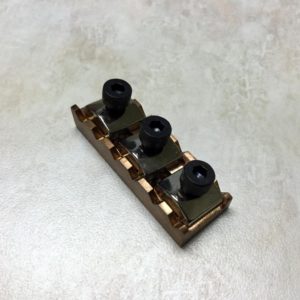 Brass locking nut? Brass? As in, the same material as sustain blocks? Isn't brass soft? Maybe your average brass. When do I cover anything that's average? LOL!
Part of bringing you cats the coolest stuff to drool over, I end up talking to a lot of different people that make the gear that guitarist use. Or want to use. Or should be using. One such recent conversation led to a rare brass locking nut that was fabricated with the intention of being used by a certain striped-guitar player known to run with the devil.
As far a being soft, a bit of research went in to finding brass that would make sense. How does a material with over 100 ksi tensile strength work for you? That does not mean it is indestructible, but it does mean that the brass locking nut is capable of being locked down with some peace of mind.
Outside of what was originally made for that Dutch-born guitarist, there are currently only a handful (maybe six?) of brass locking nuts in existence. I was able to get my hands on two. One is R2 and one is R3.
I installed the R2 brass locking on a bit of a shred stick. Mahogany body, maple neck, ebony board, German Floyd Rose with a titanium sustain block, titanium inserts/studs (standard on my guitars at this point), and two custom-wound humbuckers. This neck is set up for a top mount nut.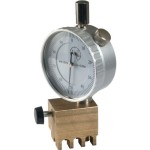 The install was no-hassle. I checked 1st fret clearance with my invaluable Nut Slotting Gauge (it was spot on for my preference!). There are no brass nut clamping blocks (for now), and it was tempting to try some titanium nut clamping blocks. I opted for regular garden variety nut clamping blocks to gain the least distraction from what the brass locking nut is doing.
First and foremost, there was more sustain. A lot. Full chords. Single notes. Tap and pinch harmonics. I really didn't encounter any big tonal shift, at least not as much as with a brass sustain block. This guitar was always a smidge on the bright side, which was part of the reason it was selected. Any "warming" effect or the adding of a richer texture is welcomed, but it was more transparent than expected for this evaluation.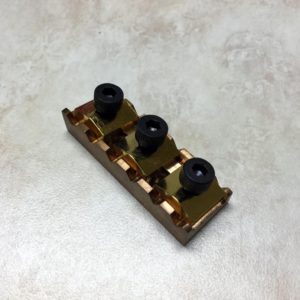 Tuning stability? It's been working perfectly. You can bet there is a degree of concern with the idea of brass being used in a locking nut. I dove down and I pulled up and I gave it the business all I could for extended sessions. It maintains tuning very well. If you're in to the more subtle Jeff Beck tremolo techniques or the wild Brad Gillis pyrotechnics, you are good to go.
In all fairness, one of the other guys that grabbed a few of these brass locking nuts does claim to hear a little beefier vibe. His rig is very different than mine and all the components do add up to contribute to the end result. Which is to say that there are not all that many fixed maxims when it comes to your tone quest.
"Other guys?!" Well, yeah… I did some bros a solid and got them in on the access to this rarities. So there are really no more to be had. You're probably wondering "Why tell people about something they can't get?!" Because… the first run may have been consumed, but that does not mean there won't be more. Keep your scanners set to this quadrant for possible updates.