DiMarzio Imperium 7 Bridge
The Imperium 7 is the next model we are going to discuss in the 7-string series. And yes, I did cover the Imperium 6-string model at one point. This one is a bit of an accident, if I might say so. In the chase for an Evolution 7, this Imperium 7 is part of the deal. That is also why it's just the bridge model in this article.
All things being equal, the 6-string version is alright, but isn't something that totally blows my socks off. So I'm a little "meh" while installing this 7-string. Being the curious type, I have the opportunity to peek under the hood and here's what I'm seeing…
Virtual Vintage
What's that? For the most part, they put "dummy poles" between the normal pole pieces. The installation is in the underside of the bobbin, so they are not visible when looking at your typical operating humbucker. The purpose is to alter the inductance to "tune" the coil(s) in a way not traditionally possible.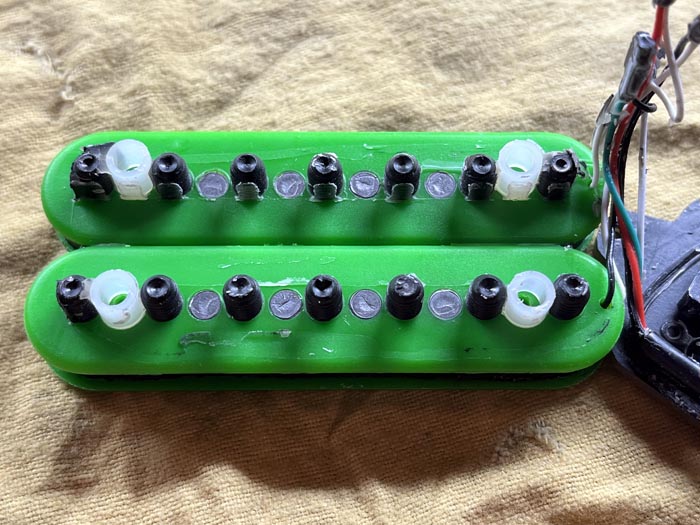 As we look at this example, there are 4 (four!) dummy slugs on each coil. They fall between the E-A-D-G-B poles. That means there are none between the low B and the low E and none between the high B and the high E. I suspect the ones lacking are more to do with the need for the frame-mounting screws in those positions. LOL! The four mounting screws go where the four rubber cylinders are in place, so as not to confuse with "air tech".
Installation
This Imperium 7 bridge humbucker is going into an Ibanez Universe 7-string. That's a basswood body, 24-fret maple neck, 25-1/2″ scale rosewood board, and Edge 7 locking tremolo system. The harness is original, as is the middle Blaze single coil and neck Blaze 7 humbucker. The guitar has a standard tuning of low B on the 7th, using 09-54 strings.
The Ibby Universe switching that I'll be covering is as follows: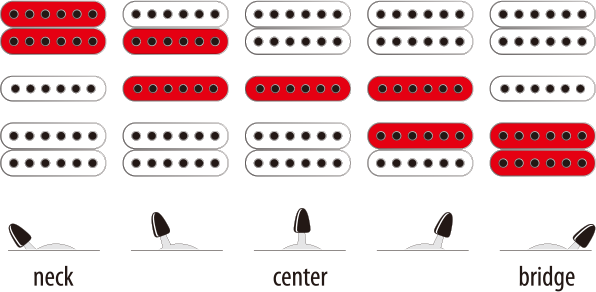 Evaluation
When a guitar gear company uses a word like "clarity ", there are times when you might wonder if the marketing team never opened a dictionary. LOL! In this case, at least one person did. HaHa! That's to say that DiMarzio really did find a way to get a metal pickup have transparency. Not just any metal, but thrash metal. Tech metal. Groove metal. Death metal. Extreme metal. The sort of brutal beats that you definitely don't see Granny throwing horns to on her way to Sunday School. LOL!
The sort of complex characteristics of dissonant voicings can be a total hit or miss with little margin for error. I'm thinking the Imperium 7 really nails it in all the ways that I was not expecting prior to installation. A deftly-honed character that really opens up the mids while giving presence to the highs and punch to the lows.
If you are in to the brootalz, the Imperium 7 definitely has you in mind. For players that are more straight-ahead rock and metal, you're also solid with this selection. The upper-mids are excellent for smoking shredder leads and wailing harmonics. Splitting with the middle single coil for clean amp settings has lots of snappy chime and a bit of glassy transients.
Demo
Specs
Although I get we are talking about two different platforms, let's also throw the Imperium 6-string spec up here for comparison
Imperium 7 Bridge DP716
Series – 13.512 K
Inductance – 7.21 H
Split – 6.868 K
Split – 6.661 K
Parallel – 3.38 K
Magnet – Ceramic
Output – 325 mV
Imperium 6 Bridge DP272
Series – 14.241 K
Inductance – 6.689 H
Split – 7.112 K
Split – 7.157 K
Parallel – 3.563 K
Magnet – Ceramic
Output – 325 mV
Tone Chart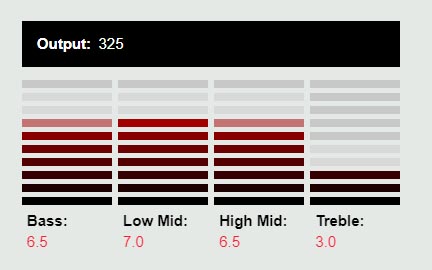 Conclusion
The Imperium 7 humbucker is going to be good for fusion, hard rock, progressive metal, djent, nu-metal, thrash, metalcore, hardcore, blues rock, garage, classic rock, alt rock, tech metal, shred, 80s rock, 80s metal, tech metal, and more. It's available in over 10 bobbin colors, a 1/2 dozen cover options, and 3 pole piece colors.
For reference, this DiMarzio Imperium 7 humbucker pickup set evaluation was conducted with a Fractal Axe-Fx II XL+ featuring Celestion Impluse Responses and Fractal MFC-101 MIDI Foot Controller. In addition, real cabs in use are Marshall 1960B, Mojotone British, and Peavey 6505 cabs loaded with Celestion Classic Series Vintage 30s and Classic Series G12M Greenbacks.
DiMarzio Website | Facebook | Twitter | YouTube | Instagram
7 string 8Ω 59 Alnico 2 Alnico 3 Alnico 4 Alnico 5 Alnico 8 Bare Knuckle BKP Brown Sound Celestion Ceramic Custom Shop Dean DiMarzio DMT Dual Resonance EVH Fishman Floyd Rose Fluence Gibson Humbucker Ibanez JB Jimmy Page John Petrucci MJ Mojotone P90 PAF Pariah Pickup Professor Guitarism Satch Satriani Schaller Seymour Duncan Singlecoil Single Width Speaker Steve Vai Tech Tip Tremolo