Mojotone '69 Clone Strat Pickup Set
A '69 Clone single coil set is sure to evoke certain expectations. 1969 is seen by many as a watershed moment in music, as well as in culture. Woodstock comes to mind. So does Jimi Hendrix. CBS is in ownership of Fender at this time and Plain Enamel wire is the choice over the previous Formvar insulation.
Technically speaking, it appears CBS was putting fewer turns on the coils. Apart from the different insulation, the numbers on paper might reflect something closer to the earlier mid-to-late 1950s single coils. However, many people refer to the 1969 single coils as having a bolder character. Incidentally, Jimi was using a 1968 Strat in 1969 at Woodstock. That's not to say that they sounded different. Or that they sounded alike, for that matter. LOL!
Installation
For installation, the '69 Clone set goes in a 1990 American Standard Stratocaster with a maple neck and board. I am using the Mojotone pre-wired Premium Historic Strat Wiring Harness. That's a vintage taper 250K CTS pots, CRL 5-way switch, Switchcraft jack, and Luxe 1952-1958 Phone Book paper & oil .1uF capacitor.
About that Luxe cap. It amounts to about 1/3 of the cost of that particular WIring Harness. Is it worth it? You betcha! My take on it is the same as with the Luxe bumblebee caps on the Mojotone pre-wired Premium Historic Les Paul Wiring Harness. Which is that it's totally altered my perception of the tone knob. Prior to my exposure to these Luxe caps, I would disconnect the tone pot in my guitars and/or remove all the other cost-effective lame caps from the harness. I have never spoken with Luxe and don't get a dime from discussing the brand, but I think you should try them out and you can find some HERE ( <- link! )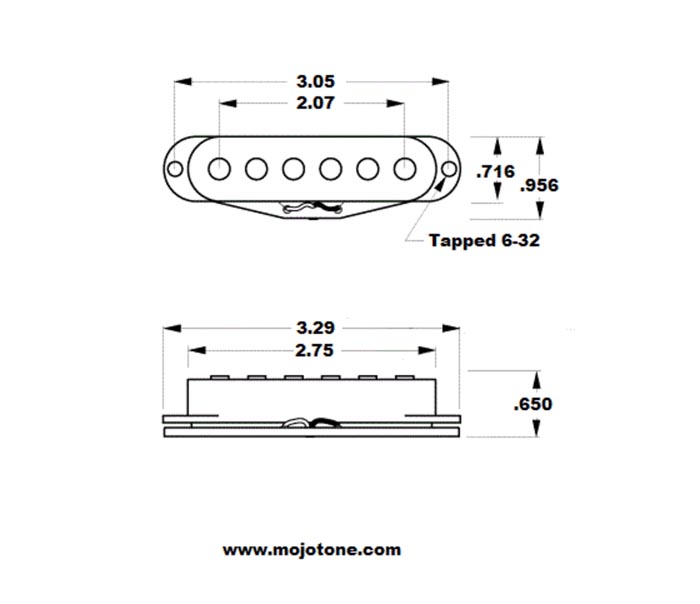 Evaluation
The '69 Clone set is a fairly quintessential Stratocaster tone. The glassy snap and the authoritative pluck. Probably the most relaxed mids of any of the Mojotone single coils that I've tried. The voicing of the midrange adds a little more perceived power to the lows and highs. And of course, the 2 and 4 positions are exquisitely voiced with the in-between tone for the variety you require from your Strat.
On a clean amp setting, it is exactly what you want from a single coil. All the shimmer with an abundance of clarity and response to subtle variance in fretting technique. Dial in a little chorus and you will be the envy of all the kids on your block. Or dial in a little edge at the amp, throw in a tube screamer, and you're deep into Texas Blues territory.
Going to a dirty amp setting, the '69 Clone holds together very well. You still have the focus of the more precise magnetic field of a single coil. It is a traditional single coil set, so you may or may not need to tweak your amount of drive to get the impact that you want. I'm finding it to hold some extra crunch very well without any issues. And as a reminder, I'm running 4 fully-loaded cabs for a total of 16 Celestion speakers. Even with riff-rock levels of 1980s gain, there was no fussy feedback to be had.
Specs
'69 Clone Bridge
DCR – 5.627 K
Inductance – 2.103 H
Magnet – Alnico 5
'69 Clone Middle
DCR – 5.579 K
Inductance – 2.021 H
Magnet – Alnico 5
RWRP
'69 Clone Neck
DCR – 5.704 K
Inductance – 2.079 H
Magnet – Alnico 5
Demo
Conclusion
There will most likely be an inevitable comparison to a Strat-playing artist from 1969. Yes, you can see the name earlier in this article. Are these Mojotone's answer to a signature set with an association to that artist? Yes, I do have that set and that set has been in the same guitar as the '69 Clone set. They are in no way the same. This Mojotone set is a faithful depiction of what Fender was putting in the Stratocaster at that time. I think it is fair to assert that you can get a wah and a fuzz and an octavia and the univibe and the curly guitar cable and you will nail Hendrix with this set.
You can find the '69 Clone Strat pickups as singles or as a set, as well as in a loaded pre-wired pickguard in a wide selection of pickguard options. Pickup cover choices include white, black, mint green, parchment, cream, and aged white.
For reference, this Mojotone '69 Clone Strat pickup set evaluation was conducted with a Fractal Axe-Fx II XL+ featuring Celestion Impluse Responses and Fractal MFC-101 MIDI Foot Controller. Real cabs in use are Marshall 1960B, Mojotone British, and Peavey 6505 cabs loaded with Celestion Classic Series Vintage 30s, Classic Series G12M Greenbacks, and Heritage Series G12-65s.
Mojotone Website | Facebook | Twitter | YouTube | Instagram
7 string 8Ω 59 Alnico 2 Alnico 3 Alnico 4 Alnico 5 Alnico 8 Bare Knuckle BKP Brown Sound Celestion Ceramic Custom Shop Dean DiMarzio DMT Dual Resonance EVH Fishman Floyd Rose Fluence Gibson Humbucker Ibanez JB Jimmy Page John Petrucci MJ Mojotone P90 PAF Pariah Pickup Professor Guitarism Satch Satriani Schaller Seymour Duncan Singlecoil Single Width Speaker Steve Vai Tech Tip Tremolo