Seymour Duncan Whole Lotta Humbucker Set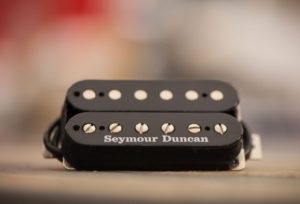 Whole Lotta Humbucker.  Originally a limited release to the UK, this set was put into the regular production lineup in 2013.  For those keeping score, that was the same year another limited release set, the Black Winter, also made it into the regular production catalog.
A product name starting with Whole Lotta really lends itself to a very specific idea of the tonal goals.  So how about we kick around some ideas?  'Whole Lotta Love' kicked off LZ2 from 1969.  Most people agree that Jimmy Page bought a 1959 Les Paul from Joe Walsh by that time.  It also seems the guitar was used on the album.  It's known as his #1.  And it's widely agreed to have been what was used on the song.
The interesting part.  Jimmy Page needed to replace his bridge humbucker in 1972.  It also seems that it was replaced with a T-Top pickup.  The plot, as some might say, thickens.
Between you and me and anyone with Internet access, it's a given that Seymour was around many influential players in England during this time frame.  Jeff Beck.  Jimmy Page.  Paul Kossoff.  There is every reason to believe Seymour was working on pickups for these guys, and more.  You'll see the Whole Lotta Humbucker specs in a minute.  Remember that a T-Top generally clocks in closer to the mid 7K range.  Was Seymour's installed in Page's #2?  Or his 3 humbucker Black Beauty?  Your guess is as good as mine.
Another school of thought out there is that the Whole Lotta Humbucker set is much more closely aligned to the beefier pickups that were made for Jimmy Page many years later.  When asked, the man behind this set of pickups confirmed that to me.  Consider there was a Jimmy Page set available from the custom shop.  Word is that it is what was being made for Page in most likely the 80s or possibly the 90s.  It wouldn't be the only time that a Seymour Duncan Custom Shop product is released on a production level.  Vegas odds are that it won't be the last.  *wink, nudge*
I've had this set a few years.  It's a good sounding set of pickups.  I found that what people were saying about the Whole Lotta Humbucker set to be accurate:  it resolves the problems many people have with the 59 Model.  More on that in a second.  First things first.
The Whole Lotta Humbucker set goes in one of my trusty double hum test guitars.  Each pickup has controls for series/split/parallel switching.  I'm digging the short mounting legs, the 4-con lead wire, and the roughcast magnets.  I think butyrate would have been a nice touch, but I defer.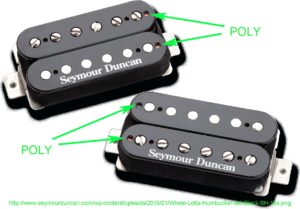 I can see Plain Enamel wound on the coils.  Don't be fooled by the photos on the Duncan company webpage for this product that clearly reveals poly wire.  See that link back there?  You can click.  I'll still be here when you're done.  Same applies to the individual pages for the bridge and the neck.  Fret not (ha!  a pun!).  I can confirm the rich brown hue of PE on the coils.  Surely just one of those website oversights.
Once up and running, this is a pretty cool set.  With similar push and drive as the 59 Model set, the Whole Lotta Humbucker is a little more articulate in the lows and a little tastier in the highs.  There is a really nice balance to the set, compliments of a slight snarl in the mids.
Seems to me that that balance I'm talking about can also be attributed to the roughcast Alnico magnets.  Without getting all Mr. Wizard on things, the uneven rough surface of this sort of magnet allows for the magnetic field to have a little more character.  Compare that to the precise focus of a polished Alnico magnet.
Being on the more muscular side, it's still hard for me to consider them a PAF-ish offering as much as landing in the hot-vintage range.  As such, the Whole Lotta Humbucker set might require a slight tweak of the volume for cleaner tones.  Going to split or parallel wiring also helps in that area.
This set does a really good job of covering any genre I threw at it.  Blues rock, pop rock, pop metal, hair metal, hard rock, etc.  And being in the hot-vintage category doesn't keep the Whole Lotta Humbucker from running with the big dogs.
How about a demo video:
Ready for some specs?
WLH Bridge
Series – 8.739 K
Inductance – 4.962 H
Resonant Peak – 6.14 KHz (advertised)
North – 4.287 K
South – 4.437 K
Parallel – 2.18 k
Magnet – Roughcast Alnico 5
WLH Neck
Series – 8.287 K
Inductance – 4.437 H
Resonant Peak – 6.4 KHz (advertised)
North – 4.064 K
South – 4.013 K
Parallel – 2.07 k
Magnet – Roughcast Alnico 5
Moving past any marketing schlock several decades after the fact, the Whole Lotta Humbucker set is a solid offering.  Even as this may or may not have be identical to what was used on the eponymous song, they shouldn't be pigeon holed into a narrow category.  Any list of suggested humbuckers for 70s and 80s rock music that doesn't include this set was compiled by a ninnyhammer.
I'll be keeping this set, even if Seymour hadn't signed mine for me.  They are strong, they are nuanced, and they are versatile.  If you haven't tried them, they are worth a look and a listen.
Seymour Duncan Website | Facebook | Twitter | YouTube | Instagram