Mojotone Humbucker Sized P-90 Pickup Set
This is a straight-ahead, no baloney, get-it-done sort of pickup. And that's cool. You can find 1,001 places for P-90 aficionados to lay down the origins of the P-90 style pickup…so I'm not going to waste your time, outside of saying that you're pretty much getting a sweet spot between a single coil and a humbucker.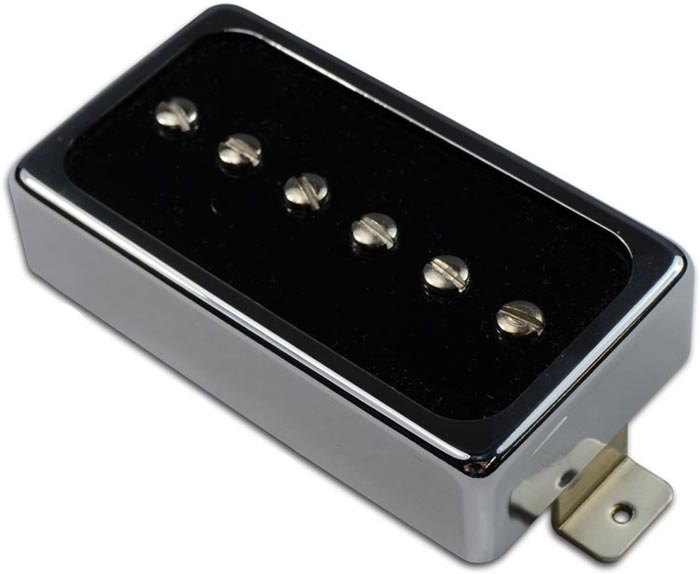 Installation
The Mojotone Humbucker Size P90s are going into a 2-hum mahogany body. The harness is Bourns 500k pots, a Switchcraft 12120x 3-way toggle, and a Switchcraft output jack. This is basically a single coil with vintage braided lead wire, so it's a basic configuration. The tuning is E standard with 10-46 strings.
Evaluation
Both positions have that definition and articulation. The voicing is so that you get a very usable tone, no matter a clean or a dirty amp setting. From the bridge to the neck and to the middle positions, all the tones are just right. Ranging from big open chords to aggressive riff rock to heavy blues to plucky staccato single note lines… I really like what this set can deliver. Being so used to regular humbuckers, the voicing and variety encouraged me to re-visit a lot of licks from the repertoire, as these pickups can deliver both chime and grind.
The neck position has an alnico 4 magnet and presents a tone that is both big and well-defined. The bridge position, with an alnico 5, can be focused in the highs and deliver a controlled low end. Both are wound with vintage spec plain enamel wire.
As with a P-90, there is no hum-canceling. But the bridge is RWRP. The output may technically be on the vintage side, but it "feels" like there is more there .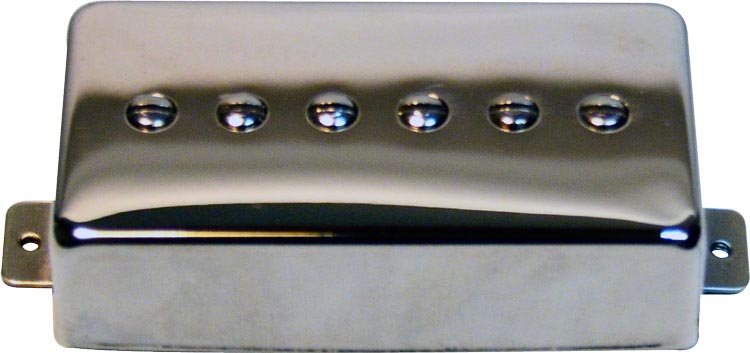 Specs
Neck
Resistance – 7.194 K
Inductance – 5.646 H
Magnet – Alnico 4
Bridge
Resistance – 7.561 K
Inductance – 6.207 H
Magnet – Alnico 5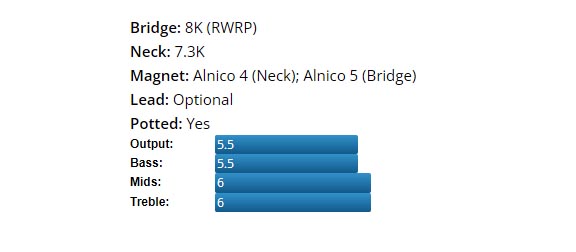 Demos
Conclusion
The Mojotone HSP90 is going to be good for blues, country, funk, indie, alternative, hard rock, and you know that I even ran some metal riffs through it as well. LOL! You can get these individually or as a complete set. The finishes for the open covers include nickel, black, gold, and chrome. Definitely reach out to Mojotone directly if you're looking for additional bells and whistles, such as pole piece colors.
For reference, this Mojotone Humbucker Size P-90 set evaluation was conducted with a Fractal Axe-Fx II XL+ featuring Celestion Impluse Responses and Fractal MFC-101 MIDI Foot Controller. Real cabs in use are Marshall 1960B, Mojotone British, and Peavey 6505 cabs loaded with Celestion Classic Series Vintage 30s and Classic Series G12M Greenbacks.
Mojotone Website | Facebook | Twitter | YouTube | Instagram
7 string 8Ω 59 Alnico 2 Alnico 3 Alnico 4 Alnico 5 Alnico 8 Bare Knuckle BKP Brown Sound Celestion Ceramic Custom Shop Dean DiMarzio DMT Dual Resonance EVH Fishman Floyd Rose Fluence Gibson Humbucker Ibanez JB Jimmy Page John Petrucci MJ Mojotone P90 PAF Pariah Pickup Professor Guitarism Satch Satriani Schaller Seymour Duncan Singlecoil Single Width Speaker Steve Vai Tech Tip Tremolo