Arcane Phil X PX-Super 8 PX-3 Humbucker Set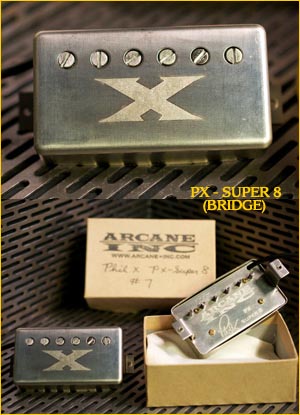 The PX-Super 8 and the PX-3 are a sampling of the several signature pickups that Arcane makes for current Bon Jovi axeman Phil X.
Sure, the guy playing in Bon Jovi gets carte blanche with any gear company. There must be a traffic jam of trucks showing up to unload stuff from a who's who of guitar companies. But Phil X already stands on his own discography outside of the big band from Jersey.
Phil's history as a session player goes back about 30 years. His fretwork can be found on albums from Triumph, Rob Zombie, Avril Lavigne, Kelly Clarkson, Tommy Lee, Halestorm, Scott Stapp, Derek Smalls, and Chris Cornell.
So, yeah… I'm saying that there are more than moms in minivans and high-waisted jeans wearing "I'll Runaway with you Jon!" shirts at concerts paid for with their alimony income that are listening to what Phil X has put to tape.
If you listen to the radio, Spotify, Pandora, SiriusXM. Apple Music, or whatever… chances are you've heard Phil X playing. And probably without even knowing it.
So when you're a player at that level and can play whatever you want, what pickups do you choose? For Phil X, it's Arcane, Inc. Long time readers know I've been checking out Arcane here and there for about 5 years now. The ones I've put to use have been hit (the Brownbucker) and miss (the Mr Scary). But this is Phil X, so I want to give it a go.
There are plenty of Phil X pickups to choose from. The PX-100, a humbucker-size P90. The PX-8, a vintage-hot humbucker. The PX-90s, a set of (you guessed it) P90s. And the ones we will be talking about here in the article: the higher output PX-Super 8 and the very vintage PX-3 neck humbucker.
How about some specs:
PX-Super 8 Bridge
Series – 16.435 K
Inductance – 7.038 H
Split – 7.896 K
Split – 8.563 K
Parallel – 4.105 K
Magnet – Alnico 8
PX-3 Neck
Series – 7.978 K
Inductance – 4.282 H
Series – 4.018 K
Series – 3.955 K
Parallel – 1.993 K
Magnet – Alnico 3
Let's start with the Alnico 3 based PX-3 neck humbucker. The lower strength Alnico 3 fits in line with Phil's thoughts on neck pickup magnetism affecting sustain. My experience is that Alnico 3 can be a little finicky, depending on the wind. I do like what Arcane is doing here.
The vibe is buttery smooth with snappy clarity. It will fill out your lead work up high on the neck without getting wonky or nasally. The neck position is also excellent for clean amp tones with a character a little more well-balanced than many garden-variety mass-production neck humbuckers.
It might take some rig tweaks to get it into the shred zone. LOL! But the neck humbucker has got you for straight-ahead rock, classic rock, southern rock, jazz, funk, and so on.
Take a listen to Phil X showing off the PX-3, starting at 1:50
If you are my typical reader, you are wanting to know all about the higher output PX-Super 8. It's great when an Alnico 8 pickup comes together. And I think this is one of them. The tenants of the Alnico 8 are generally firm lows, plenty of mids, even highs, and plenty of power. It's easy to let all that get out of control, but the Super 8 turns into the skid to cross the finish line a winner.
The PX-Super 8 bridge has the character of an all-out high-output high-gain high-energy humbucker. With the added dimension of a responsive feel, open voicing, and a lush harmonic complexity. The pickup wants to sing and it wants to roar.
Here is Phil X with a demo of the PX-Super 8 and the PX-3 together as a full set.
What's up with such a powerful bridge and a vintage-level neck? Lemme tell ya. Not all guitars have to be fitted with a set that is perfectly balanced. It all depends on the need of the player and what their rig might be. This is a good setup for a variety, if that is what you are looking for.
As near as I can tell, the Phil X pickups are available directly from the Phil X Store (<- click to get there). Currently, you can find the PX-3 on the PX-8 page, offered as a neck option. The humbuckers appear to be available covered or uncovered.
For reference, the Arcane Phil X PX-Super 8 and PX-3 humbucker pickup set evaluation was conducted with a Fractal Axe-Fx II XL+ featuring Celestion Impluse Responses and Fractal MFC-101 MIDI Foot Controller. Real cabs used are Marshall 1960B cabs with Celestion Vintage 30s and G12M Greenbacks.
Arcane Inc Website | Facebook | Twitter | YouTube | Instagram
Phil X Website | Facebook | Twitter | YouTube | Instagram
7 string 8Ω 59 Alnico 2 Alnico 3 Alnico 4 Alnico 5 Alnico 8 Bare Knuckle BKP Brown Sound Celestion Ceramic Custom Shop Dean DiMarzio DMT Dual Resonance EVH Fishman Floyd Rose Fluence Gibson Humbucker Ibanez JB Jimmy Page John Petrucci MJ Mojotone P90 PAF Pariah Pickup Professor Guitarism Satch Satriani Schaller Seymour Duncan Singlecoil Single Width Speaker Steve Vai Tech Tip Tremolo