Hathor Model 42 Humbucker
The Model 42 should be a familiar name to anyone following the Hathor line of humbuckers. It's a versatile offering that previously in the article on the MA Custom bridge model and in the article on the Juicer model. In those capacities, the Model 42 is in the neck position. And as any good offering of a vintage humbucker, that ability to be nimble is a key factor.
Yes, this humbucker is clearly a nod to classic style of 42 AWG humbuckers with Alnico 2 magnets. Of course, this is Hathor, so there a few new spins on the design. Let's take a look!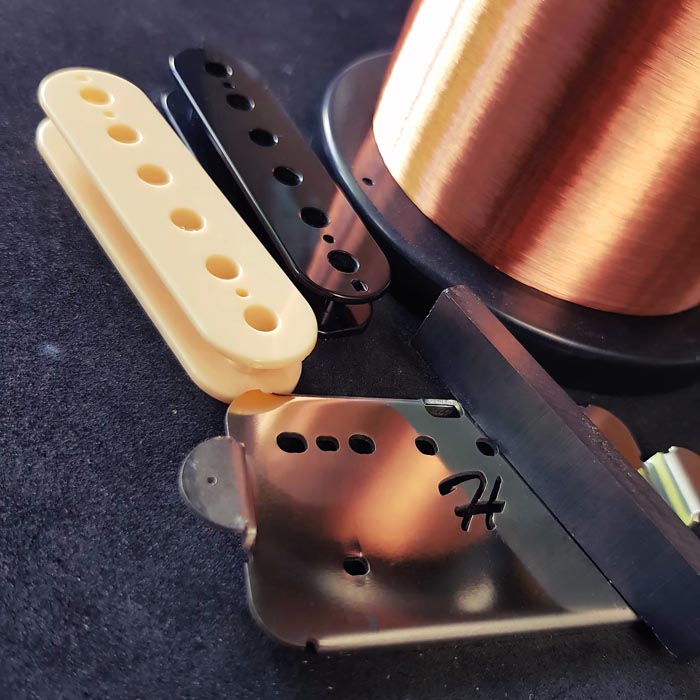 Installation
For this evaluation, I am putting the Model 42 in to a neutral-sounding double-cut double-hum 25-1/2″ scale guitar. It has a German Floyd Rose tremolo system, Bourns 500k pots, Switchcraft 12120x 3-way, and a Switchcraft 151 1/4″ jack. It has 09-42 strings and standard E tuning.
As mentioned, this was in the neck position of this guitar for the MA Custom and the Juicer evaluations. So it's a simple switch over to the bridge slot. For the bridge evaluation the Model 42 is not being paired with anything in the neck . Again, the quick-connect harness makes this only a matter of a few minutes.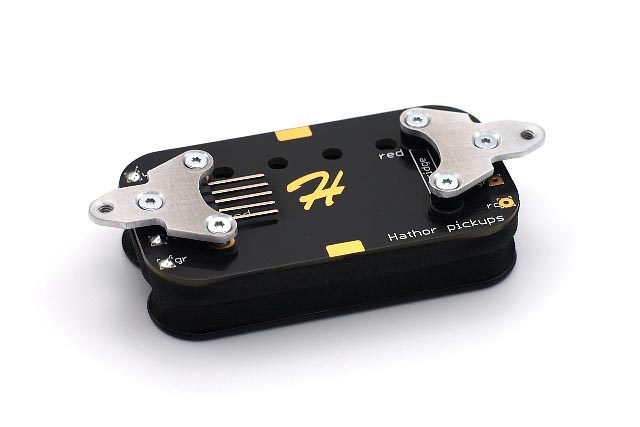 Evaluation
As an overall observation, the Model 42 is a comfortably warm, yet surprisingly responsive character. When it comes to any good representation of a historic era, a fair deal of that is going to come from the player. The pick attack, left hand technique, setup preference, amp selection, and so on.
And that's where the versatility of this pickup really shines. It can do jazz and it can do djent. What you get out of it is what you put in to it. Imagine the transparency of a pane of glass, in that your vision of what's on the other side is dependent on how clear the panel is. The selection of material and the secret sauce within the winding is delivering a vessel to get you where you want to do. You just have to load up the cargo you need to take with you for your destination, so to speak.
The overall voice is slightly rich, with a touch of a woody response just below the surface. The highs are sharp in the neck position and bold in the bridge. The even timbre of the midrange has a slight vocal character that balances between transparency and an almost choral elegance. The low end holds together well in the neck position while having a definitive presence in the bridge. I do wish that I had access to a pair of these to give them a workout in both positions at once… if only to expose some middle position options.
Demo
Specs
Series – 7.443 K
Inductance – 3.91 H
Split – 3.717 K
Split – 3.719 K
Parallel – 1.8597 K
Magnet – Alnico2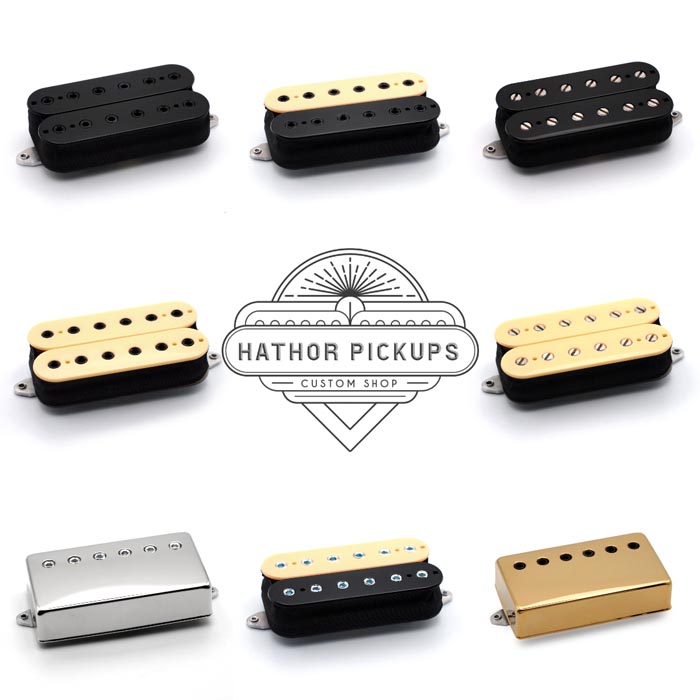 Conclusion
The Model 42 is going to be good for blues, funk, indie, reggae, garage, pop, punk, alternative, classic rock, heavy rock, country, jazz, and more.
Hathor humbuckers are available in standard and wide pole spacings. Standard colors are black, cream, white, zebra in both gloss or matte. Custom colors include orange, green, pink, violet, red, blue, and more. Contact Hathor for options on metal covers and an assortment of personal customizations, including multi-scale.
For reference, this Hathor Model 42 humbucker pickup evaluation was conducted with a Fractal Axe-Fx II XL+ featuring Celestion Impluse Responses and Fractal MFC-101 MIDI Foot Controller. Real cabs in use are Marshall 1960B, Mojotone British, and Peavey 6505 cabs loaded with Celestion Classic Series Vintage 30s, Classic Series G12M Greenbacks, and Heritage Series G12-65s.
Hathor Pickups Website | Facebook | Instagram
7 string 8Ω 59 Alnico 2 Alnico 3 Alnico 4 Alnico 5 Alnico 8 Bare Knuckle BKP Brown Sound Celestion Ceramic Custom Shop Dean DiMarzio DMT Dual Resonance EVH Fishman Floyd Rose Fluence Gibson Humbucker Ibanez JB Jimmy Page John Petrucci MJ Mojotone P90 PAF Pariah Pickup Professor Guitarism Satch Satriani Schaller Seymour Duncan Singlecoil Single Width Speaker Steve Vai Tech Tip Tremolo