Carondelet Secret Sauce Humbucker
Across the vast wastelands of the internet, countless pearls have been clutched and tanker-loads of ink has been spilled on just one player's pickup selection. Truth be told, so many builders sent Eddie so many pickups over so many years that we might never know exactly what was used on what song on which album. This is a revelation that is so simple that it melts player's brains all across the internet.
The most significant thing about any pickup on those albums is that it's simply just a good rock and roll tone. Yes it's really that easy. It is truly not about what magnet or the color of the bobbin tape. LOL! The winding machine operator doesn't have to turn clockwise-only in the shower on the day the pickup is made. HaHa! There is no zen-master voodoo-priest blowing cigar smoke over a chicken sacrifice to summon an otherworldly quality to the wire insulation. But having some KFC for lunch that day can't hurt! LOL!
Go ahead. Burn me in effigy over the assertion. But too many people truly waste too much time to avoid the obvious answer to a simple question. It just take a good rock-and-roll humbucker to nail that sound. And that is what Carondelet delivers with the Secret Sauce.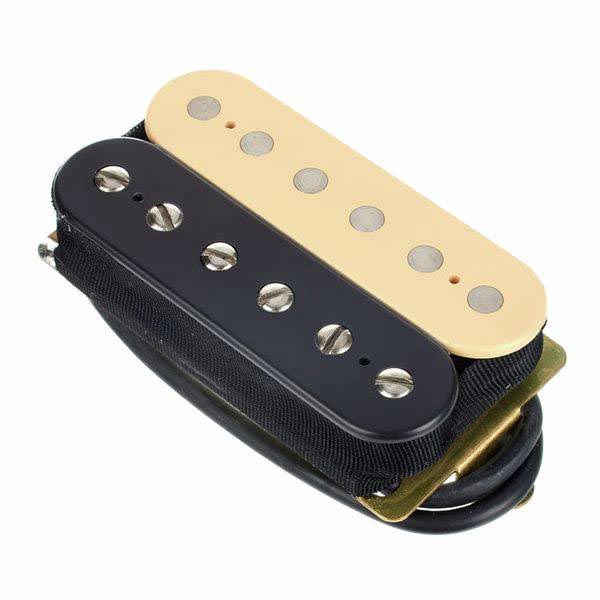 Installation
This pickup is going into a literal shred stick. Poplar body, maple neck, 24-fret rosewood board, 25-1/2 scale, with a Floyd Rose. Wiring harness is a Bourns 500k pot and Switchcraft 1/4″ output jack. Tuning is E-standard with 09-42 strings.
Evaluation
You are obviously here for the dirty amp settings, so let's start there. The high end is rich and shimmery with enough edge to give things a bite. The snarly midrange has a nice balance that is a compliment to the neighbors on the bass and the treble sides. There is a punchy vibe to the lows can give you a kick in the gut when you need it.
And that's the thing about this humbucker. It's giving you what you want when you want it. In other words, it's responsive to what you are doing. Isn't that what a pickup is supposed to do, after all? LOL! Play a little loose to get a little sag. Give it some determined aggressiveness for a strong attack. The Goldilocks nature of the Secret Sauce is not too weak to be scrawny and not too strong to be compressed.
This also means that you can dial it back to clean it up nicer than your best Sunday go-to-meeting suit. HaHa! Of course, it's nice to have an amp with a clean channel, which will really allow things to shine through. Some glassy clean with a bit of a snap when pushed. A little smart sass with a touch of glistening lush clarity.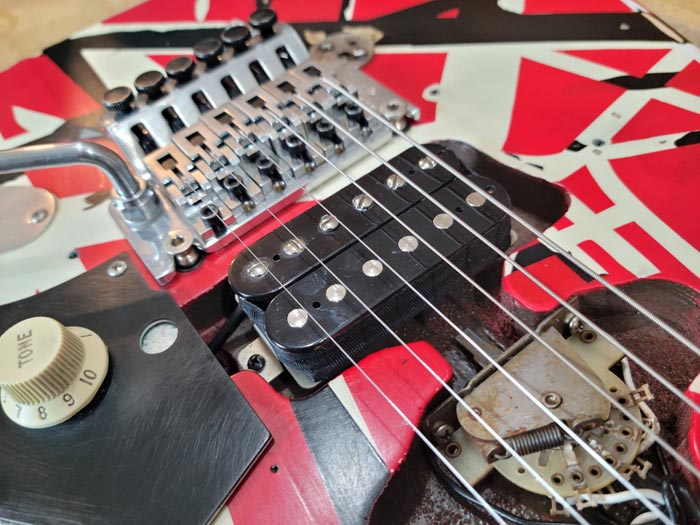 Specs
Series – 15.234 K
Inductance – 7.507 K
Split – 8.788 K
Split – 6.488 K
Parallel – 3.732 K
Magnet – Alnico 5
Demo
Conclusion
If you play most any type of rock, it's hard to go wrong with the Secret Sauce humbucker. It is going to be good for funk, garage, classic rock, heavy rock, fusion, and other rock genres. Reach out to Carondelet directly for options and to place an order.
For reference, this Carondelet Secret Sauce humbucker evaluation was conducted with a Fractal Axe-Fx II XL+ featuring Celestion Impluse Responses and Fractal MFC-101 MIDI Foot Controller. Real cabs in use are Marshall 1960B, Mojotone British, and Peavey 6505 cabs loaded with Celestion Classic Series Vintage 30s and Classic Series G12M Greenbacks.
Carondelet Pickups Website | Facebook | Instagram | YouTube
7 string 8Ω 59 Alnico 2 Alnico 3 Alnico 4 Alnico 5 Alnico 8 Bare Knuckle BKP Brown Sound Celestion Ceramic Custom Shop Dean DiMarzio DMT Dual Resonance EVH Fishman Floyd Rose Fluence Gibson Humbucker Ibanez JB Jimmy Page John Petrucci MJ Mojotone P90 PAF Pariah Pickup Professor Guitarism Satch Satriani Schaller Seymour Duncan Singlecoil Single Width Speaker Steve Vai Tech Tip Tremolo