The Juicer is very cool humbucker from the Polish custom pickup shop Hathor. If you enjoyed reading about their other models, you are going to really like the Juicer. This is one of several that Hathor sent over that also includes that Model 42 and the MA Custom. Keep your eyes open for more on the Model 42 coming soon!
I do have to say that the baseplate and quick-connect option really gets my attention. You might remember that I did make a reference to the connection in that MA Custom article. You can simply flip the connector for an out-of-phase connection. Yep, no special re-wiring. Just flip it. Sure, it allows for a legendary and very useful middle position character. But it is also handy if you use other pickups that are wound out of phase with Hathor and you want them to be in phase.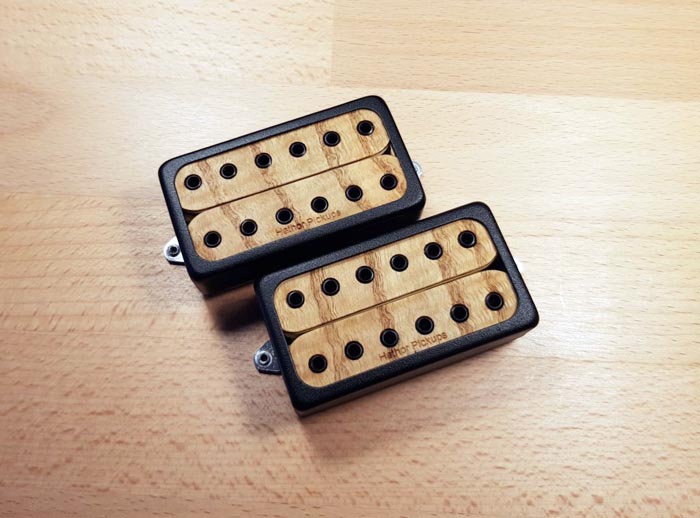 Installation
For this evaluation, I am putting the Juicer in to a neutral-sounding double-cut double-hum 25-1/2″ scale guitar. It has a German Floyd Rose tremolo system, Bourns 500k pots, Switchcraft 12120x 3-way, and a Switchcraft 151 1/4″ jack. It has 09-42 strings and standard E tuning.
The Juicer was in the neck position of this guitar for part of the MA Custom evaluation. So it's a simple switch over to the bridge slot. The Hathor Model 42 is going into the neck. Again, the quick-connect harness makes this only a matter of a few minutes.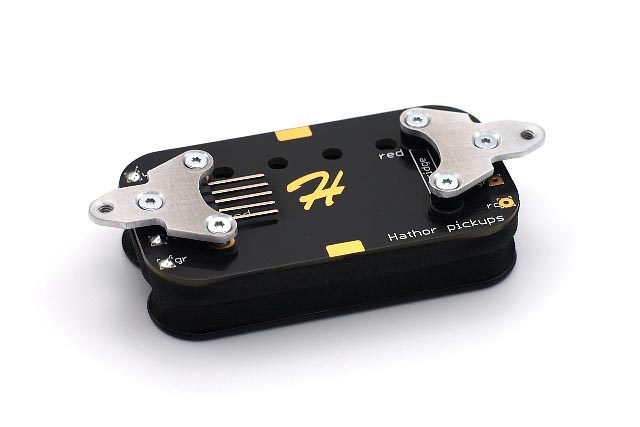 Evaluation
The Juicer is an excellent humbucker for players that are learning (or already know!) about the benefit of a hot-vintage selection. It has some juice (ha! a pun!) while retaining an open-sounding character.
When it comes to the lows, the Juicer is, well, juicy and full. The high end is clear and bright with an open vibe and plenty of edge and bite. The mid range is fairly balanced and a smidge on the relaxed side. The sassy snarl in the mids lends itself to a lot of the versatility of the Juicer.
The stock format is what I have here, which is the more traditional style of screw poles. From what I'm hearing here, it's easy to imagine ordering the Juicer with hex style screw poles will be like going in to full shred mode. I believe the poles are of a specific thread, so if I can manage to access some of the Hathor hex poles, I will have to be sure to re-visit that aspect.
Neck Options
The Model 42 (7.4k, A2) is great if you want maximum versatility. The BGV (10k, A5) and the Model 42 Overwound (8.4k, A5) look as if they would also be outstanding matches in the neck position to pair with the Juicer.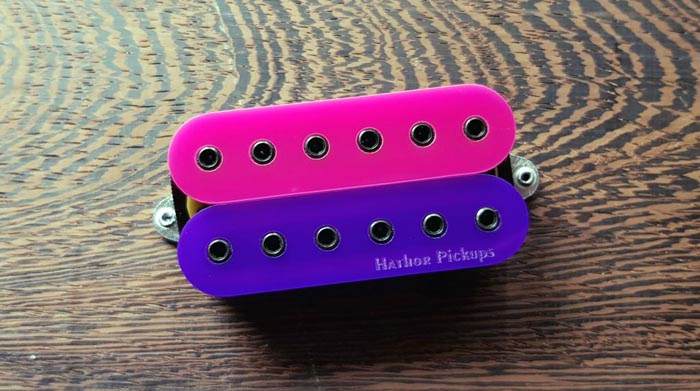 Demo
Here are a few 3rd-party end-user demos
In this next video, the Juicer is noted within the video by it's prior name "Zeppelin"
Specs
Series – 12.024 K
Inductance – 6.66 H
Split – 6.017 K
Split – 6.029 K
Parallel – 3.011 K
Magnet – Alnico 5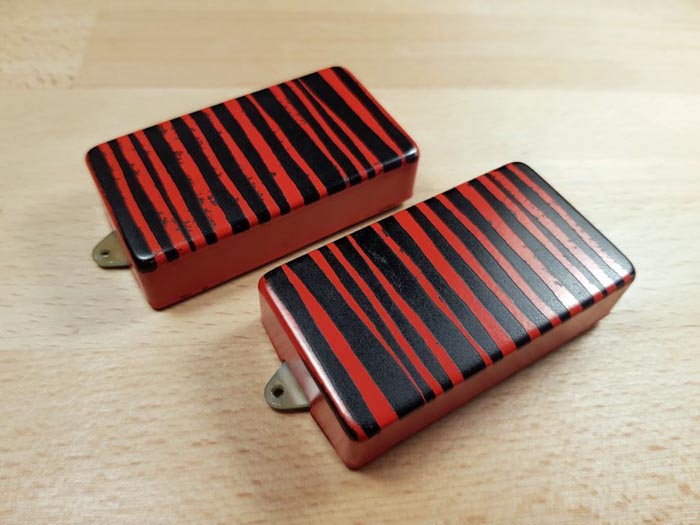 Conclusion
The Juicer is going to be good for rock, classic rock, blues, country, jazz, funk, indie, reggae, pop, garage, punk, alternative, heavy rock, 80s metal, fusion, metal, grunge, and other genres.
Hathor humbuckers are available in standard and wide pole spacings. Standard colors are black, cream, white, zebra in both gloss or matte. Custom colors include orange, green, pink, violet, red, blue, and more. Contact Hathor for options on metal covers and an assortment of personal customizations, including multi-scale.
For reference, this Hathor Juicer humbucker pickup evaluation was conducted with a Fractal Axe-Fx II XL+ featuring Celestion Impluse Responses and Fractal MFC-101 MIDI Foot Controller.  Real cabs in use are Marshall 1960B, Mojotone British, and Peavey 6505 cabs loaded with Celestion Classic Series Vintage 30s, Classic Series G12M Greenbacks, and Heritage Series G12-65s.
Hathor Pickups Website | Facebook | Instagram
7 string 8Ω 59 Alnico 2 Alnico 3 Alnico 4 Alnico 5 Alnico 8 Bare Knuckle BKP Brown Sound Celestion Ceramic Custom Shop Dean DiMarzio DMT Dual Resonance EVH Fishman Floyd Rose Fluence Gibson Humbucker Ibanez JB Jimmy Page John Petrucci MJ Mojotone P90 PAF Pariah Pickup Professor Guitarism Satch Satriani Schaller Seymour Duncan Singlecoil Single Width Speaker Steve Vai Tech Tip Tremolo