Maydevale S90/S90+ Pickups
You say that you like your Strat? And you also say that you like P90? No need to explain it to me! I totally jive on the familiar, comfortable vibe of a Strat style guitar body. You can see the ongoing coverage of P90 alternatives in my on HSP90 pickups. It's a great tone. So then, what about in a single width size pickup? How about we take a peek at what Maydevale (formerly Maida Vale) has to say about it?
The S90 is, you guessed it, a P90 approach to a S-style pickup. And let's face it, the basis for a traditional P90 is a single coil. I think it's time for a fun diagram? What do you think?
P90 Design
When looking at a "traditional" P90, the big takeaways are the pole pieces and the magnets.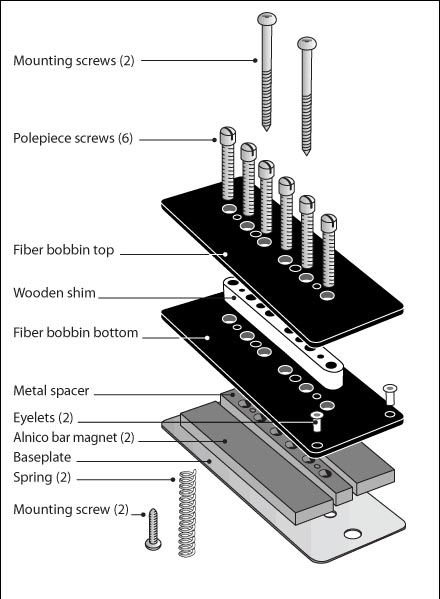 The poles are just that. Poles. Not the slug magnets of a sterotypical single coil pickups. Of course, the poles are an alloy that will conduct a magnetic field. That's also why the poles go down into a metal spacer: the whole magnetism thing. LOL! On either side of that metal spacer is a magnet. The diagram shows alnico magnets, but it's always going to be the dealer's choice.
The clear cut difference between that classic P90 and the S90 is the scale. That's right. The S90 is smaller! HaHa! On these S90 models we are talking about, there are 2 narrow magnets on either side of the metal spacer.
Installation
For installation, the S90 and the S90+ goes in a 1990 American Standard Stratocaster with a maple neck and board. I am using the Mojotone Solderless Strat Blender Harness, so install is a snap. The trem has Floyd Rose noiseless springs and using 09-42 string with a E standard tuning. These are going in to neck and middle positions, with the Prism model in the bridge.
Evaluation
The S90 is in that realm between a single coil and a humbucker. Clear and snappy on one hand. Full and big on the other. You know, sorta like a P90. LOL! Of course, the S90+ is a little more of all that. If you do the math, you'll see about 7% resistance and about 10% more inductance on the S90+. The inductance is a little more of note with this pickup, in my opinion. That's one of the key indicators of how big, or full, sounding it can be. Your typical high-octane humbucker can be around 8 H, where a classic single coil is in the 2 H range.
I'm thinking the S90+ is a little fun in the neck position, where it's great for a heavy blues-rock type of tone. Of course, in the middle slot it is great for a bigger feel for lead playing in a situation where the bridge position might be too strident.
For glassier cleans, the regular S90 is going to be the way to go. Even with the modified format, the single row of poles maintains a much more narrow and focused magnetic window of the strings. Don't let the magnet selection be a distraction, as the S90 has an organic warmth and bloom.
You could easily go with a full set of S90 or a full set of S90+ and have a guitar totally capable of meeting your sonic needs. Of course, you can always mix and match to have a little fun with it. HaHa!
Specs
S90
Resistance – 7.941 K
Inductance – 4.076 H
Magnet – Ceramic
S90+
Resistance – 8.56 K
Inductance – 4.543 H
Magnet – Ceramic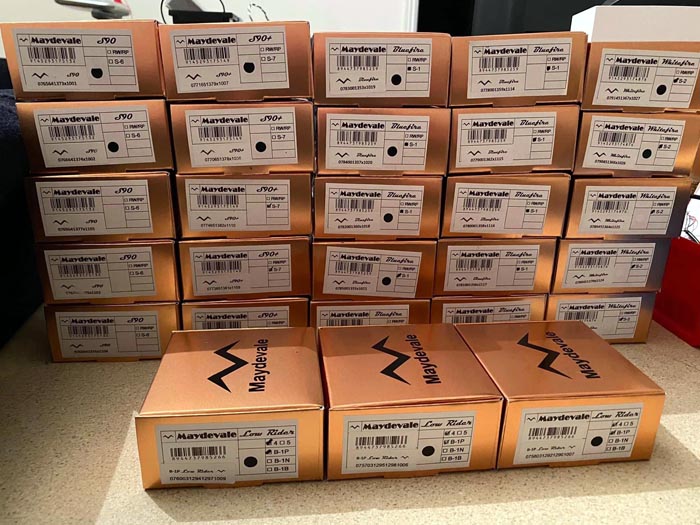 Conclusion
The S90 series is going to be good for jazz, fusion, alternative, hard rock, prog, blues rock, and more. Reach out to Maydevale directly for options to suit your specific needs!
For reference, this Maydevale S90 series pickup evaluation was conducted with a Fractal Axe-Fx II XL+ featuring Celestion Impluse Responses and Fractal MFC-101 MIDI Foot Controller. Real cabs in use are Marshall 1960B, Mojotone British, and Peavey 6505 cabs loaded with Celestion Classic Series Vintage 30s and Classic Series G12M Greenbacks.
Maida Vale (Maydevale) Pickups YouTube | Reverb Store | Email
7 string 8Ω 59 Alnico 2 Alnico 3 Alnico 4 Alnico 5 Alnico 8 Bare Knuckle BKP Brown Sound Celestion Ceramic Custom Shop Dean DiMarzio DMT Dual Resonance EVH Fishman Floyd Rose Fluence Gibson Humbucker Ibanez JB Jimmy Page John Petrucci MJ Mojotone P90 PAF Pariah Pickup Professor Guitarism Satch Satriani Schaller Seymour Duncan Singlecoil Single Width Speaker Steve Vai Tech Tip Tremolo