Hathor MA Custom Humbucker
The MA Custom is an incredible offering from the Polish custom pickup shop Hathor. If you enjoyed reading about their Strat and Hum-size P90 model, you are going to really like the MA Custom. This is one of several that Hathor sent over that also includes that Model 42 and the Juicer. Keep your eyes open for more on those coming soon!
Out of the box, I am really liking their humbucker design! It is a solid construction. As in, you have total assurance this is a component with a design for usage, and not a delicate flower. HaHa! The mounting tabs are thick and stout. And if you like to direct-mount, take a look at this: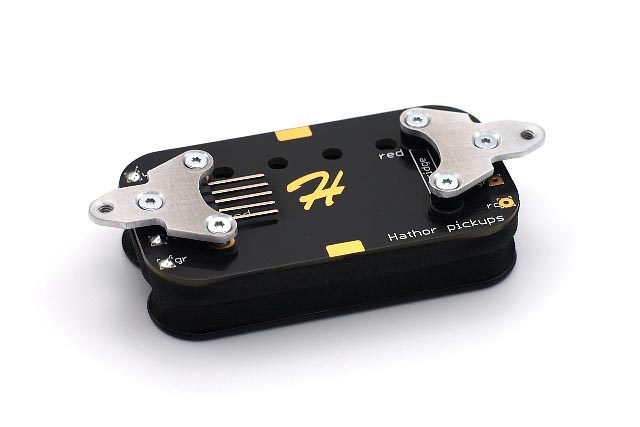 That bad boy is going to give a solid footing. LOL! And in the event you are "that guy" that can demolish anything, those mounting feet are swappable.
As long as we are looking at the bottom, how about that plug-n-play connection? That's right. Run your wire to the harness the one time and then all your swaps are quick and easy. If you have just one guitar and need many textures for your project, just grab a handful of Hathor models and mix it up. And for the cherry on top, you can flip the connection plug to go out-of-phase. That can be convenient when mixing with other brands or if you just want the "Greenie" effect.
Speaking of the connection, how much fun is the Hathor wiring diagram? It's also super easy to understand.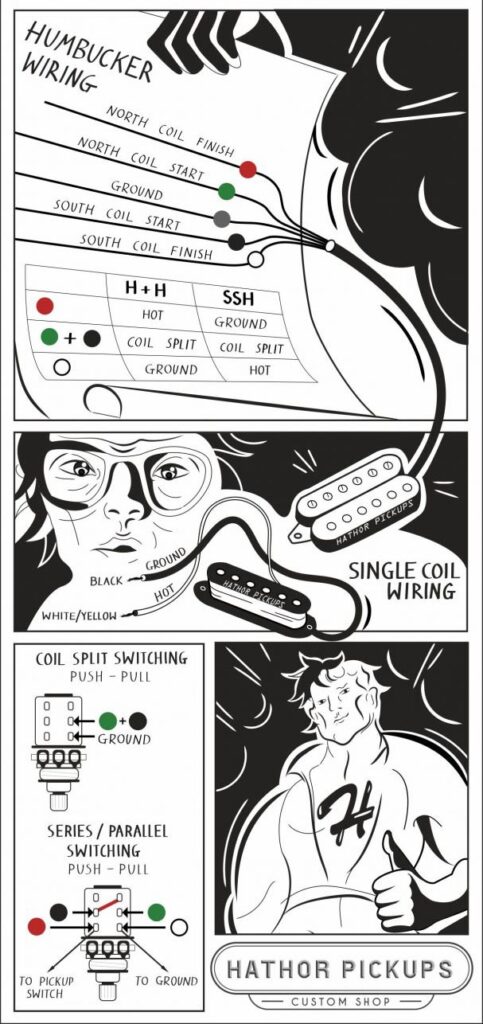 Installation
For this evaluation, I am putting the MA Custom in to a neutral-sounding double-cut double-hum 25-1/2″ scale guitar. It has a German Floyd Rose tremolo system, Bourns 500k pots, Switchcraft 12120x 3-way, and a Switchcraft 151 1/4″ jack. It has 09-42 strings and standard E tuning.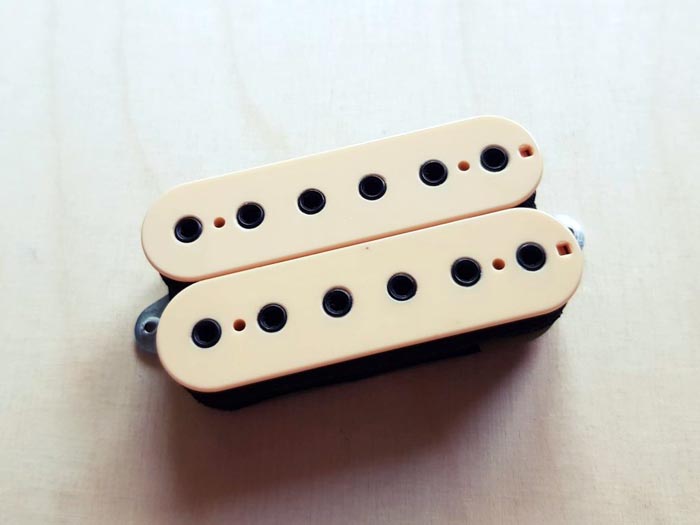 Evaluation
If you want to shake the pillars of the heavens, the MA Custom is for you! LOL! Seriously. This is a distortion-class humbucker that walks in to the room and commands dominance.
The bellicose low end is the first thing that jumps out. You definitely get the precise attack and accuracy of a triple-ceramic monster. Yet the MA Custom still has an interesting punch on the low end. Almost as if the extra-sharp and scratchy edges of a ceramic characteristic has been refined to be more truculent. This makes it an excellent option for modern metal, but it's still very much at home in older pedal-note style riffing.
Mids have a simmering snarl that really opens up note separation and helps to make single notes jump out. The high end is excellent for a bit of air and harmonic content, but it also delivers healthy presence to your solos and lead work.
Neck Options
I do have to admit that I'm liking Hathor's Juicer model (12k, A5) in the neck as a good match for heavier rock tones. The Model 42 (7.4k, A2) is great if you want maximum versatility. We will be getting in to both of those models very soon.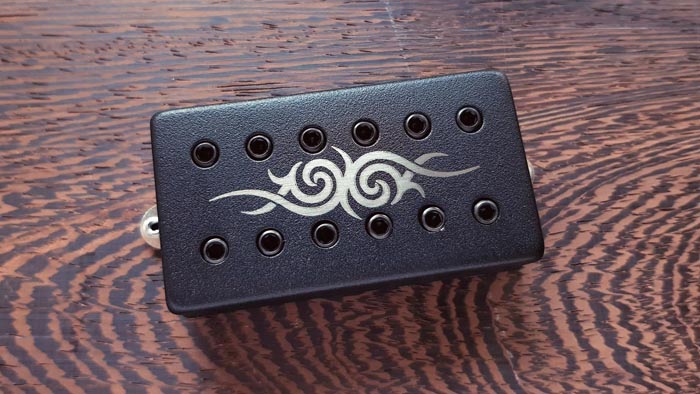 Demo
Here is a groovy demo by Cultifact out of Gdańsk, Poland. This one is cued-up to start at the sound demo, but please take a moment to go back and check out the entire video that details the complete project.
Specs
Series – 16.23 K
Inductance – 7.17 H
Split – 8.142 K
Split – 8.125 K
Parallel – 4.006 K
Magnet – Ceramic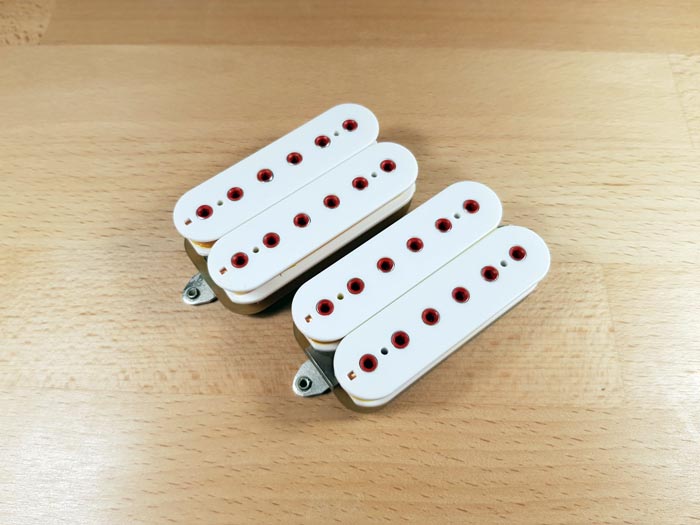 Conclusion
The MA Custom is going to be good for progressive rock, progressive metal, thrash, hardcore, extreme metal, tech metal, classic rock, hard rock, punk, djent, nu-metal, shred metal, alt rock, blues rock, garage, grunge, fusion, and other rock styles.
Hathor humbuckers are available in standard and wide pole spacings. Standard colors are black, cream, white, zebra in both gloss or matte. Custom colors include orange, green, pink, violet, red, blue, and more. Contact Hathor for options on metal covers and an assortment of personal customizations, including multi-scale.
For reference, this Hathor MA Custom humbucker pickup evaluation was conducted with a Fractal Axe-Fx II XL+ featuring Celestion Impluse Responses and Fractal MFC-101 MIDI Foot Controller. Real cabs in use are Marshall 1960B, Mojotone British, and Peavey 6505 cabs loaded with Celestion Classic Series Vintage 30s, Classic Series G12M Greenbacks, and Heritage Series G12-65s.
Hathor Pickups Website | Facebook | Instagram
7 string 8Ω 59 Alnico 2 Alnico 3 Alnico 4 Alnico 5 Alnico 8 Bare Knuckle BKP Brown Sound Celestion Ceramic Custom Shop Dean DiMarzio DMT Dual Resonance EVH Fishman Floyd Rose Fluence Gibson Humbucker Ibanez JB Jimmy Page John Petrucci MJ Mojotone P90 PAF Pariah Pickup Professor Guitarism Satch Satriani Schaller Seymour Duncan Singlecoil Single Width Speaker Steve Vai Tech Tip Tremolo