Fender Player Stratocaster Floyd Rose HSS
The Fender Player Strat is a fun little mid-level guitar. Fit with versatile accoutrements, it's a capable tool to fit a variety of playing situations.
But Darth, you might ask, aren't you NOT a fan of pickguards? You'd be right on that one. HaHa! However, I'm more of a fan of taking care of my trusty 1990 American Standard Stratocaster. As such, this Player HSS makes great sense. How about we look at why?
Out Of The Box
The guitar that will get the lion's share of this article is the 2nd one. The 1st one has a neck that's poorly aligned to one side. There's literally no room in the neck pocket to shift it over for an even alignment. So it goes back. It's a bit of a bummer, as the frets are actually all level!
The 2nd one has a bit of the same alignment concern, but there is just enough room to loosen the screws to shift it over and tighten it back down into an ideal string positioning right down the center. And by alignment, I am talking about both E strings having identical spacing from the edge of the fingerboard.
Body
The alder body has a 3-tone sunburst with a gloss polyester clear. If you know the feel of a Fender Stratocaster, you are familiar with this body. No surprises here! By no surprises, I am also talking about the overall feel and appearance. Although I can say it clocks in a couple of ounces beefier that most in my stable, right at 9 lbs.
Other available colors are Tidepool and Polar White (see photos). Both of those come with a maple fretboard. I'm going with the 3-tone to get the pau ferro board. Why? Well, young padawan, I already have a lot of maple boards. LOL! Just breaking it up a little.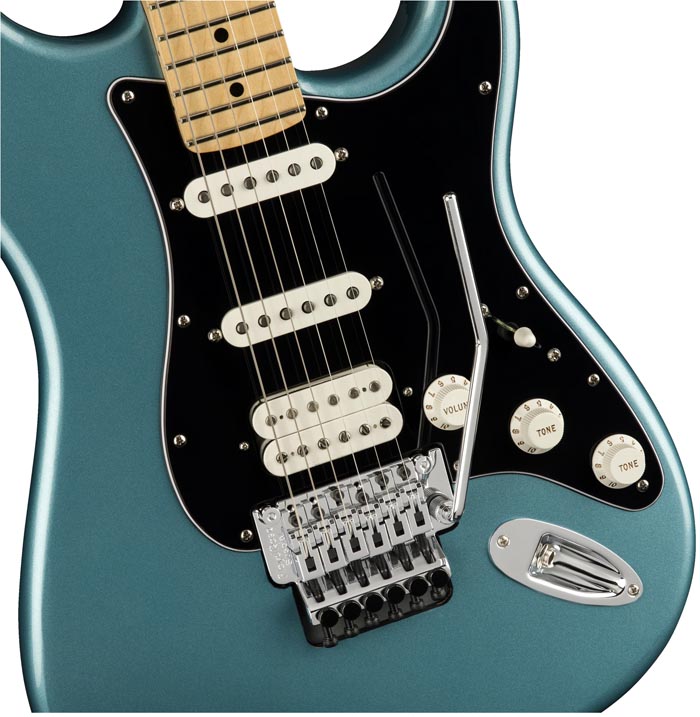 Neck
The pau ferro board has 22 "medium jumbo" frets. If you are like me, with a few extra decades of playing under your belt, the frets would be considered full "jumbo". But I suppose times change and this is what the youngsters must consider "medium jumbo" these days! LOL! Upon initial inspection, I am finding only a single fret that's a little proud. And only off toward one side. Not all that much, but a couple of passes with the handy Stew Mac fret file knocks it down real nice. Then some action with the Micro Mesh Finishing Kit smooths and polishes the area to a mirror shine.
I am liking that the pau ferro gets to stay bare. The headstock and the back of the neck has a urethane finish. The 12″ radius isn't the most traditional vintage Stratocaster feel, but it's much better than 7-1/2″ or 9″ as far as a Floyd Rose setup goes. HaHa!

Hardware
When it comes to hardware, I know that it has to have a Floyd Rose if I'm playing it! LOL! The Player comes stock with the Floyd Rose Special model. While I am changing it out with a 1000 model, I am finding the Special model to hold up alright. That is in line with how the more recent 1000 models are also performing much better than just a few years ago. A tip o' the hat to the peeps at Floyd Rose for tightening up the QC.
Interesting factoid is that Floyd Rose is using the same 1000 series nut for the Special system. From the practical perspective of playing, I would like the nut to be a little lower. The clearance at the 1st fret is between .030″ to .035″ depending on the string. My personal preference between about .015″. Considering how tall the frets are, I'm expecting an intonation nightmare. Oddly, it's tuning well across the neck for specs that high. As an aside, I do keep seeing a lot of newer guitars with these higher specs and I'm not certain if it's a Final Inspection thing or if companies are intentionally giving more tolerance for different types of players.
Electronics
The pickups get the job done. The A2 humbucker beefs up the character a little and has a surprising balance with the single coils. Speaking of which, the A5 single coils have the crisp snappy punch that you expect. Are you going to want to keep them? Check out some of the demos of the guitar. I think they are reasonably serviceable. However my goal is a test guitar and mine already has an entirely different set at work.
And that's the convenient aspect of a Stratocaster like this one. You can invest in a few different pickguards with whatever electronics orientation you want. From there you are just a few screws and a little solder away from an entirely different guitar. HSS to HSH. Or SSS. How about Hum-Single? Maybe HHS? Or whatever you can find that suits your sonic goals. As a side note, the pickup cavity is a HSH, so factor that in if you ever want to consider a full-size middle hum. Most don't, but I thought it good to throw that out there.
Pickup Switching/Controls
It's a fairly conventional 5-way switching set up. The standout is position 2, which is the middle single coil and a split coil of the bridge humbucker. Not exactly a truly orthodox position 2 for a Strat, I think it gets the job done. A lot of that has to do with the pickup selection.
You do get your single volume and two tone controls. In this instance, one tone is for the neck and middle single coil while the other tone is strictly for the bridge humbucker.
Demo
Not seeing an official demo from Fender, but take a look at this excellent demo from Australian-based Guitar Lounge:
Areas Of Opportunity
The most obvious thing that I imagine anyone could note is the neck alignment. On not one, but two guitars. Who knows? Maybe they came from the same batch from the same assembler on a hard Monday after a long weekend of too much fun. HaHa! Still, they are still making it past QC as well. The Fender factory in Mexico seems to have an exceptional track record, but I see the neck alignment as a relatively easy issue to get right the first time. Hopefully these are oddball instances.
Something that is virtually and literally hidden is the truss access. The Floyd Rose nut blocks full access to the truss socket. And this is the case on both of the ones I'm laying hands on. You can loosen the strings and remove the nut to get to it. But it's a guessing game without the strings at tension. A Floyd Rose R9 nut could be an answer for this. The R9 is the same width as the R3, but has the "bullet" access. That means the bottom of the locking nut has an arch in it that would normally straddle a guitar with the bullet truss access at the neck. It can also provide full access to a truss socket like the one on this guitar.
Why didn't it come with the R9? The R9 is currently a German-made part with no version for the Korean 1000 or Special models. It might only cost Fender about $25 to get the R9, but there's also the logistical aspect that also adds up and would have to be put into the cost of the guitar. Rather then fret about it (ha! a pun!), just buy yourself the R9 from Floyd Rose and be done with it.

Specs
Body Material – Alder
Shape – Stratocaster
Finish – Gloss Polyester

Neck Material – Maple
Shape – Modern C
Finish – Urethane
Fingerboard Material – Pau Ferro
Radius – 12″
# of Frets – 22
Fret Size – Medium Jumbo
Nut – Floyd Rose Locking
Nut Width – 1.6875″
Inlays – White Dot
Truss Rod Nut – 3/16″ Hex
Bridge Pickup – Player Series Alnico 2 Humbucker
Middle Pickup – Player Series Alnico 5 Single Coil
Neck Pickup – Player Series Alnico 5 Single Coil
Controls – Volume, Tone 1, Tone 2
Configuration – HSS

Bridge – Floyd Rose Special
Finish – Chrome
Tuning Machines – Standard Cast/Sealed
Pickguard – 3-Ply Black/White/Black
Knobs – Parchment
Switch Tip – Parchment
Neck Plate – 4-Bolt

Strings – Fender 09-42 Gauge
Conclusion
The Player Stratocaster FR HSS is a solid offering. At about the $1k mark, those smaller QC issues can be put to the side – especially since the solutions are simple. If you are a chronic tinkerer that keeps a supply of parts on-hand, this is a solid platform that deftly reaches the next level with only a few tweaks. If not, you have a totally capable workhorse that can do as much as your pedals and your amp will allow.
For reference, this Fender Player Stratocaster Floyd Rose HSS guitar evaluation was conducted with a Fractal Axe-Fx II XL+ featuring Celestion Impluse Responses and Fractal MFC-101 MIDI Foot Controller. Real cabs in use are Marshall 1960B, Mojotone British, and Peavey 6505 cabs loaded with Celestion Classic Series Vintage 30s and Classic Series G12M Greenbacks.
Fender Website | Facebook | Twitter | YouTube | Instagram
7 string 8Ω 16Ω 59 Alnico 2 Alnico 3 Alnico 4 Alnico 5 Alnico 8 Bare Knuckle BKP Brown Sound Celestion Ceramic Custom Shop Dean DiMarzio DMT Dual Resonance EVH Fishman Floyd Rose Fluence Gibson Humbucker Ibanez JB Jimmy Page MJ Mojotone Nut PAF Pariah Pickup Professor Guitarism Satch Satriani Schaller Seymour Duncan Singlecoil Single Width Speaker Steve Vai Tech Tip Tremolo