Bare Knuckle Cold Sweat Humbucker
The Cold Sweat humbucker hit the market in 2006. This model has an incredible following, particularly the neck position model.
You can probably tell by the names of many BKP models, that there is an attempt to voice them toward a certain goal. The Rebel Yell is going to lean toward Steve Stevens. The Juggernaut will take you into Periphery territory. The Miracle Man has that late 80s Zakk/Ozzy vibe. Naturally, the Cold Sweat steers in the direction of early 80s John Sykes. In fact, BKP claims that Sykes has put these pickups to use in his own rig.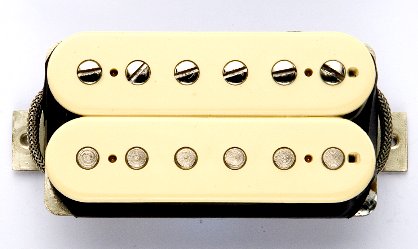 Installation
Over the years that this model has been in my hands, there have been a few guitars at work. The bridge in a mahogany singlecut set-neck style. And the entire set in a mahogany doublecut shred bolt-on style. Wiring harness is fairly similar in both. Bourns 500k pots. Switchcraft 12120x 3-way toggle. Switchcraft 1/4″ output jack. E standard tuning with 10-46 strings.
No matter the guitar or application, I'm always happy that Bare Knuckle provides an abundant length of lead wire. Particularly when it comes to the neck position of a singlecut style guitar, having that little bit extra makes it a lot easier.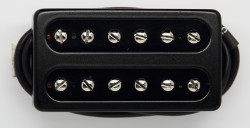 Evaluation
Right off the bat on a clean amp setting, the bridge is going to push into breakup. There's a degree of subtlety, but you're going to want to back off the volume knob if you want something a little less aggressive. And that is certainly achievable within the realm of the Cold Sweat.
It really has some cut to it. A little of that is due to the punchy and deliberate lows and slightly reduced mids. And then there are the highs that are dialed up a bit. With the ceramic magnet selection in the bridge, you get ample crunch.  The magic of Bare Knuckle is that they can deliver the transparent clarity they are known for.
While laying down the jams on a dirty setting, things are precise and touch sensitive, with a type of response to pick attack and left hand technique that can reveal enough to make you have to be a better player. It bears repeating that this pickup has an extra portion of edge and cut to it. That's par for the course if you want those legendary Sykes squeals.
About the Neck
The neck position model seems to have a near mythical status among many players. The Alnico 5 gives ample punch and power in the mids and in the high end with a familiar vocal timbre. The low end is quite big, but in a deep way. Deep, as opposed to boomy or muddy or tubby. Dare I suggest that the low end is on the creamy side of things. This lends the neck position to a really fluid quality that is going to be appealing to prog and shred and certain metal styles.
And for the kicker, when put in a split or parallel mode on a clean amp channel, the neck position is quite exquisite. Glassy chime without pushing the amp too hard.
Specs
Cold Sweat Bridge
Series – 13.951 K
Inductance – 7.3698 H
Split – 7.149 K
Split – 6.824 K
Parallel – 3.49 K
Magnet – Ceramic
Cold Sweat Neck
Series – 8.487 K
Inductance – 4.112 H
Split – 4.238 K
Split – 4.246 K
Parallel – 2.122 K
Magnet – Alnico 5
Demo
Check out the Cold Sweat in action with Brazilian guitar and composer Mike Kerr
Conclusion
I'd suggest that this set is going to be at home in a guitar with a heavier or thicker timbre. Even something with a drop tuning. I do like pickups that have the cut to pierce through. Yet the Cold Sweat is one I'd be careful about your wood selection, unless you are up to some tweaking of your rig.
The Cold Sweat set is going to be good for hard rock, garage, grunge heavy rock, progressive and shred metal. It is available in 6, 7, and 8-string configurations. You can choose from over a dozen bobbin colors, and an incredible array of selection of covers, radiators, and TVs. You can customize with screw or bolt poles in about a half-dozen finishes. And of course, you have a selection of mounting leg length and type of lead wire.
For reference, this Bare Knuckle Pickups Cold Sweat humbucker set evaluation was conducted with a Fractal Axe-Fx II XL+ featuring Celestion Impluse Responses and Fractal MFC-101 MIDI Foot Controller. Real cabs in use are Marshall 1960B, Mojotone British, and Peavey 6505 cabs loaded with Celestion Classic Series Vintage 30s and Classic Series G12M Greenbacks.
Bare Knuckle Pickups Website | Facebook | Twitter | YouTube | Instagram
7 string 8Ω 59 Alnico 2 Alnico 3 Alnico 4 Alnico 5 Alnico 8 Bare Knuckle BKP Brown Sound Celestion Ceramic Custom Shop Dean DiMarzio DMT Dual Resonance EVH Fishman Floyd Rose Fluence Gibson Humbucker Ibanez JB Jimmy Page John Petrucci MJ Mojotone P90 PAF Pariah Pickup Professor Guitarism Satch Satriani Schaller Seymour Duncan Singlecoil Single Width Speaker Steve Vai Tech Tip Tremolo