The SE Custom 24 is not something I'm waking up thinking I need to get. Not even on my radar. No stones being thrown at Paul. I've met and spoken with Mr Smith. He's polite and agreeable in person, as one would hope. And I'd like to have an opportunity to visit with the man again. But a PRS with a Floyd Rose is something I'm accepting as something only for Neal Schon or Brad Gillis. LOL!

Why do I think that? Because I had a 2001 PRS Singlecut. Excellent instrument. I wanted a Floyd Rose on it and ready to pay, so I called PRS. The gentleman in custom service said something about how they only use parts that they make. Huh? When I brought up that they make guitars with the Floyd Rose system for Neal Schon and Brad Gillis, he reminds me that I'm not Neal Schon or Brad Gillis. True story. And that's why it reads that "I had a…". LOL!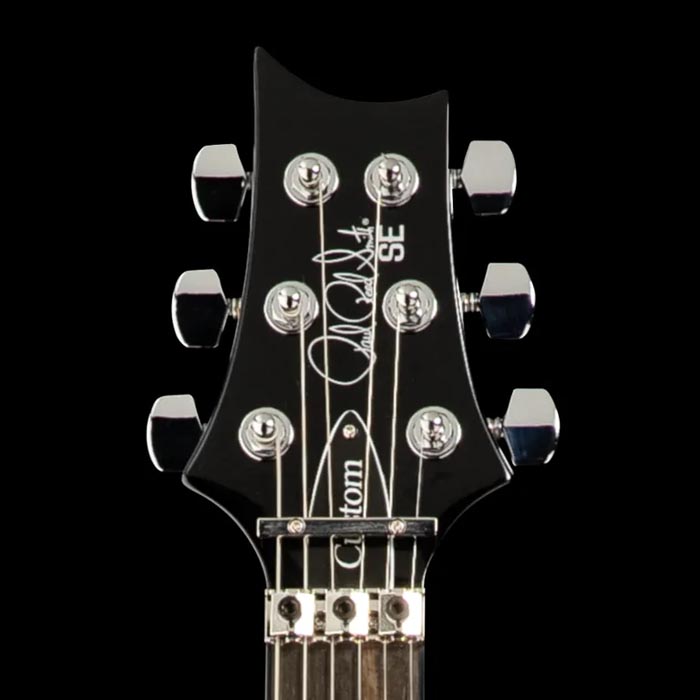 So yeah, I'm not really hitting up the PRS selection for a while. HaHa! But I am waiting for the new Alex Lifeson Les Paul (with a Floyd Rose). Retailers keep telling me of delay after delay from Gibson. Then when online to look for an update, this SE Custom 24 "Floyd" appears in that "People Also Search For" sidebar. In other words, Gibson sold me this PRS guitar. LOL! And no, I don't think Paul will give you a commission. HaHa!
Unboxing
The SE Custom 24 "Floyd" comes with a gig bag. I did go ahead and get the PRS hardshell case, which is totally worth it!. But it does ease the mind to know the guitar has extra cushion going on during the journey. As with most all PRS instruments, it's a sight to behold as it comes out of the big bag.
Again, I'm the last one to become bewitched by a fancy-looking grain. But you'd have to check the pulse of any guitar player that doesn't take a moment to soak in a PRS finish. Speaking of the grain, I did give him a little sass when we visited about dousing water on the lumber. While I'm thinking I'm about to get shown the exit, he's a sport and got a chuckle out of it. 5 points to House PRS.
Body
Sure, you can see in the official specs that the flame maple is a veneer. PRS is known for the dynamic figuring of the maple on their guitars. Yeah, that's cool and all. I also think you can paint it a solid color and no one will be able to pick out which one had more flame in the top in a blindfold Pepsi challenge. LOL!
But hold your horses! In the middle of a thorough inspection, I pull the pickups to look in the cavities. Jumping Jehoshaphat, Batman! Beneath that veneer is 1/2″ maple top! That's massive, by comparison to what some others are doing! 10 points to House PRS.

The top carve can be touch and go with some people. This "violin" carve is not at defined as on the more expensive models. Hence, calling it a "shallow violin". On the other hand, some types of players might miss the lack of the more Strat-like forearm contour. I think there is a bit of a happy medium, allowing the top to be more comfortable on the resting arm than a totally flat top can be. The belly carve on the back increases the comfort factor.
Electronics
The humbuckers are the PRS 85/15 "S" set. Here are the specs:
85/15 "S" Bridge
Series – 7.866 K
Inductance – 4.907 H
Split – 3.915 K
Split – 3.962 K
Parallel – 1.9724 K
Magnet – Alnico 2
85/15 "S" Neck
Series – 7.283 K
Inductance – 4.440 H
Split – 3.592 K
Split – 3.692 K
Parallel – 1.8247 K
Magnet – Alnico 2
A great man once said "She may not look like much, but she's got it where it counts". Yes. Those specs might look to be on the very vintage side, but these humbuckers are a solid vintage-hot level. They are much more versatile that one might expect. A nice tonal balance, with plenty of push to drive more aggressive hard rock styles. Seems that there are some mixed responses online to the 85/15 "S" set, but I'm finding them to be up to the task of everything I throw at them.
And with regard to the magnet selection, there are a lot of guesses out there online. It is PRS that is giving me the Alnico 2 spec.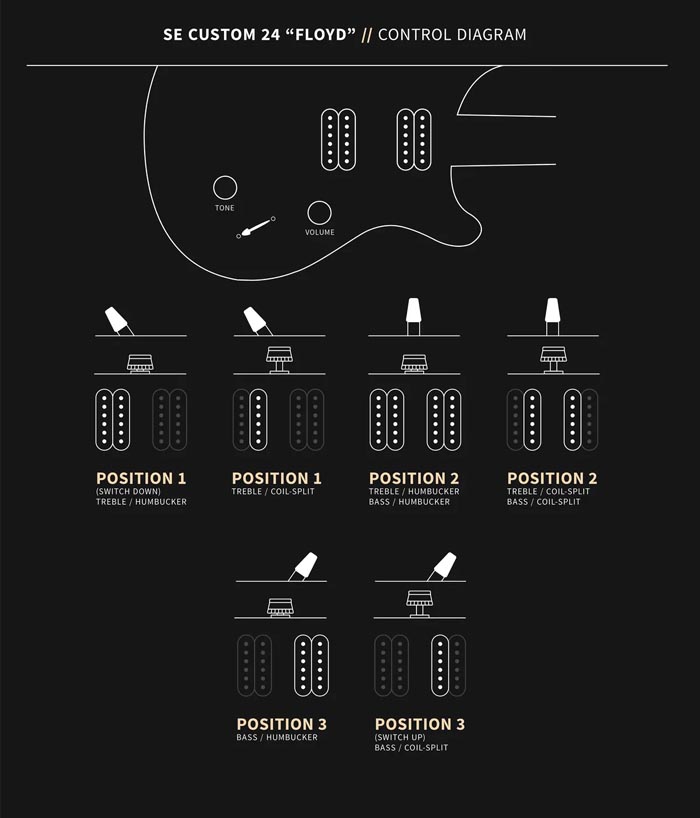 As it is in the stock configuration, the tone control is a push/pull to split both humbuckers. That really allows for a lot of options that can make the SE Custom a real go-to option for most gigging needs.
To level with you, the pots and the switch are serviceable. Putting a few bucks in to some CTS or Bourns pots and a Pure Tone or Swtichcraft 1/4″ jack might be worth your time.
Hardware
The all-nickel hardware starts with tuners bearing the PRS brand. They are advertised to be "PRS Designed", which one might take as being made elsewhere to meet PRS specs. Yet we can be honest and admit tuners are generally less of a concern when a Floyd Rose locking system in on-board.
The SE Custom comes with the Floyd Rose 1000 double-locking tremolo system. You can probably tell that I'm not even looking at a guitar without a Floyd on it. And the Floyd definitely does great service to this guitar. The only real tweak is that I did put the Red Bishop "Magik Arm" on the system, as seen in this photo: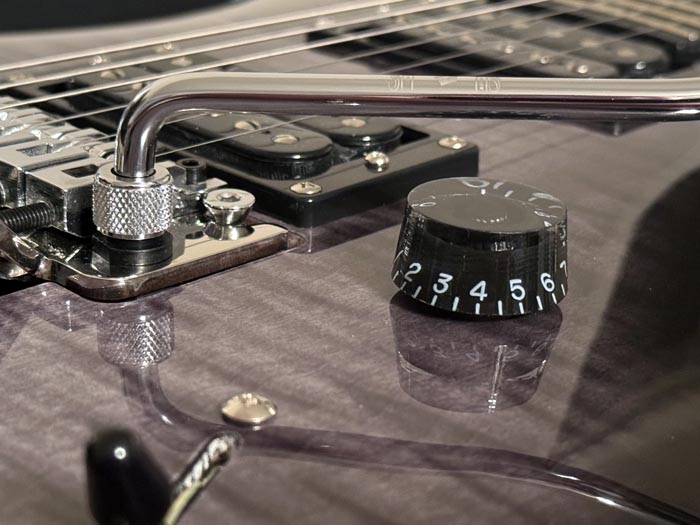 Neck
The 25″ scale neck on this guitar is a joy. Right between a Strat and a Lester, it deftly straddles the line between stiff and loose. Add to that an ebony fretboard and your digits will be eager to be spoiled.
At 14″ radius, the fretboard might be an adjustment for most traditional Strat style players. Additionally, the neck thickness is just over 1mm more than an Ibanez JEM. What I am liking a lot about the fretboard is that the frets are sort of a medium jumbo. In that that are a little shorter than some of the skyscrapers they are sliding in to fret slots these days. HaHa!
It's a set-neck construction for the SE Custom. Mated with the nice mahogany back and the thick maple top, this guitar really does sing and really does sustain.
Demo
Areas Of Opportunity
I think that offering the guitar in more than just the one finish would be nice. Don't get me wrong, as I think the Charcoal Burst is fine and would also look great with gold hardware. But I did see that models from prior years had more colors.
Specs
Body Construction: Solid
Top Wood: Maple
Veneer: Flame Maple
Back Wood: Mahogany
Top Carve: Shallow Violin

Bridge: Floyd Rose 1000
Tuners: PRS Designed
Hardware: Nickel
Nut: Locking
Truss Cover: "Custom:

Treble Pickup: 85/15 "S"
Bass Pickup: 85/15 "S"
Controls: Volume, P/P Tone, 3-Way Blade Switch
# of Frets: 24
Scale Length: 25″
Neck Wood: Maple
Neck Construction: Multi-Ply
Truss Rod: Double-Acting
Neck Shape: Wide Thin
Depth @ 1/2 Fret: 13/16″
Depth @ 12-1/2 Fret: 57/64″
Width @ Nut: 1-11/16″
Width @ Body: 2-1/4″
Fretboard: Ebony
Radius" 14″
Inlays: Birds
Assembly: Set Neck

Conclusion
It is totally fair to consider the SE Custom "Floyd" to be ready-to-go as it comes. I think this is an excellent option for a beginner that wants results that will continue to inspire them to play. I can also see the weekend-warrior local gigging player getting whatever they need from this guitar.
PRS Guitars Website | Facebook | Twitter | YouTube | Instagram
7 string 8Ω 59 Alnico 2 Alnico 3 Alnico 4 Alnico 5 Alnico 8 Bare Knuckle BKP Brown Sound Celestion Ceramic Custom Shop Dean DiMarzio DMT Dual Resonance EVH Fishman Floyd Rose Fluence Gibson Humbucker Ibanez JB Jimmy Page John Petrucci MJ Mojotone P90 PAF Pariah Pickup Professor Guitarism Satch Satriani Schaller Seymour Duncan Singlecoil Single Width Speaker Steve Vai Tech Tip Tremolo