Celestion V-Type 70 Watt Speaker
Celestion says the V-Type "produces a heady, exciting modern vintage sound that just makes you want to keep on playing."  You saw a brief mention of the V-Type in my evaluation of the Celestion A-Type 50 Watt Speaker.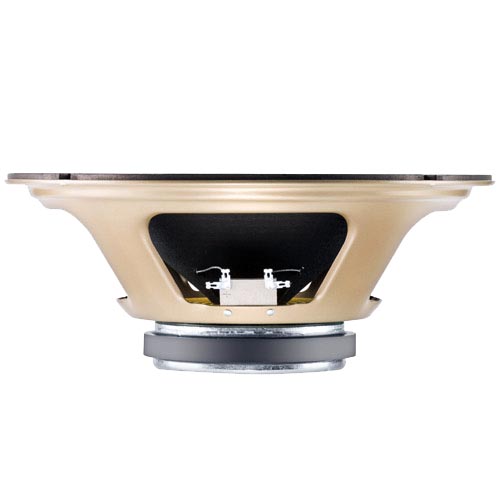 Installation
For starters, I installed a pair of V-Type speakers into a 4×12 slant with a pair of A-Type in a X pattern wired to a stereo/mono jack plate.  In this config, I use a shorting plug on the A-Type side to hear just the V-Type.  We can look at how they blend together in the same cab at another time. Later, I have the V in a 2×12 open back cab.
Evaluation
Right away, the V-Type stood my up and hit me in the chest with a distinctive authority.  It's a nice full-sounding speaker with a little more lower-mid girth than the A-Type, for example.  A little more roar, if you will.  Could be it has to do with a bit of a dip in the mids around 1.5 kHz or the slightly elevated headroom.
These are in the same $99 price range as the A-Type, making them attractive to guitarists wanting to branch out a little.  Thankfully, there's a much sound packed in here as a higher-priced selection.  And in 8Ω and 16Ω options.
During the time that these speakers are going through evaluation, several guitars and even more pickups were used for testing.  Double hum, hum-single-single, a P-90, and even all singles.  Voiced from classic and vintage to modern and progressive tones.  For a little more fun, I'd also run the cab along with a cab loaded with G12-65s – which share a similar dip around 1.5kHz.
I really like how the V-Type delivers a firmly percussive yet slightly primal grunt toward the lower end when hitting the big chords on a dirty amp setting.  The highs are deliberate and have some open airy cut, but they aren't shrill or brittle while doing so.
Comparing to the A-Type
For the inevitable comparison to the A-Type, it's as if the V-Type has a shift toward the lower mids and the A-Type slants toward the upper mids.  Along with the A-Type's slightly stronger focus in the highs, both speakers make for a really nice match in a 2×12 or a 4×12.  When together like that, the combination seems to present a stronger sonic footprint in the room.  The pairing also yields a smidge more harmonic content.
Tone Graph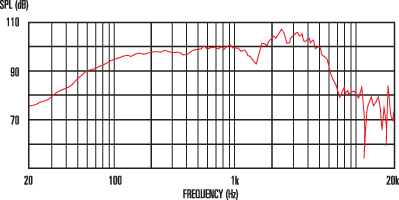 Demo
Watch Pete Thorn demonstrate the V-Type's range:
Specs
How about some specs:
Specifications
Diameter: 12in/305mm
Power Rating: 70W
Impedance: 8Ω or 16Ω
Sensitivity: 98dB
Frequency Range: 70-5000Hz
Resonance frequency, Fs: 75Hz
DC resistance, Re: 7.3Ω&12.9Ω
Voice coil diameter (mm): 44mm
Voice coil diameter (in): 1.75in
Chassis Type: Pressed steel
Magnet Type: Ceramic
Magnet Weight: 31oz/0.88kg
Voice coil material: Round copper
Mounting Information
Diameter: 12.2in/309mm
Magnet structure diameter: 5.3in/134mm
Mounting slot dimensions: 0.31in/7.9mm 
Mounting slot PCD: 11.7in/297mm
Number of mounting slots: 8
Overall Depth: 4.84in/123mm
Cut-out diameter: 11.1in/283mm
Unit Weight: 7.2lb/3.3kg
For reference, this evaluation was conducted with a Fractal Audio Axe-Fx II XL+ through a Carvin DCM200L power amp. Cabs are a Peavey 6505 4×12 closed-back and a Mojotone Slammins 2×12 open-back.
Celestion Website | Facebook | Twitter | YouTube
7 string 8Ω 59 Alnico 2 Alnico 3 Alnico 4 Alnico 5 Alnico 8 Bare Knuckle BKP Brown Sound Celestion Ceramic Custom Shop Dean DiMarzio DMT Dual Resonance EVH Fishman Floyd Rose Fluence Gibson Humbucker Ibanez JB Jimmy Page John Petrucci MJ Mojotone P90 PAF Pariah Pickup Professor Guitarism Satch Satriani Schaller Seymour Duncan Singlecoil Single Width Speaker Steve Vai Tech Tip Tremolo