DiMarzio Super 2 DP104 Humbucker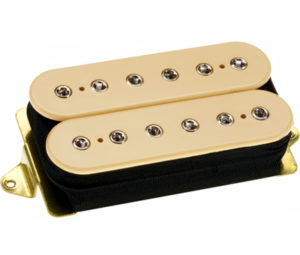 The DiMarzio Super 2 is one that I bought for use as a neck pickup, based on the suggested uses off the DiMarzio site. One of the issues with some 'big-name' neck models off the production line is that they can be too loose or boomy or flabby or dark. In the search for something that has more focus and tightness in the lows, I happened across the DiMarzio Super 2.
Previously, I had tried the DiMarzio Humbucker From Hell in the neck position and then heard that the Super 2 is the more muscular big brother to the HFH.  I like the HFH, so I had to give the Super 2 a try. Both are fine products and are good for my goals in a neck position. The Super 2 definitely takes it up a notch, although I admit to hearing little similarity to the HFH
It is deep and rich and full and punchy with lots of bite and lots more output. If you like to put the toggle in a middle position, be careful what you match up with this bad boy, as it will take the head off of lesser pickups. DiMarzio rates it as having a 400 mV output.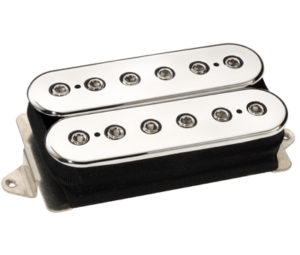 Lead work is effortless with this pickup, as it delivers the tone and the harmonic response to really give sharpness and presence to most any picking style. As you might figure, this is not some vintage or PAF style of pickup. This is meant for laying down some hard rock and high gain tone. You can ease it off and get some really nice workable variety, but you might have more than you bargained for if you are in a Air Supply cover band.
The coils are very symmetrical, so any split wiring will be strictly based on your preference. Tweaking the screws does really have positive impact on fine tuning your tone.  I find that to be the case with many DiMarzio models.  I've been experimenting with adjusting the north coil only on several models, and it's be a pleasant surprise.
Series – 8.28 k
North – 4.14 k
South – 4.14 k
Parallel – 2.07 k
Output – 400 mV
T – 8.0
M – 6.0
B – 4.0
Magnet – Ceramic
It's also a nice touch that DiMarzio adds 2 sets of screws (1 phillips head, and 1 flat head).  They also throw in the allen wrench to make adjustments to the pole pieces. There are boutique shops that cost a LOT more and have no packaging and no screws.  Here DiMarzio is taking nothing for granted in even the smallest details that other companies overlook.
DiMarzio Website | Facebook | Twitter | YouTube | Instagram