HexHider Locking Trem Tool
The HexHider is an answer to the prayers of many Floyd Rose players. For that matter, also for any guitarist that needs a 3mm allen wrench. Why is this a big deal? Let's take a look!
If you're a dinosaur like me (LOL!) that has been playing since the 1980s, you remember heyday of Floyd Rose conveniences. New Jersey based Kramer Guitars is the premier source for Floyd-loaded guitars! The 80s Kramer knows how to take care of guitar players, so they add a little wrench holder to the back of the guitar's headstock. Some of the other guitar makers follow suit.
Flannel and Doc Martens are soon en vogue and instrumental pyrotechnics are out the window. At least, for some. The dedicated legion of Floyd fans never give up and never surrender!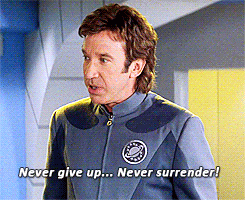 Many guitar companies soon overlook the fine example set by the thoughtful people at Kramer in New Jersey. And now we have to keep up with our allen wrenches!
I know! You might think that's not a big deal. Keep it in your pocket or on top of your amp or in your gig bag or any one of a number of hopefully convenient spots. Until you break a string and you need it right away and you have to go digging or hunting, hoping it's quickly found.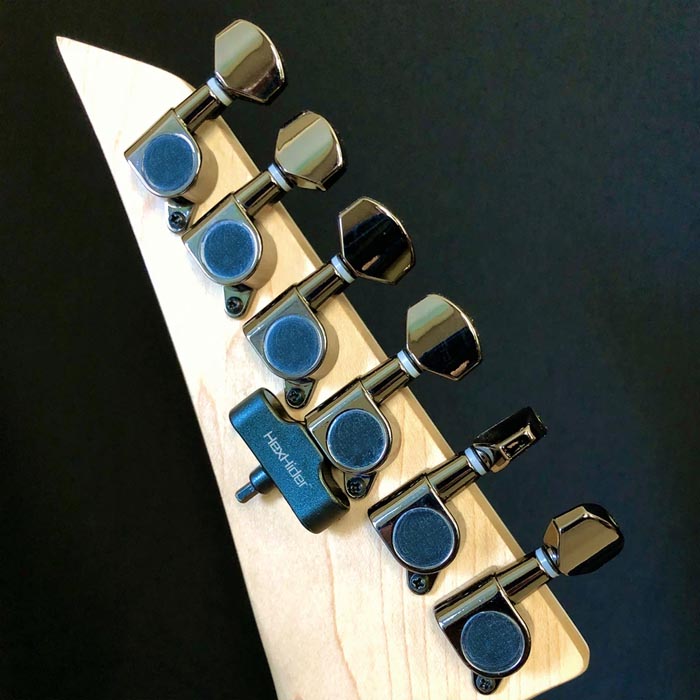 Not any longer! The HexHider puts your 3mm allen wrench back on the headstock once again. A super strong neodymium magnet holds the wrench in place, connecting to your metal tuning machines.
Really now, does it stay put? Yes. Yes it does. I placed the HexHider on many guitars with different brands of tuners. And I did "the thing". You know "the thing". Shaking the guitar and knocking on the headstock and jumping up and down.
The HexHider does exactly what it promises. That little sucker does not budge in the slightest.
But wait, there's more! That's right, it is a 3mm allen wrench after all. So it works elsewhere on your Floyd Rose tremolo system!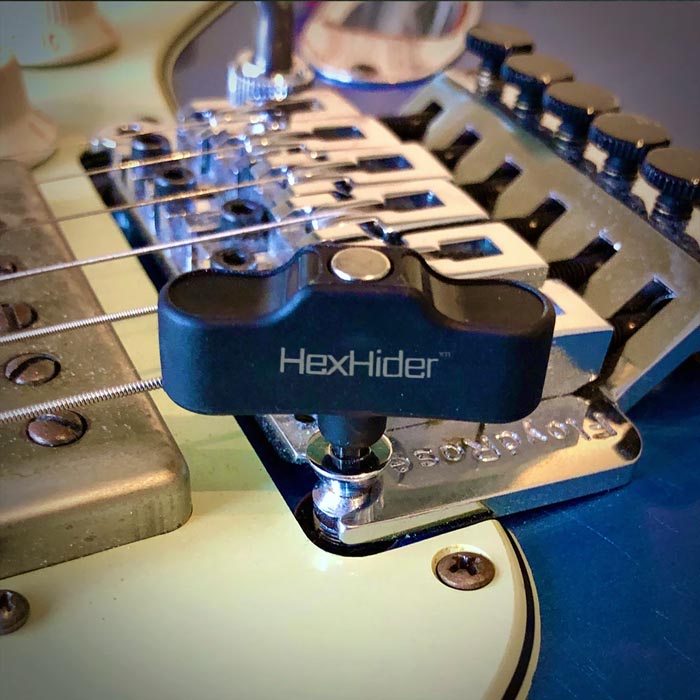 First there are the Bridge Mounting Screws. That's where you adjust your string height. Of course, you do as you always do and remove all tension from the friction points before any such adjustment. The "wing nut" type of design helps with much more control, really helping to allow more precise adjustments.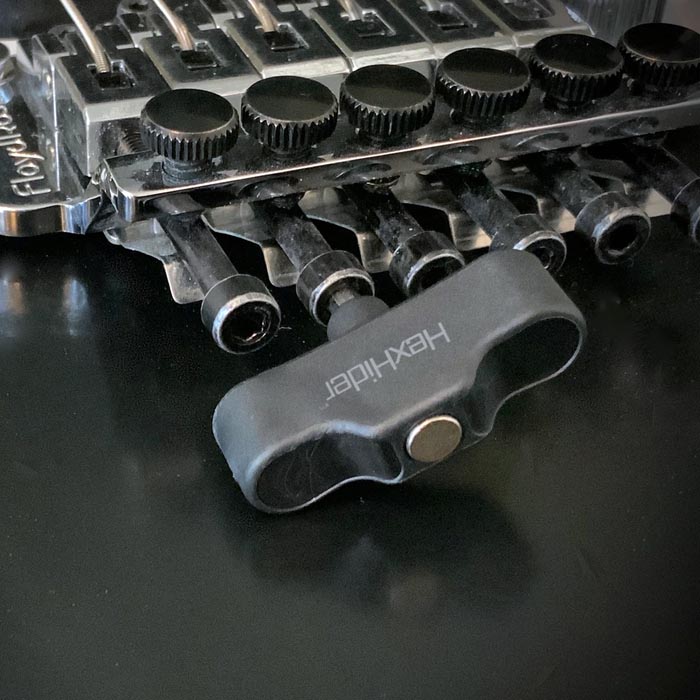 And the String Lock Screws. Those long screws that go in to the back of the saddles. Just give a tilt up to the business end of your Floyd Rose for access to the String Lock Screws and changing string just became easier. I'm finding the HexHider to be a much better option for tightening the String Lock Screws. The size and the extra control removes the possibility of a traditional allen wrench slipping and damaging the guitar's finish.
If you're a fan of the Schaller Sure Claw, that adjustment is also a 3mm allen key. So the HexHider helps you there as well! And once again, this is going to work on any licensed trem that uses a 3mm wrench.
There's something else cool about using the HexHider. Just as the neodymium magnet holds the HexHider to the tuners, it holds the HexHider in place to those screws. Imagine that. You can leave the HexHider in the Nut Clamping Screw while tuning so it will be right there when ready to tighten down the Nut Clamp Blocks. Note: this is a magnet, so it will not hold to non-magnetic screws such as stainless steel or titanium.
Or let's say you work a rack-mount amp rig. There are more metal spots in that rack than you can throw a drummer at! HaHa! Or any of the metal parts of your speaker cab. Or your microphone stand. Any magnetic place that's convenient to you is the perfect spot to keep your HexHider ready for use.
The HexHider is exclusively distributed worldwide by AP International, the manufacturer and distributor of Floyd Rose tremolo systems. That's like the Pope himself blessing your holy water.
Available in packages of 1, 2, and 4 units, you can spread them out across your guitars or give one to a pal that's always losing his old school 3mm wrench. You can find the HexHider available directly from Floyd Rose or from the Amazon links below.
Floyd Rose Website | Facebook | Twitter | YouTube
AP International Website | Facebook | Twitter
7 string 8Ω 16Ω 59 Alnico 2 Alnico 3 Alnico 4 Alnico 5 Alnico 8 Bare Knuckle BKP Brown Sound Celestion Ceramic Custom Shop Dean DiMarzio DMT Dual Resonance EVH Fishman Floyd Rose Fluence Gibson Humbucker Ibanez JB Jimmy Page MJ Mojotone Nut PAF Pariah Pickup Professor Guitarism Satch Satriani Schaller Seymour Duncan Singlecoil Single Width Speaker Steve Vai Tech Tip Tremolo