Schaller S-Locks Strap Lock
Strap Locks. We all need them. Some more than others…
But you don't need to be a rip-roaring 80s high-octane show-stealing riff-monster to benefit from a good set of strap locks.
Now, you can bet that I put hands on a fair share of strap locks over the years. But my first is always my favorite, and I'm not just talking about that Midwestern buxom hottie. LOL! I am talking about Schaller.
For an old codger like me that made his bones in the 80s, Schaller is synonymous at the time with Jersey-era Kramer. And a Jersey-era Kramer was THE guitar to have (still is!). As such, Schaller tuners and Schaller strap locks and Schaller-made Floyd Rose tremolos are very well-entrenched in to my very guitar-playing existence.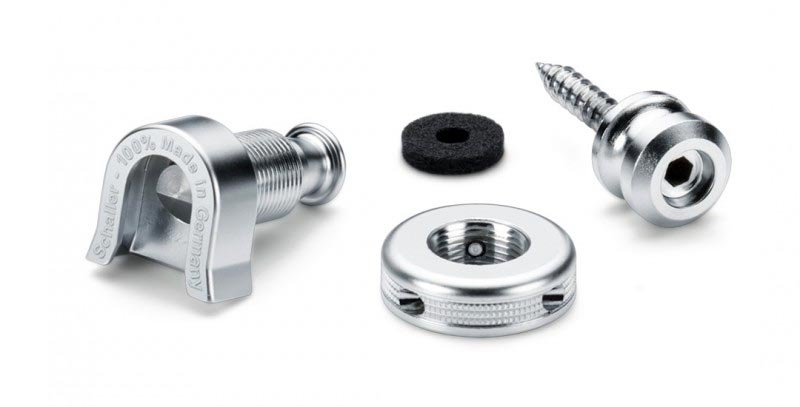 The original Schaller strap lock came out in 1981. The fact that the S-Locks system is released over 35 years later attests to the durable functionality of the classic design. So then, what could possibly be improved on a piece of hardware that has been an industry standard? Let's take a look!
Buttons and Wheels
As it turns out, the most significant changes you will notice on the S-Locks system are the strap buttons and the new lock wheel. And to leave no stone un-turned, the actual lock has been tweaked as well.
The S-Locks strap button is a fun upgrade to the system. For starters, it's all one piece! Yes, no more need to put a screw through the hole in the button. A cool benefit to that design is that you don't have to screw it in super tight to keep the button from moving around. That way, you minimize the opportunity to strip out the hole. It also cuts down on any noisy rattle from the button.
Reducing the need for a screw to go through the strap button puts more hardened steel to work for you. In place of a screw driver, the S-Locks strap button uses a 3mm Allen key. That's right, the same as your Floyd Rose locking nut (or HexHider!)! And if you have a specialized guitar body, Schaller offers longer 30 mm and shorter 18 mm threads for the S-Locks strap button.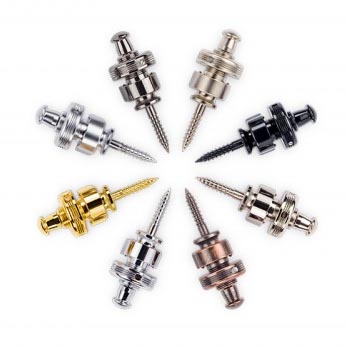 The lock wheel might be the coolest feature. Who else remembers the nut on the original Schaller strap lock? My December 2015 Tech Tip on Sockets definitely had origins rooted from loose strap lock nuts. HaHa! The new design makes that a thing of the past!
The S-Locks system now comes with a lock wheel that can essentially be finger-tightened for full effect. It is thicker than the old style nut and has knurls for exceptional grip. And if you just have to have it monkey-grip tight, use a small Allen key (or something similar) in the diagonal core to tighten it super double-dog tight! LOL! And if you're ultra hyper onstage, you can tighten the micro cone-top screw for the Top Tier insurance package on your strap pins. HaHa!
And then there is the actual lock of the S-Locks system. The thread has been extended quite a bit. This is not only to accommodate the thicker lock wheel, but also to allow for a thicker strap!
Tutorial Video
Let's take a look at a Schaller tutorial video on the S-Locks:
Where To Find Them
My S-Locks strap lock system comes from AP International. You know API as being the distributor of your favorite hardware that include Floyd Rose, KTS, Pure Tone, Fret Butter, and obviously Schaller.
The S-Locks are available in Nickel, Chrome, Satin Chrome, Black Chrome, Gold, Ruthenium, Satin Pearl, and Vintage Copper to match just about any hardware you might have.
In Conclusion
And for the smoking hot $64k question: is it interchangeable with the original Schaller strap locks? Yes it is! I tried the original locks on the S-Locks pins and the S-Locks locks on the original pins. Everything works seamlessly.
For my take, the S-Locks system feels a little more sturdy and has less rattle. Order some and check them out. I think you'll like them too!
Floyd Rose Website | Facebook | Twitter | YouTube
Schaller Website
7 string 8Ω 59 Alnico 2 Alnico 3 Alnico 4 Alnico 5 Alnico 8 Bare Knuckle BKP Brown Sound Celestion Ceramic Custom Shop Dean DiMarzio DMT Dual Resonance EVH Fishman Floyd Rose Fluence Gibson Humbucker Ibanez JB Jimmy Page John Petrucci MJ Mojotone P90 PAF Pariah Pickup Professor Guitarism Satch Satriani Schaller Seymour Duncan Singlecoil Single Width Speaker Steve Vai Tech Tip Tremolo