Maida Vale MVH-1 UFO Humbucker Set
The UFO set is another offering from London-based Maida Vale. This shop puts out some fun and unique offerings. The UFO humbukers are no different.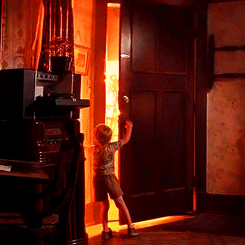 You say that you want an accessible hot-rod set of humbuckers with the rough edges polished and refined to a tasty bit of ear candy? The UFO set is for you.
What's up with the name? UFO? Well, it's actually U[F]O. The UO is for "unoriented". And that's the magnet choice for this set. Unoriented Alnico 5 bar magnets. The UOA5 is sort of like a middle ground between the dynamically warm Alnico 2 and the scooped mids and firmly tighter character of the Alnico 5.
Let's say you have something with an Alnico 2 that's a little too soft or too warm. Or perhaps something with an Alnico 5 that's a bit too sharp. The Unoriented Alnico 5 is the solution. As a disclaimer, that is intended as a point of reference. I do not get behind "mag swapping". I do encourage conversations with the person/company that is winding/making your pickup for guidance on what they have that's best for you.
A shipment from Maida Vale is always categorically impressive. For a smaller shop, the presentation is top notch. Each pickup is nestled safely within foam inside proprietary packaging. That's right… no butcher paper here! LOL! In addition to springs and screws, there is a sheet of wiring diagrams and another sheet of instructions and specs.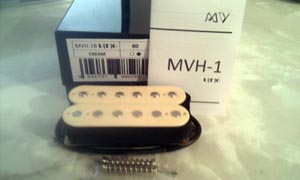 For this evaluation, I used the same guitar as the MVX-1 Hybrid set: a 2-hum super strat with a double-locking trem. Each pickup goes to individual p/p pots for series/parallel operation.
The UFO set is an excellent example of a vintage-hot classification. A range of pickups that I consider the mullet: good for business and also good for a party. HaHa! Alright, I could call it the "Goldilocks" range, but I have to consider my audience. LOL!
On a basic dirty setting, the UFO set is right at home for Funk, Garage, Classic Rock, Blues, Britpop, Alternative, Jazz, and Country. Throw a dash more gain at the UFO set and you are easily in to Heavy Rock, Grunge, Blues Rock, and even Metal.
The bridge position has the mid-range grunt to push an amp a little harder, with a touch sensitivity that adds more definition and punch. The UFO neck is full with sweet highs that deliver a vocal characteristic. There is excellent pick attack and defined harmonic overtones for a raw rock energy.
The UFO set is relatively new, so there are no audio samples available as of yet. I'll update the page when that happens. But I do have specs!
MVH-1 UFO Bridge
Series – 10.286 K
Inductance – 4.16 H
Split – 5.119 K
Split – 5.187 K
Parallel – 2.575 K
Magnet – Unoriented A5
MVH-1 UFO Neck
Series – 7.746 K
Inductance – 3.737 H
Split – 3.871 K
Split – 3.865 K
Parallel – 1.9343 K
Magnet – Unoriented A5
Pretty darned straight forward and clearly filling an opening in the market. Relatively balanced coils. 4-conductor lead wire for all your favorite wiring options. The UFO humbuckers are available individually or in a set with black, cream, or zebra bobbin color options. Check them out and see what you think!
For reference, this Maida Vale MVH-1 UFO humbucker pickup evaluation was conducted with a Fractal Axe-Fx II XL+ featuring Celestion Impluse Responses and Fractal MFC-101 MIDI Foot Controller. Real cabs used were Marshall 1960B cabs loaded with Celestion G12-65s, Vintage 30s and G12M Greenbacks.
Maida Vale Pickups YouTube | eBay store | Email