Floyd Rose Push-In Tremolo Arm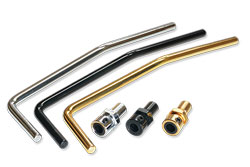 The Floyd Rose Push-In style tremolo arm is becoming a dream-come-true for more and more players. Let's take a peek at how it's a great addition to the available options for any Official Floyd Rose Tremolo system.
If you're an old fossil (like me), you definitely remember the Old Style Tremolo Arm. The one that has a nut above and below the baseplate and generally requires the wrench to adjust the tension or remove the arm.
Or if you're a young whipper snapper, perhaps you know all about the New Style Tremolo Arm. It's the arm that has the collar that allows you to finger-tighten the arm to the assembly on the baseplate for easy removal.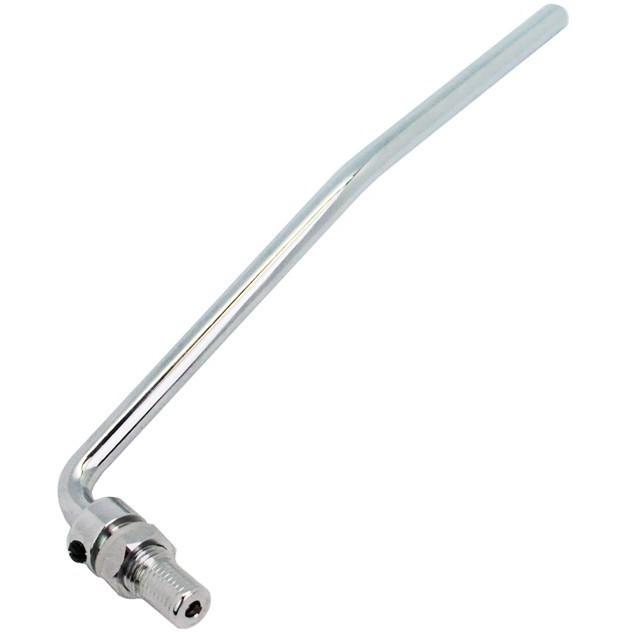 Now, let's face it. There are pros and cons to both. I discussed all that in a previous article. One requires that wrench, but it stays tight. The other is simpler, however the arm might not always stay in place. None of this is news to anyone. But the Floyd Rose Tremolo System is without parallel. As such, players prefer to simply choose the best of those two options for their needs.
Yet Floyd Rose had an ear to the ground and came out with a third option to bridge the gap. About a year ago, my pal Mark Day (Fractal Audio) started using the Push-In arm. Definitely check out Mark's YT channel to see him put the Push-In arm to work.
During a gear chat with my buddy Bill Leverty (FireHouse), talk turned to the Floyd Rose Tremolo System. Bill is right in the middle of those pros and cons, where he needs to have his trem arm in place and he needs the easy removal when the gig is done. He likes the Push-In style so much that he's been stocking up with more!
So, what's the score with them? Glad you asked! It's so simple that even a guitar player can do it! LOL! Remove your existing arm assembly. Install the Push-In style arm on to the baseplate. Tighten the nut from beneath – a 12mm driver socket did the trick for me. And then use a 2mm (or 5/64″) allen wrench to get the arm tension where you want it.
Now you get a much more secure tremolo arm! It's right there where you want it, and you get better transference of energy from the arm to the collar. And when you're packing up the guitar in the case, there's no need to keep up with that old school 11mm wrench.
Go check them out. They come in pretty much every color that Floyd Rose offers: Antique Bronze, Antique Silver, Black Nickel, Black, Chrome, Gold, Nickel, Satin Black, Satin Chrome, and Satin Gold.