Ibanez JEM 77P Blue Floral Pattern 
The current Blue Floral Pattern JEM is a 2015 release. Or rather, a re-release of the original JEM 77. The original Blue Floral Pattern is from 1991 to 1996 and pretty much has the same bones.
Now, if you are an old codger like I am, you are laying your mitts all over the original JEM guitars back in the late 1980s. You remember the mom-and-pop brick-and-mortar music shops, right? LOL! One of the better ones in town during that time is full of Kramer, Charvel, Hamer, and yep, Ibanez.
Like many of us, the JEM might as well be a million dollars at the time. HaHa! Yet outside of a 1990 Ibanez 7-string Universe, it was many years before I'm giving Ibanez another look.
In the time between then and now, the guitar gear realm innovates and improves. And wouldn't you know it, my eyeballs fall upon them JEM again. Yeah, I know the PIA is the new hotness. LOL! However, 1) the JEM is a nostalgia item for me, and 2) I'm self-funded. Have you seen the prices of a PIA?!? HaHa!

Unboxing
Inside the retailer's shipping box is the Ibanez shipping box. Inside that is the Blue Floral Pattern protected by an Ibanez gig bag. Not a gig back sort of dude, but it's how Ibanez sells it. LOL! But I am a fan of extra protection during shipping. So it's groovy.
The trem bar and a neat little multi-tool are secure elsewhere in the box. Once everything is out, it's on to…
First Impressions
This is all about a thorough inspection to ensure that everything is within parameters. Which is to say, I'm making sure it's not a lemon that has to go back! HaHa!
Fit and finish are solid. No fret sprout. No defects in the paint.
The intonation is much more set than one might expect. Just the usual slight tweak here and there, as most new arrivals need these days.
Body
Clearly, it's the basic super strat shape. Both the forearm and tummy contours are familiar and most any strat-style player should be right at home.
The horn cutaways are deeper for better access to higher frets. And the roundover is sharper, with more definition. The all access neck joint ("AANJ") practically eliminates the traditional neck heel.
The body is made of American Basswood. Even with the wood removed for the Monkey Grip, it weighs in at about 7 lbs 5 oz. People seem to think of Basswood as really light, but this bad boy is reasonably within a common weight range for many guitars of this size and shape.
Electronics
The original old-school Blue Floral Pattern has a pair of DiMarzio PAF Pro humbuckers with a JEM single coil. Times change and so do pickups. This current guitar has the DiMarzioSteve Vai signature Gravity Storm humbuckers and an Evolution single coil.
With a description of "a thundering cloud of ice cream", the Gravity Storm has always been really low on my list of interests.  With that said, they are pretty good pickups for this guitar.  A little more oomph than the PAF Pro and not as severe or harsh as the Evolution.  I will be giving the Gravity Storm their own more detailed evaluation soon.
The 5-way switching is what we now expect from the JEM series. The 2 and 4 positions mix the Evolution single coil with the closest single coil from the respective humbucker next to it. The harness is all run neatly within the control cavity. There's a bit going on, but it's far from a big pile of sloppy spaghetti.
Hardware
This is where I might be the harshest critic. I am a dyed-in-the-wool Floyd Rose user. Yes, the Edge style of tremolo is borrowing heavily from the Floyd Rose design. What's my beef? The arm. That's right. I like my trem arm to stay in place and the Edge has not done that for me. Yeah, I know about the extra little nylon collar and all that. It just never works out.
Ibanez is using the Edge-Zero II on the Blue Floral pattern. It has an arm with the collar that you finger tighten in to place. And just like that, the arm stays in place. From there, it's all very familiar ground for a traditional Floyd user.
The standout would be the locking trem posts. My old Ibanez Universe has the same thing. There is a set screw in the bottom of the posts. Get your setup dialed in the way you like it. Then put the small allen wrench way down in the middle of the trem posts and turn until you feel the set screw make contact with the bottom of the insert. That locks in your height adjustment and keeps the post stable and wiggle-free.
As always, the access for the barrel jack is at an angle. When the cable comes in around the strap pin, the jack is right there. The convenient placement and position removes stress on the cable and keep the cable out of the way.
Neck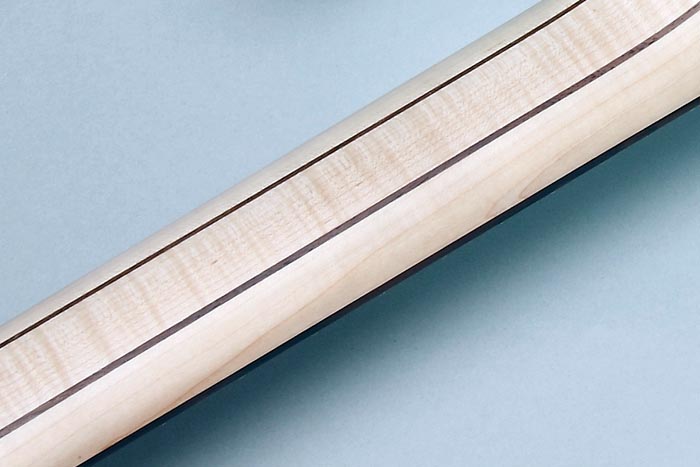 When it comes to the neck, it's something that Ibanez has really gotten my interest with.
Out of the gate, it has the Wizard profile. That's 18 mm at the 1st fret. 20 mm at the 12th fret. And a 400 mm radius, which comes out to approx. 15.75". It's no secret that I'm a fan of meatier necks. And I'm at home on a 12" radius and even a compound radius board. But this is a JEM. Any player worth their salt should already know what's going on with the Wizard neck.
My big attraction is to the multi-ply laminate neck. Maple going down either outside shoulder, with a think walnut strip going to another strip of maple down the middle. I like how ESP did the Kramer necks in the 80s, with the 3 strips of maple working against each other in concert to gain stability. This take that concept to the next level.
Ibanez adds to that stability with the walnut stripes. Then they double down with KTS titanium rods in the neck. This is something I'm seeing more often in many of the newer guitars I'm evaluating this past year. Upon arrival, I did choose to tweak the neck relief to my preference. Once there, it's been solid.
Frets
The frets are Jumbo. And I do mean Jumbo. The 1st fret clearance coming off the nut is right at 0.0015". That's right in the middle of my preferred sweet spot, so I.m thrilled. I roll with it and discover no intonation challenges or tuning issues.
Using the fret rocker after unboxing does show some uneven areas. The frets are also a little dirty. It sort of looks like compound wasn't totally cleaned up after final fret-buffing. So I tape off the fingerboard to give it a little micro-mesh action and then some Lizard Spit fret cleaner.
The neck has something they call the "Premium fret edge treatment". For the most part, that is in how they round off the fret edges for a smoother and more comfortable engagement.
Specs
neck type: Wizard 5pc Maple/Walnut neck w/ KTS TITANIUM rods

top/back/body: American Basswood body

fretboard: Maple fretboardTree of Life inlay

fret: Jumbo fretsPremium fret edge treatment

number of frets: 24

bridge: Edge-Zero II tremolo bridge

string space: 10.8mm

neck pickup: DiMarzio Gravity Storm neck

middle pickup: DiMarzio Evolution middle

bridge pickup: DiMarzio Gravity Storm bridge

factory tuning: 1E,2B,3G,4D,5A,6E

strings: D'Addario EXL120

string gauge: .009/.011/.016/.024/.032/.042

hardware color: Cosmo black
Neck Deminsions
Scale : 648mm/25.5″
Width at NUT: 43mm
Width at 24F: 58mm
Thickness at 1F: 18mm
Thickness at 12F: 20mm
Radius : 400mm
Switching System
Conclusion
The 77P Blue Floral Pattern is a fun guitar. It stands out from the regular white JEM that Vai has been using for so long. And it's not quite as eye-burning as some of the other more-known colors. Shocking pink? Loch Ness Green? LOL! The Gravity Storm pickups are organic-sounding, while stick packing a punch. Thirty-some-odd years of innovations are at work in this guitar to make it more reliable and more durable. Definitely check one out when you have the chance.
For reference, this Ibanez JEM 77P Blue Floral Pattern guitar evaluation was conducted with a Fractal Axe-Fx II XL+ featuring Celestion Impluse Responses and Fractal MFC-101 MIDI Foot Controller. Real cabs in use are Marshall 1960B, Mojotone British, and Peavey 6505 cabs loaded with Celestion Classic Series Vintage 30s and Classic Series G12M Greenbacks.
Ibanez Website | Facebook | Twitter | YouTube | Instagram
7 string 8Ω 16Ω 59 Alnico 2 Alnico 3 Alnico 4 Alnico 5 Alnico 8 Bare Knuckle BKP Brown Sound Celestion Ceramic Custom Shop Dean DiMarzio DMT Dual Resonance EVH Fishman Floyd Rose Fluence Gibson Humbucker Ibanez JB Jimmy Page MJ Mojotone Nut PAF Pariah Pickup Professor Guitarism Satch Satriani Schaller Seymour Duncan Singlecoil Single Width Speaker Steve Vai Tech Tip Tremolo