Seymour Duncan Nazgul Sentient Humbucker Set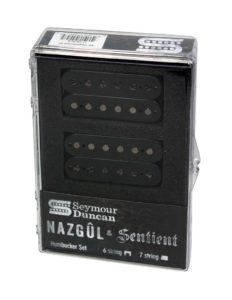 The Nazgul bridge and Sentient neck 6-string humbucker set are the 2014 follow up to the the 7 and 8-string sets that hit a year earlier.  The Duncan company officially put out 7-string models in 1999, pretty much a decade after DiMarzio.  Sure, you could have gotten a 7-string Duncan from the Custom Shop.  When I called about that in 1993, the $300 quote for a single 7-string pickup meant I'd be waiting a while!  LOL!
With the growing popularity of progressive metal and death metal and black metal (oh my!), the Duncan company decided to get it in gear.  The rightfully popular Black Winter set launched worldwide in 2013.  It makes sense that they ride that wave in to more options.  Many players jump at the thought of more – that's why we like things that Go To Eleven!  Amirite?  So out with the Pegasus bridge, the Nazgul bridge, and the Sentient neck.  More will be coming soon on the Pegasus bridge.
There is a bit of confusion still, when it comes to describing what's going on here.  The Pegasus is commonly described as "like the JB, but…".  The Sentient neck as "like the 59 Model neck and the Jazz neck, but…".  The Nazgul as "like the Distortion, but…"  We will get to all that in a second.
The Nazgul Sentient set is put in to a neutral-sounding double-humbucker guitar.  It has a maple neck with a maple board and a German double-locking tremolo system.  Pots are Bourns, with a Switchcraft switch and jack.  Each pickup is wired to individual push-pull pots for independent series/parallel operation.  It is tuned to standard E with a 10 gauge set.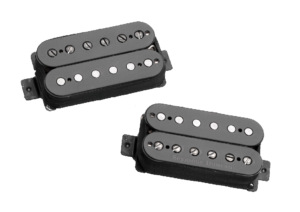 How about we ease in to this one with the Sentient neck humbucker.  The Duncan company staff seem to try to describe this as a cross between the 59 Model neck and the Jazz neck.  I'm gonna have to kinda sorta call shenanigans on that.  It's easy to say that none of the resonant peak frequencies line up, but there more to it.  The Sentient is pretty tight and compressed, where the 59 Model and the Jazz are both a little more open and clear by comparison.  You also get a bit of girth across the entire range.  That can be cool, where you might want some punch on the high end.  It can also be a little thunderous when considering the lows, depending on if that's what you're looking for.
There is a bit out there about how the Sentient can be on clean amp settings.  Going there, I'm having the same general impression.  The congested voicing is most likely fine for the more disjointed phrasings in today's extreme metal.  It is very much on a different path that the more shimmering chimey clean tones from the 59 Model and the Jazz.  So yeah, I'm thinking whoever got the narrative of that comparison out there might be due at the ear doctor.  HaHa!  If you have six minutes to watch/hear a demo of the Sentient neck, HERE is a video for you.
Looking at the Nazgul is a different approach.  It's obviously a "distortion" class of a pickup.  Where the Black Winter is a scalpel, the Duncan Distortion might be a machete.  That would relate to the Nazgul being a chainsaw.  Once again, there's a pro and a con in there.  It's not subtle.  There's little reason to even suggest how it handles a clean amp setting.  LOL!  If you are accustomed to the Invader, picture something with an even lower resonant peak.  I think being a little less underwound than the Invader keeps it from getting into the same level of "boom".  In fact, the lowest of the low end of the Nazgul has a bit of precision to it.  Just thicker.
Put your peepers on this video of Keith Merrow throwing out a demo.  It should be cued up at 3:01 for the Nazgul.  For a relative comparison, click HERE for the Distortion and HERE for the Invader and HERE for the Black Winter.
As always, tons of credit goes to Keith Merrow for putting that type of video together.  It's exactly the sort of tool the pickup companies could be considering for the best representation of their menu.  Also, who else has compared the Black Winter to the Alternative 8 and noticed startling similarities that might be only differentiated by a magnet swap?  Things that make you go "hmmmmm".
How about some specs:
Nazgul 6-string Bridge
Series – 13.434 K
Inductance – 6.249 H
Resonant Peak – 4.74 KHz (advertised)
North – 6.32 K
South – 7.134 K
Parallel – 3.349 k
Magnet – Ceramic
Sentient 6-string Neck
Series – 7.96 K
Inductance – 3.873 H
Resonant Peak – 6.48 KHz (advertised)
North – 3.962 K
South – 3.99 K
Parallel – 1.988 k
Magnet – Alnico 5
Overall, if you're looking for dissonance, this product could be a consideration for you.  I think that might be the goal of a lot of the extreme metal the young 'uns are in to these days.  Wanting something a little more musical?  Refer to the legacy models that Seymour himself was involved with back in the late '70s and early '80s.  Maybe I'm a bit of a cranky old fuddy duddy, but I'm more of the mind to get this sort of tighter voicing from the amp, the cabs, and the speakers.
As near as I can tell, Keith Merrow seems to have been involved in the development of this set.  Stay tuned if you follow what Keith is up to, as I'll be covering his shiny new signature pickup set very soon.
For reference, this Nazgul Sentient 6-string pickup set evaluation was conducted with a Fractal Axe-Fx II XL+ featuring Celestion Impluse Responses and Fractal MFC-101 MIDI Foot Controller.  Real cabs used were Marshall 1960B cabs loaded with Celestion G12-65s, Vintage 30s and G12M Greenbacks.
Seymour Duncan Website | Facebook | Twitter | YouTube | Instagram