GuitarFetish Slick Rocker Bridge Humbucker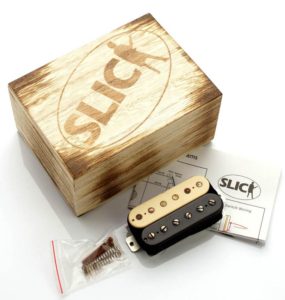 The Slick Rocker pickups are made for, you guessed it, Earl Slick.  If the name sounds familiar, it's because you've been listening to him for decades.  His genre-defying skills across the rock, blues rock, and rockabilly genres have kept him in demand.  Slick has played with luminaries that include David Bowie, John Lennon, and Carl Perkins.  He has been asked to essentially fill in the shoes for peers such as Mick Ronson, Stevie Ray Vaughan, and Brian Setzer.
That should be a pretty good primer to take in to account when thinking about the Slick line of pickups from GuitarFetish.  The Slick humbucker line start with the slightly hotter-than-vintage Old School.  From there the selection ramps it up to the Rocker model before setting things on fire with the Lead.
Having good experiences with the GuitarFetish VEH and Mean 90 models from the GFS line, I'm totally up for trying the Slick Rocker.  It has 4-con lead wire, so I connect it to a mini-toggle for series/split/parallel operation.  Installation is a snap and we are off and running.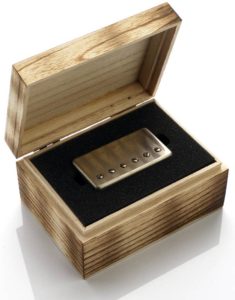 The first thing I notice on a dirty amp setting is how the Slick Rocker is really open sounding.  There is just enough of a roar in the mids to keep the voice from getting in to the jangly range.  But it's pretty close.  This makes it really fun for a lot of rhythm playing.  The Slick Rocker is right at home exactly where you expect it.  Straight-ahead rock.  Blues rock.  Punk.  Hard rock.  Blues.  70s rock.  On my Fractal dirty setting, I engage the saturation switch (think of the Jose amp mod) and the Slick Rocker fits right in to 80s and 90s hard rock.
That voicing we just talked about means that things are just dandy when on a clean amp setting.  Full series mode can get into a bit of gritty clean, but won't necessarily unless you want it to.  Split and parallel wiring options reveal nice snap and chime.  This is where the Slick Rocker has plenty of sparkle and glass to help round out a nicely versatile humbucker.
Have a peek at this video of the man himself playing in a demo of this very pickup:
Let's look under the hood at some specs:
Series – 11.618 K
Inductance – 4.155 H
Split N – 5.891 K
Split S – 5.748 K
Parallel – 2.908 K
Magnet – Alnico 5
If you like the relic look, the Slick line of pickups is gonna be your friend.  Your choice of black or zebra bobbins, or nickel covers.  All with an aged appearance.  You can even order extras, like aged mounting rings and aged screws for the rings.
For reference, this GuitarFetish Slick Rocker bridge pickup evaluation was conducted with a Fractal Axe-Fx II XL+ featuring Celestion Impluse Responses and Fractal MFC-101 MIDI Foot Controller.  Real cabs are Marshall 1960B cabs loaded with Celestion G12-65s, Vintage 30s and G12M Greenbacks.