Mighty Mite 1300 Humbucker Pickup
The 1300 Model humbucker from Mighty Mite goes back over 40 years. Along with the 1400 Model, it's ground zero for many aspiring guitarist's wanting to hot-rod their axe. Where the 1400 is more of a hot-PAF, the 1300 is an over-wound option to push your tube amp into saturation.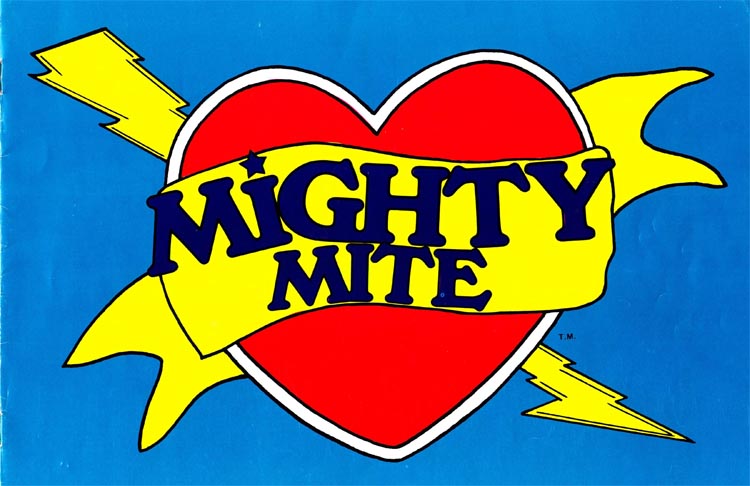 Any Mighty Mite aficionado could tell you about an up-and-coming Pasadena-based guitarist known to use the 1300 in the mid-to-late 1970s. Taking it much further than that can open up a can of worms! LOL! But if you're in to tweaking and modding your guitar, you're sure to have used this Dutch-born player's experiments as a blueprint. HaHa! Most likely while listening to music that he recorded with the 1300!
Looking at the 1300 Model, it falls squarely in the same distortion class pickup at the Seymour Duncan Custom and the DiMarzio Super D. High output is the goalpost of the era, which makes sense. Higher-energy high-octane rock music is breaking disco loose from the perch, and the choices of amp and pedals are limited. At least by comparison to the gear choices of today. Tube amps are the preference and players needs all the 'oomph' they can get to drive those tubes.
For this evaluation, I'm using a neutral-sounding single-humbucker workhorse. It has a Floyd Rose tremolo system, a Bourns 500k pot, and a Switchcraft 1/4″ jack. The pickup is a direct-mount and wired for series-parallel switching. During installation, I also hit the friction points with Lizard Spit Slick Nutz and clean up the strings with Lizard Spit Fresh-N-Easy.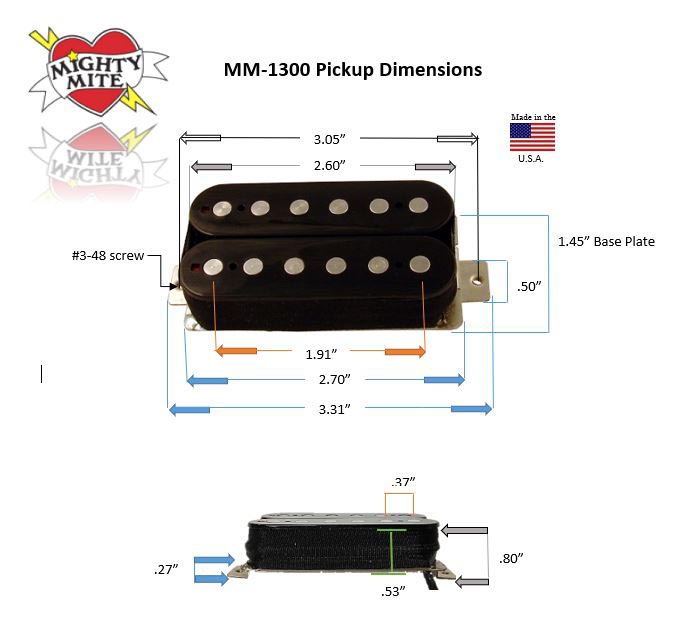 The 1300 comes out of the gate swinging hard, with punchy solid lows and a sparkling high end. It's a massive riff-monster with character and powerful crunch for rock and metal players. This is a classic blend of harmonically rich sustain and a hard-hitting voice.
An intense ceramic-based magnetic field captures every nuance of your playing style. That means changes to both right and left hand technique can yield a range from heavy blues to metal thrash. The power is focused by 12 (i.e., a dozen!) slugs poles. In the 1970s this was also called the Super Stud, which also happens to be what I go by in…. um, er… nevermind….
For the history buffs, the wind of the 1300 and 1800 are identical. On the more technical side, the properties of a stud pole and a hex pole are practically indiscriminate. Of course, a lab coat and calipers and meters and scopes and so on are one thing. Throwing down at your gig in front of the crowd is the Pepsi challenge we're talking about here. A little birdy may or may not have told me that a running change to the hex poles is imminent. The Mighty Mite collectors looking for this slug version should jump while they are still available!
This is where I'd be serving up a wicked awesome demo video for you guys! Mighty Mite is updating their social media and marketing apparatus, so there is no official content available. And I'd definitely not want to serve up some amateur level crappy video scraped off YouTube's bathroom floor! HaHa! Keep your eyes peeled, and I'll update with officially-approved content when it's available. In the meantime, check out Mighty Mite's FB page (link below) for current videos on other parts and on guitar maintenance techniques.
How about some specs:
Series (advertised) – 14 K
Series (actual) – 16.014 K
Inductance – 8.708 H
Split – 7.97 K
Split – 8.08 K
Parallel – 4.008 K
Magnet – Thick Ceramic
For a 2-hum guitar, put the lower power 1400 Model in the neck for an excellent pairing. A spicy PAF and a barn-burning flamethrower is an outstanding combination for an archtypical versatile rock-and-roll setup. Working the right blends of switching and amp setting give you a solid working-man's guitar rig.
The pickup is potted, so high amp levels and microphonic squeals are not an issue. The 4-con lead offers access to split and parallel setups for multiple wiring options. The baseplate has short legs, so it's a little more adaptable if you're working with a shallow pickup cavity.
You can get your 1300 Model humbucker directly from the Mighty Mite website. The 1300 is great for hard rock, grunge, punk, prog rock, fusion, shred, 80s metal, garage, heavy rock, blues rock, thrash, hardcore, prog metal, classic rock, alt rock, and more!
For reference, this Mighty Mite 1300 Model bridge humbucker pickup evaluation was conducted with a Fractal Axe-Fx II XL+ featuring Celestion Impluse Responses and Fractal MFC-101 MIDI Foot Controller. Real cabs in use are Marshall 1960B, Mojotone British, and Peavey 6505 cabs loaded with Celestion Classic Series Vintage 30s and Classic Series G12M Greenbacks.
Mighty Mite Website | Facebook
7 string 8Ω 16Ω 59 Alnico 2 Alnico 3 Alnico 4 Alnico 5 Alnico 8 Bare Knuckle BKP Brown Sound Celestion Ceramic Custom Shop Dean DiMarzio DMT Dual Resonance EVH Fishman Floyd Rose Fluence Gibson Humbucker Ibanez JB Jimmy Page MJ Mojotone Nut PAF Pariah Pickup Professor Guitarism Satch Satriani Schaller Seymour Duncan Singlecoil Single Width Speaker Steve Vai Tech Tip Tremolo