Lizard Spit Fresh-N-Easy String Cleaner
Fresh-N-Easy. No, this isn't about Gene $immons' criteria for backstage passes on the Destroyer Tour. LOL! But it is about keeping your strings clean and lubricated.
We are all 'that guy' (or gal) when it comes to strings. "How long can they last?" we ask. Or not even ask. Just keep playing until one breaks. Yep, I'm guilty of that as well. HaHa! Even if your sweat doesn't have an acidic pH level, strings still get dirty and oily.
You don't have to be an 80s shredder to know the stories of Eddie boiling his strings. While a little more of a bass player trick, boiling strings can clean off the dirt and grime and oil for the intention of making them last longer. Yeah… introducing metal to water. Nothing will go wrong with that. LOL!
How do we keep our strings clean? Sure, we should be wiping down our instruments after each use. You don't have to be playing for long to know that's fairly superficial with regard to the strings. Or maybe you've tried a common off-the-shelf option, but you see "for external use only" on the label.
That's why you need to grab some Lizard Spit Fresh-N-Easy. Like other Lizard Spit products, Fresh-N-Easy is a non-toxic product that is safe for your skin. So if you forget what you're doing and touch your face, you're not going to grow an eyeball in the middle of your forehead. HaHa!
Fresh-N-Easy came to be when a wholesaler had an issue with a shipment of strings. Being shipped on the slow boat across the ocean, the strings began to develop corrosion from the salt water environment. Once again, the whole metal and water thing. These fellas know Lizard Spit's chemist/owner, who used his knowledge or organic compounds to develop the Fresh-N-Easy formula to naturally arrest the corrosion process.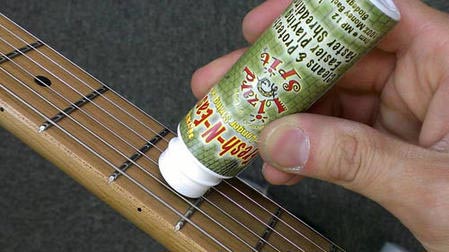 Doesn't matter when or where you use Fresh-N-Easy, it's so simple that a guitar player can do it. LOL! You simply use the built-in applicator to swipe or rub the cleaner/lubricant up and down the length of the strings. Leave the guitar to set, where the dirt and grime evaporate with the cleaner as it dries.
This is a no-brainer for after practice or between sets. Take the Fresh-N-Easy from your tech kit, apply to the strings, and go get that beer. Boom! Come back to lightning fast clean strings.
A bottle of Fresh-N-Easy is a staple on my workbench, next to the Fret Board Conditioner, the Slick Nutz, the Guitar Polish, and the Spit Shine Quick Detailer. Together, they are part of the maintenance routine for each guitar that hits the bench.
Lizard Spit is formulated for the average person to use. The eco-friendly products are softer on you and the environment while being stronger for the application. Save the face masks for the grocery store, as there's nothing harmful or dangerous here.
Check out owner/chemist Chris Webster talking about the Fresh-N-Easy in this video, starting at about 04:42
Definitely take a few minutes to watch that entire podcast for more on how Lizard Spit products are an excellent choice for more than just your guitar care needs. There's a Microphone Sanitizer for gigging musicians and the Guitar Polish also works as a hand cleaner.
You can order Lizard Spit Fret Board Conditioner directly from Lizard Spit as well as outlets that include Amazon (links below!). Be keeping an eye out for more content about Lizard Spit products coming soon!
Lizard Spit Website | Facebook | Twitter | YouTube | Instagram
7 string 8Ω 59 Alnico 2 Alnico 3 Alnico 4 Alnico 5 Alnico 8 Bare Knuckle BKP Brown Sound Celestion Ceramic Custom Shop Dean DiMarzio DMT Dual Resonance EVH Fishman Floyd Rose Fluence Gibson Humbucker Ibanez JB Jimmy Page John Petrucci MJ Mojotone P90 PAF Pariah Pickup Professor Guitarism Satch Satriani Schaller Seymour Duncan Singlecoil Single Width Speaker Steve Vai Tech Tip Tremolo