Dean DMT Lights Out Humbucker Set
The Lights Out humbucker set is Dean's offering for legendary guitarist Michael Schenker.  Schenker signed on to Dean guitars in 2004.  And as Dean is prone to do, they produced a pickup set that meets that artist's needs.
Michael Schenker is generally known as a guitarist's guitarists.  The list of players that claim Schenker's influence reads like a who's who of hard rock, metal, and even thrash.  Schenker is also known for his tone.  Let's take a peek at what gear that he's known for.
More than anything, Schenker is known for playing a V, also known as a Flying V or a split-tail.  His signature series V model are all mahogany with an ebony board and a string-thru tailpiece.  Schenker is a fan of cranked Marshall 50-watt heads into Celestion Greenbacks.  And, of course, a wah pedal.  The cocked wah sound is as synonymous with Schenker as the Flying V.  Schenker's sonic vibe is generally considered fairly mid-heavy.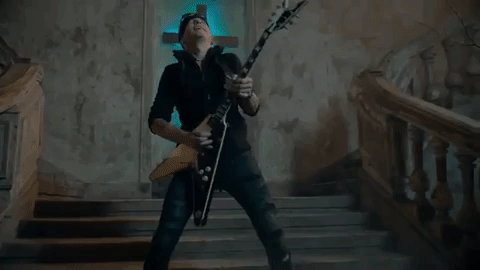 The history of Schenker's pickup selection is pretty straight-forward.  He has been known to use stock T-Tops, quite possibly stock Shaws, Schaller humbuckers, rumors of the Duncan Custom, an even an OEM DiMarzio set.  When I spoke to Dean about the Lights Out set, they said they started by looking at what was in one of Schenker's old V guitars.  Hardcore fans seem to think that the Lights Out nails the tone they equate with Michael Schenker.
For this test run, I have the Lights Out installed in a double-hum mahogany guitar.  They are each wired to switch for series/parallel operation.
Lemme tell ya… the Lights Out set punches you in the chest.  Hard.  These pickups bring a sack lunch and are ready to blast your hair back all day long.  The Lights Out are clearly made for hard rock.  Yet they thankfully have the range to deal out the subtleties befitting a player of Schenker's catalog.
The Lights Out bridge humbucker serves up a healthy dose of growling, throaty midrange.  The lows are resolute and steadfast.  Pick a chord.  Any chord.  Now hit that chord and behold the majestic authority.  Throwing out your favorite riffs and licks will pummel your amp into submission.
Moving to the neck position is an even-sounding transition.  As much fun as there is with the bridge position, I'm really liking the Lights Out neck.  There's a voicing that seems to find all the sweet spots for a rock-oriented humbucker.  The low end is firm and the highs have just enough cut.  The upper mids avoid that nasally "wonk" that's common in so many neck humbuckers.  The nature of the Lights Out neck lends itself to smooth legato lead styles for all your very fluid solos.  And it's as if it dares you to try to make it mush out.  It's not happening.
Check out Schenker playing the Lights Out in this video, from the 2018 album "Resurrection":
Wanna see some specs?
Lights Out Bridge
Series – 16.641 K
Inductance – 6.973 H
North – 8.207 K
South – 8.471 K
Parallel – 4.167 K
Magnet – Thick Ceramic
Lights Out Neck
Series – 8.077 K
Inductance – 4.633 H
North – 3.89 K
South – 4.187 K
Parallel – 2.017 K
Magnet – Ceramic
The Lights Out set is something that I think can transcend what it was meant for.  The crushing, firm low end and lower-mid focus makes this a contender for metalcore, thrash, and associated heavy genres.
For reference, this Dean DMT Lights Out humbucker set evaluation was conducted with a Fractal Axe-Fx II XL+ featuring Celestion Impluse Responses and Fractal MFC-101 MIDI Foot Controller.  Real cabs used were Marshall 1960B cabs loaded with Celestion Vintage 30s and G12M Greenbacks.
Dean Guitars Website | Facebook | Twitter | YouTube | Instagram